League News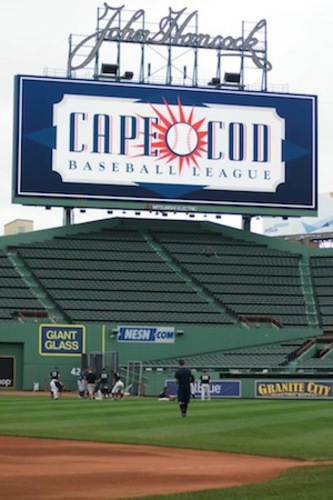 07/02/2013 11:10 AM
Article By:
BOSTON – Upon entering the oldest ballpark in America, there is one thing that stands out above all else: the Green Monster. Fenway Park's famous left-field wall stands 37 feet high and 231 feet long, and is the nation's most recognizable ballpark feature.
So when the Cape Cod Baseball League held its fourth annual workout at Fenway on Monday, July 1, there was nothing more exciting for the players than facing the Monster during batting practice.
With more than a hundred Major League Baseball scouts in attendance, each and every player put his all into the workout and did his best to squash the intimidation of the having an iconic wall only 310 feet away down the third-base line. Between 8 a.m. and 3 p.m., all batters on all 10 teams got a chance to showcase their skills and impress the crowd by beating the Green Monster. While countless came close, only a handful actually sent a pitch into the seats or beyond.
The Orleans Firebirds came out swinging Monday, leading all teams in home runs to left field (9) and having the most players accomplish the feat (3). Orleans' Jordan Luplow (Fresno State) was the first player to hit one over the Monster, out of the park and onto Lansdowne Street. It was a special experience for the righty, who normally finds his power going to the opposite field.
"This is my first time at Fenway Park," Luplow said, "so it was definitely special."
Teammate Zach Fish (Oklahoma State) was one of two individual home run leaders, launching five shots to deep left. The Bourne Braves' Matt Gonzalez (Georgia Tech) was the other. Despite going without a homer thus far this summer in 36 at-bats, Gonzalez appeared to be the top performer from a power standpoint. His five Green Monster homers could have easily been eight or nine.
"It's awesome." Gonzalez said, clearly overwhelmed, "What a great experience."
The following players all hit homers at the workout, successfully battling the most famous wall they will ever face, an achievement that cannot be ignored:
Matt Gonzalez (Georgia Tech), Bourne – 5 HR
Zach Fish (Oklahoma State), Orleans – 5 HR
Richard Prigatano (Long Beach), Chatham – 4 HR
Jordan Betts (Duke), Orleans – 3 HR
Chris Chinea (LSU), Wareham – 3 HR
Kyle Overstreet (Alabama), Brewster Whitecaps – 2 HR
Tucker Tubbs (Memphis), Brewster Whitecaps – 2 HR
Chad Carroll (James Madison), Bourne – 1 HR
Mark Zagunis (Virginia Tech), Harwich – 1 HR
Casey Gillaspie (Wichita State), Falmouth – 1 HR
Connor Hale (State Coll. of Fla. Manatee-Sarasota), Falmouth – 1 HR
Drew Stankewicz (Arizona State), Hyannis – 1 HR
Jordan Luplow (Fresno State), Orleans – 1 HR
Alex Blandino (Stanford), Yarmouth-Dennis – 1 HR