League News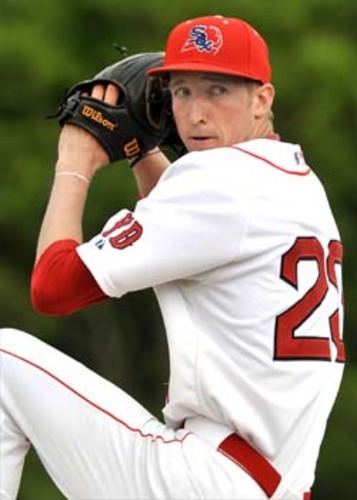 07/03/2013 5:01 PM
Article By:
A weekly list of the top six performers of the 2013 season:
The third week of the season has brought more players into the mix. With the majority of teams playing just four games during Week 3, thanks in part to rainy weather and the Fenway Park Workout on July 1, individuals had to take advantage of what little playing time they got.
Rhys Hoskins (Sacramento State)
Outfielder/First Base, Falmouth Commodores
.266 BA, 16 R, 14 RBI, 3 HR, 2 SB
Hoskins continues to swing a hot bat, leading a powerful Falmouth offense. He has maintained his league lead in RBIs, shares the league lead in home runs, and now leads the league by a significant margin in runs scored. While his .266 average might not jump off the page, he is in fact just outside the top 10 in the Western Division in that category as well. All signs point to Hoskins being an All-Star and a major contributor to the Commodores' success. If he keeps up the power numbers and Falmouth can catch up to Hyannis and Cotuit in the division race, Hoskins might be a shoo-in for top league honors.
Andrew Daniel (San Diego)
Infielder, Yarmouth-Dennis Red Sox
.395 BA, 8 R, 10 RBI, 0 HR, 2 SB
It was impossible to ignore Daniel's achievements for a third straight week. The league's batting leader has a hit in every game in which he's played so far this summer, a 10-game streak, which is good enough for an average of close to .400. Daniel, who is in the top 10 in the league in RBIs and on-base percentage as well, may have been overshadowed by 2012 All-Star Robert Pehl (Washington) at first, but he is making a name for himself and will be a player to watch going forward. It's hard not to associate a .400-plus batting average with MVP consideration.
Andrew McGee (Monmouth) and Erick Fedde (UNLV)
Pitchers, Chatham Anglers/ Yarmouth-Dennis Red Sox
18 IP, 2-0, 0.50 ERA, 20 K, .78 WHIP/ 19.2 IP, 2-0, 0.91 ERA, 18 K, .74 WHIP
McGee and Fedde are grouped together this week because neither has pitched since last Wednesday, and there are thus no updates to their performance. But this doesn't mean their position in the MVP watch has not gone unchanged. The two still hold their positions as the most dominant pitchers in the league, with undefeated records, ERAs and WHIPs under one, and impressive strikeout numbers, all while being in the top five in innings pitched. They are not alone in domination any longer, as the likes of Cotuit's Alex Haines (Seton Hill) and Chris Ellis (Ole Miss), Orleans' Bobby Poyner (Florida), and Brewster's Justin Kamplain (Alabama) threaten to dethrone them. The battle for top pitcher is heating up, and Week 4 starts will play a big part in determining who the real contenders are.
Jimmy Pickens (Michigan State)
Outfielder, Chatham Anglers
.296 BA, 10 R, 10 RBI, 2 HR, 6 SB
Perhaps being left off the Week 2 Players to Watch list lit a fire under Pickens. In a limited week, he managed to bat .333 with five RBIs and earned himself a spot back on the list. Like Hoskins, Pickens' batting average is under .300, but his other numbers more than make up for it. He consistently drives in and scores runs, and also shows speed on the basepaths. The Anglers are rolling, having won three straight, and Pickens has been the go-to guy. If he can keep it up and Chatham can keep up with him, his name is likely to be mentioned in MVP conversations.
Zach Fish (Oklahoma State)
Outfielder, Orleans Firebirds
.328 BA, 7 R, 12 RBI, 2 HR, 6 SB
There's quite the conundrum brewing in Orleans. Both Fish and Chris Marconcini (Duke) are producing at a high rate, but are both wildly inconsistent. The statistics will tell you both players are having excellent seasons, but on a game-to-game basis neither is quite at an MVP level. Fish gets the nod this week because of Marconcini's struggles. He went 3-for-15 this week, driving in only one run. But he still holds the upper hand in slugging and on-base percentage, home runs and runs scored. Fish has now pulled ahead in RBIs and batting average, and holds much more value on defense and on the basepaths. The Firebirds would benefit if both players could play more consistently, but one or the other needs to pull ahead soon to be a legitimate MVP contender.
Dropped Out From Week 2:
Chris Marconcini (Duke), Orleans
Robert Pehl (Washington), Y-D
Mike Ford (Princeton), Cotuit