League News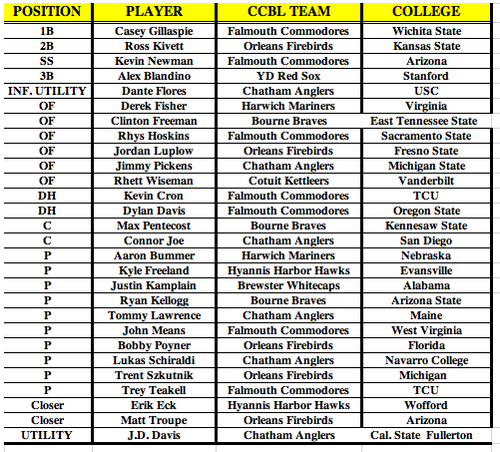 08/22/2013 2:58 PM
Article By: John Garner Jr.
Twenty-eight top players have been named to the Cape Cod Baseball League Postseason All-League Team for 2013.
The Falmouth Commodores head the list with seven players selected to the All-League squad, followed by the Chatham Anglers with six and the Orleans Firebirds five.
The team was selected by Cape League officials, based upon detailed and comprehensive statistical data of player performances this season.
"This team of impressive Cape League performers was put together with a lot of thought and calculation, especially all the extensive research done by league statistician Chris Thoms," said Commissioner Paul Galop. "It was one of the most exciting seasons in recent memory and these outstanding performances reflect that."
Most Valuable Player Max Pentecost (Kennesaw State) of the Bourne Braves joins Sportsmanship Award winner Connor Joe (San Diego) of the Chatham Anglers as the two all-league catchers, while Kevin Newman (Arizona), who led the CCBL with a .375 batting average, is the all-league shortstop.
Pentecost finished third in the league with a .346 batting average with six homers and 29 RBIs, while Joe hit .308 with three homers and 22 RBIs.
Heading the pitching staff is the league's outstanding hurler Lukas Schiraldi (Navarro) of Chatham along with outstanding relief pitcher Erik Eck (Wofford) of the Hyannis Harbor Hawks and 10th Player award winner Matt Troupe (Arizona) of Orleans, who is the other All-League closer.
The hard-throwing Schiraldi, son of former University of Texas and Boston Red Sox hurler Calvin Schiraldi, went 4-1 and led the Cape League with a sparkling 1.20 ERA, striking out 27 batters in 37 2/3 innings.