League News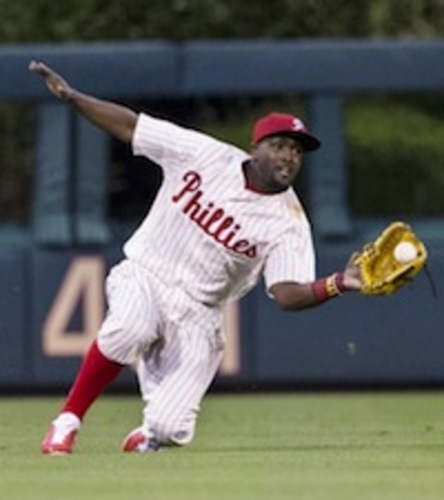 04/02/2015 4:50 PM
Article By: CCBL Public Relations Office
Despite rejuvenating his career with an impressive spring, left fielder Tony Gwynn Jr. (Brewster, 2002) was a victim of the numbers game in the Washington Nationals' outfield and on Wednesday he was reassigned to Washington's minor league camp. He figures to open the 2015 season with Triple-A Syracuse.
Gwynn was one of the preseason's feel-good stories, a nonroster invitee who rediscovered his swing and wound up hitting .341 with a .420 on-base percentage. When the Nationals acquired similar left-handed outfield option Matt den Dekker from the New York Mets, Gwynn became expendable. Den Dekker, 27, and under team control long term, hit .328 in the final two months of last season, a season Gwynn spent mired in a slump that eventually cost him his job with the Philadelphia Phillies.
"He had a great case," Nationals manager Matt Williams said. "He got here late, a late addition to camp. I see Tony helping us at some point this year. He's been a very productive player for a long time. I just asked him to be ready and he understands the process of it. He'll be ready when that call is made. He's a good player."
Gwynn is a veteran of seven major league seasons with four different teams – Milwaukee, San Diego, the Los Angeles Dodgers and Philadelphia. A career .238 contact hitter with speed but little power, his offense plummeted fast last season to a .152 average and .190 slugging percentage.
Gwynn credits Triple-A hitting coach Joe Dillon and Nationals hitting coach Rick Schu with helping him get back on track by tweaking his swing. According to the Washington Post, Gwynn's body wasn't in sync when he swung, and he fixed it by using his backside to generate more power in his swing.
"The swing works from the ground up," Gwynn said. "Having my lower half really incorporated into my swing and getting through baseballs better has helped. That's why I've been able to get a lot of hits where I don't necessarily square it up where my hip beats me a little bit or something but they're on a line and I'm able to get my backside through things, which I don't think I've been doing for a while.
"We have some coaches who are familiar with my swing. I played for Joe Dillon when I was a young guy in 2007 and '08 (for the Brewers). He is familiar with what I'm doing. Schu has been great. Having those guys as a tag team accelerated the process as far as getting where I need to be."
Gwynn appears to have returned to form following a very difficult 2014 season, both personally and professionally. In mid-June, his father, Hall of Fame outfielder Tony Gwynn Sr., succumbed to salivary gland cancer believed caused by a career-long chewing tobacco habit. Then, on July 28, young Tony was designated for assignment by the Philadelphia Phillies. After clearing waivers, he re-signed with Philadelphia, only to be cut loose again after the season ended.
Gwynn believes that his concern with his father's deteriorating health was at the root of his struggles on the diamond.
"I was dealing with that, plus getting sporadic at-bats, and things of that nature make it more difficult. Baseball is tough enough by itself," Gwynn said. "When you have other things playing in different directions, it makes it hard."
Gwynn was a second-round draft pick of the Milwaukee Brewers in 2003. The former San Diego State star's first major league hit, a double, came July 19, 2006, against San Francisco Giants closer Brian Wilson (Hyannis, 2002) exactly 24 years to the day after his father doubled for his first major league hit.
Gwynn hit .248 in 130 games for the Brewers over three seasons before being traded to San Diego for outfielder Jody Gerut (Harwich, 1996-97) on May 21, 2009. He was informed of the trade by his father, who played his entire career with the Padres.
On Dec. 8, 2010, Gwynn agreed to a one-year deal with the Los Angeles Dodgers. He played in 136 games with the Dodgers in 2011, the highest total of his career, and hit .256 with 22 stolen bases.
On June 1, 2012, Gwynn was part of a Dodgers lineup that included the sons of five former major leaguers – along with Jerry Hairston Jr. (Bourne, 1996; Wareham, 1997), Ivan DeJesús Jr., Dee Gordon and Scott Van Slyke. It was a first in MLB history.
Gwynn Jr. hit .232 with 13 stolen bases in 103 games in 2012. The Dodgers designated him for assignment Aug. 6, and he reported to Triple-A Albuquerque, where he batted .338 in 19 games. He spent the entire 2013 season with Albuquerque, hitting .300 in 104 games.
In December 2013, Gwynn signed a minor league contract with Philadelphia that included an invitation to major league spring training. He earned a spot on the Phillies' 25-man roster and was the starting left fielder on opening day 2014.
After the June 16 death of his father, the 32-year-old Gwynn was placed on the bereavement list. He was designated for assignment July 21 and released July 28. A few days later, he rejoined the Phillies via a minor league contract and was assigned to Triple-A Lehigh Valley. He was called back up Sept. 2, but on Oct. 10, he refused reassignment to Triple-A and was released.
He signed a minor league contract with Washington on March 2 and immediately joined the club at the Nationals' major league spring training camp in Viera, Fla.
Gwynn was a solid performer for the Brewster Whitecaps in 2002, batting .291 in 44 Cape League games. A contact hitter, his 48 base hits included five doubles and a triple, but no home runs. He drove in 14 runs and stole 11 bases in 16 attempts.