League News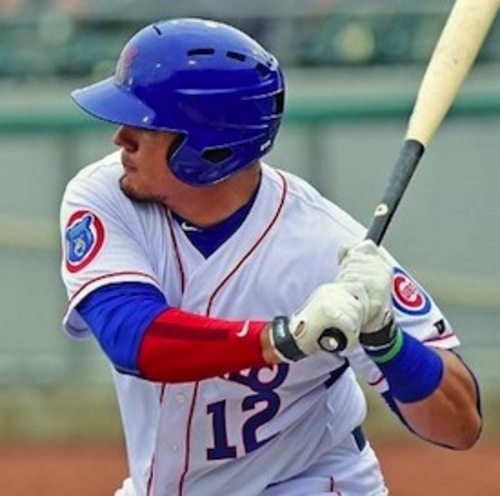 06/17/2015 6:07 PM
Article By: CCBL Public Relations Office
The booming bat of Kyle Schwarber has earned the former Wareham Gatemen star a temporary promotion to the Chicago Cubs.
The Cubs have called up the catcher-outfielder who has been tearing up the Double-A Southern League to serve as a designated hitter for an upcoming two-game series in Cleveland and a three-game weekend series in Minnesota.
After Sunday's game, he will report to the Iowa Cubs and will get his first taste of Triple-A action there.
Schwarber (Wareham, 2012-13) arrived at Wrigley Field on Tuesday and was in uniform for a makeup game against the Indians. The MVP of the 2012 Cape Cod Baseball League playoffs was not in Chicago's starting lineup, but he was available off the bench as a backup catcher or a pinch-hitter.
Schwarber, 22, was taken with the fourth overall pick in last year's draft. Coming into the year, prospect evaluators agreed that he was a top-100 pick, though they varied widely in his placement. Baseball America placed him among the top 20 prospects at No. 19, while Baseball Prospectus rated him 77th in the game.
The Indiana University product has done nothing but enhance his value as a professional. He has destroyed pitching throughout the minors, putting up a composite .333/.432/.610 line over 549 plate appearances. At Double-A Tennessee this year, Schwarber has slashed .318/.439/.578 while belting 13 home runs in 238 at-bats.
Schwarber joins fellow first-round picks Kris Bryant (Chatham, 2011) and Addison Russell on the team. Both made their major league debuts earlier this season.
The question with Schwarber was never his bat, but whether he would stick behind the plate. He'd likely only need to be an adequate defender to provide value as a catcher, though a move to the outfield or first base could also be possible in the long term. For now, of course, Chicago is giving him every chance to work as a backstop.
"Kyle has had a tremendous developmental year so far behind the plate, with the bat and as a leader," president of baseball operations Theo Epstein said Monday evening. "His next stop is to continue his development as a catcher at Triple-A. First, however, he is going to join the major league team for six days to contribute as a designated hitter, as a bat off the bench and as a third catcher. He will also use the time in the big leagues to experience first-hand all that goes into being a major league catcher. Regardless of how this week goes, Kyle will head to Triple-A after Sunday's game."
It appears that this is nothing more than a brief showcase for Schwarber. The Cubs are set at catcher, with Miguel Montero and David Ross (Brewster, 1996) on hand, and, while adding a power bat to the corner outfield would certainly hold appeal, Schwarber has just 36 games of experience in left field during his brief professional career.
Of course, a huge showing at the plate or a well-timed injury could always change plans.