League News
12/14/2008 8:41 AM
Article By:
for immediate release: 14 December 2008
Cape Cod League Hall of Fame Enshrines
8 New Members During
Ceremonies at Chatham Bars Inn

CHATHAM , Mass. – For the first time in recent memory, there were no hurricanes, blizzards or torrential rain storms to deal with during the Cape Cod Baseball League Hall of Fame induction ceremonies on Nov. 22 – just some cold weather, snow flurries and warm memories.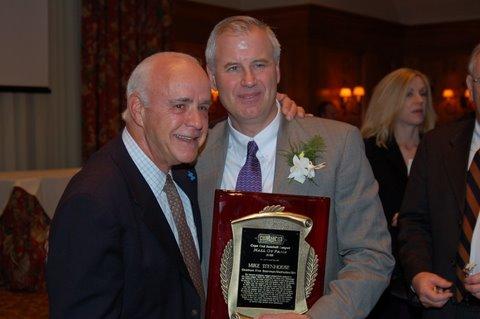 Sol Yas congratulates Mike Stenhouse.
It was a glorious afternoon for eight new members of the CCBL's ninth induction class who were honored before a near capacity crowd inside the Monomoy Theater at the scenic Chatham Bars Inn.

During the previous evening the inductees were introduced at a plaque-unveiling ceremony held at the CCBL Hall of Fame mu¬seum, housed on the first floor dugout section of the JFK Hyannis Museum in Hyannis.

After brief welcoming remarks by CCBL Commissioner and HOF Committee Chair Paul Galop and CCBL President Judy Walden Scarafile, the plaques depicting the new inductees were unveiled by several former inductees such as Arnold Mycock, Dick Sullivan, Scarafile and Ken Voges (Chatham 1963), who holds the league record for highest batting average in a single season at .505.

This year's induction class included current Major League players Ben Sheets, a starting pitcher for the Milwaukee Brewers, and hard-hitting outfielder Matt Murton of the Oakland A's, along with former Boston Red Sox and Harvard University first baseman Mike Stenhouse.
HALL OF FAME VISIT -- Cape Cod Baseball League Hall of Fame member Ed Baird, a star pitcher at Chatham and the University of Connecticut during the 1960s, visited the Cape League Hall of Fame & Museum in Hyannis recently and checked out his plaque which is on permanent display in the new facility, part of the John F. Kennedy Hyannis Museum. Baird, a resident of Greenwich, Conn., and one of 88 CCBL Hall of Fame members, was inducted with the class of 2003. He pitched Chatham to the 1967 Cape League championship, aided in no small part by his batterymate, Thurman Munson, who went on to become captain of the New York Yankees. (CCBL Photo/Joe Sherman)
Other inductees included Chatham A's bullpen ace
Derrick DePriest
, Cotuit All-Star slugger
Bob Hansen
, versatile and durable Falmouth performer
Roche Pires
, Cotuit submarining reliever
Jeff Innis
and former Cape League deputy commissioner and president
Robert A. McNeece
of Chatham.
Former Cape League commissioner and current legal counsel Art Hyland shared the Fred Ebbett Lifetime Achievement Award with the Chatham Bars Inn, while league treasurer and web-site coordinator Steven B. Wilson accepted the Dick Sullivan Executive of the Year Award.
Innis set the tone with vivid memories how he first saw Lowell Park in a Sports Illustrated article and ended up pitching there the next summer and explaining he was impressed his plaque was first displayed at the John F. Kennedy Hyannis Museum 45 years to the day the former president was assassinated.
In his remarks at the podium, DePriest called his summer on the Cape as the best two months of his life, while Hansen's memory wasn't quite as clear, but he was impressed being associated with all the other great players and coaches in the CCBL Hall of Fame.
The two major leaguers did not attend in person, but Sheets did send a video and Murton was represented by him mother Susan, who read a moving acceptance speech.
Last but not least at the podium was the sweet-swinging Stenhouse, whose father Dave was the first rookie pitcher ever to start an All-Star Game in 1962 for the Washington Senators. The younger Stenhouse played for Montreal, Minnesota and the Boston.
"Thanks again to the entire Cape Cod Baseball League for a HOF fabulous weekend," said Stenhouse, who Chatham field manager John Schiffner displayd the best swing of any player he'd seen in over two decades . "We all will never forget the class operation and super memories."