League News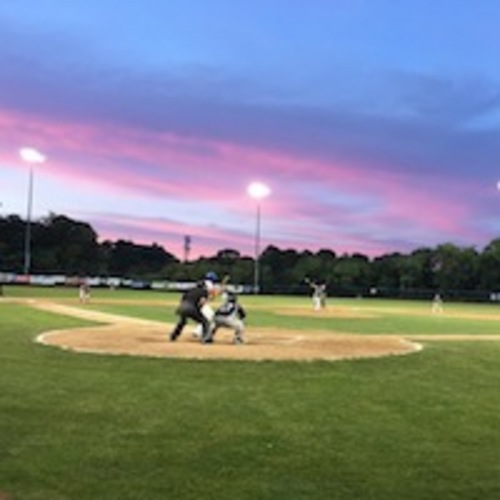 08/09/2015 7:56 PM
Article By:
Harbor Hawks 8, Red Sox 1: The Hyannis Harbor Hawks took Game 1 of the Cape Cod Baseball League Championship Series over the Yarmouth-Dennis Red Sox on Sunday night. Game 2 will be held at Y-D's Red Wilson Field on Monday at 4 p.m.
Y-D struck first Sunday night in the top of the second kicked off by a single off the bat of Dallas Carroll (Utah). After a stolen base and a groundout by Tyler Houston (Butler), Carroll stood 90 feet away with Michael Donadio (St John's) at the plate. Donadio singled to score Carroll and put Y-D up 1-0.
Hyannis leveled the game at 1 in the bottom half of the second inning. Matt Thaiss (Virginia) started the inning with a double but was thrown out at third on a fielder's choice, allowing Jake Rogers (Tulane) to be safe at first. A walk to Ryne Birk (Texas A&M) brought up Tristan Hildebrandt (Cal Sate-Fullerton) with two on and two outs. Hildebrandt singled to score Rogers and knot the game at 1.
The Harbor Hawks broke the standstill with a five-run fifth ining. With two outs, Bobby Melley (UConn) and Jacob Noll (Florida Gulf Coast) singled to get the inning started. A throwing error by Y-D's Joshua Vidales (Houston) allowed Blake Tiberi (Louisville) to reach first and Melley to score the go-ahead run for Hyannis.
After a Y-D pitching change, Alec Eisenberg (Hofstra) took the mound. An intentional walk to Thaiss proved detrimental for the Red Sox as a hard-hit ball by Rogers was misplayed and Noll and Tiberi crossed the plate to make it 4-1. Birk, who came to the plate with two on and still two outs, tripled to clear the bases and extend the Harbor Hawks' lead to 6-1.
Y-D's fourth error led to Hyannis' seventh run of the game. Corey Bird (Marshall) led off the sixth with a single and a stolen base. Bird then stole third and advanced home on the throwing error to make it 7-1, but Hyannis was not finished yet.
Hildebrandt doubled in the bottom of the eighth and the Harbor Hawks capitalized. A passed ball with Corey Bird at the plate allowed Hildebrandt to advance to third, and a sacrifice fly made it 8-1.
Dakota Hudson (Mississippi State) allowed one run on two hits in eight strong innings to pick up the win, finishing with eight strikeouts walking a pair. Kevin Roy (Columbia) came in to close out the game in the ninth and finished with two strikeouts.
Mason Kukowski (Yale) took the loss for the Red Sox after 4 2/3 innings pitched. He struck out one and walked three, giving up four runs on five hits.