League News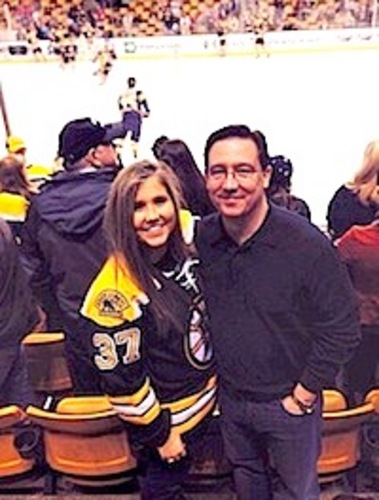 08/26/2015 7:17 PM
Article By:
From the early June till mid-August, the majority of the Cape Cod Baseball League's focus is all on the field and in the dugouts. That focus is magnified by the voices fans hear on the airwaves.
Behind the voices this summer we found three CCBL broadcasting interns who all have professional Major League Baseball broadcasters as fathers.
For a second season, University of Georgia student Sammy O'Brien returned to the Hyannis Harbor Hawks as a sideline reporter. Her father, Dave O'Brien, is an announcer for the Boston Red Sox and ESPN and will be the 2016 play-by-play announcer for NESN Red Sox broadcasts.
"My favorite part of the Cape was going to watch baseball on Cape Cod all summer. Last summer, my own dad said 'Hey, I'll take that gig.' So I guess he's gunning for my job," said Sammy, who is involved in her school's radio station and newspaper.
She was one of the few female interns working in broadcasting and was the play-by-play announcer for the league's only no hitter this season by Hyannis Harbor Hawks pitcher Devin Smeltzer, who plays for Florida Golf Coast University during the college season.
Dave O'Brien was a constant source of support on Red Sox radio, giving mention to the Cape League's matchups, including the Harbor Hawks' playoff championship series against the Y-D Red Sox.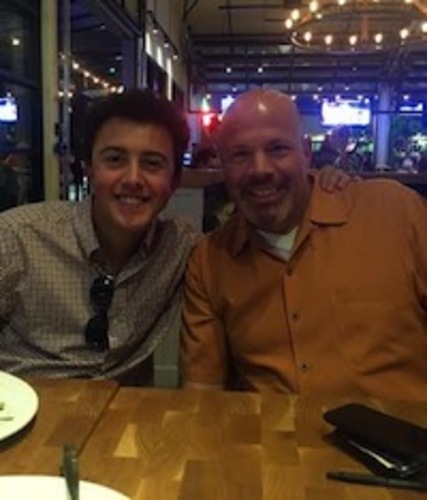 Dominic Cotroneo is studying broadcast journalism at Arizona State University and credits his father's good advice for his being asked back for a second season with the Chatham Anglers. His dad is Oakland A's play-by-play announcer Vince Cotroneo.
"I've been so blessed with his knowledge and going into this field. Since I started calling games in high school, he'd listen to as many as he could, and text me feedback the whole game," said Dominic, a play-by-play announcer for football and basketball on the campus radio station.
To add to the broadcasting team with the Wareham Gatemen was first-year intern and Northwestern student Erik Bremer. He gains the sports genes from his father, Minnesota Twins play-by-play announcer Dick Bremer.
"It's all I've ever known. In short, though, it was a blessing. I got to be a part of so many cool things when I was a kid, from taking batting practice at the Metrodome on Sunday mornings to traveling to Cooperstown for Bert Blyleven's Hall of Fame induction in 2011," said Erik, who announces games for the Big Ten Network and for the campus radio station.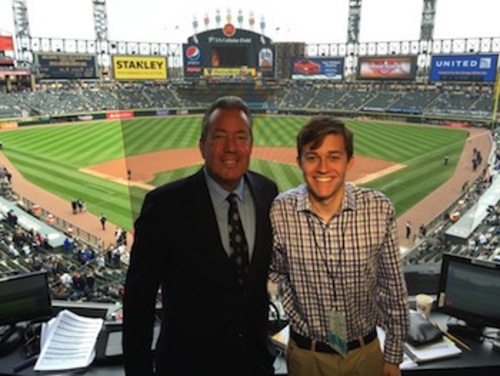 Having parents with MLB backgrounds doesn't mean these three expect opportunities to be handed to them. "I'm trying to create my own path for myself, so I don't think it's smart to come out to the Cape aiming to exploit my background in an unfair way. But on the other hand, I do think my experience growing up around the game and the broadcast booth gave me a unique perspective in my games with the Gatemen," Erik Bremer said.
Dominic Cotroneo was looking to bring back his same enthusiasm and love of the CCBL this season. "We could be losing 12-0 in the fourth inning but I wanted the listener to say, 'Man they are getting crushed but these guys are so fun to listen to,' I just wanted to bring the same joy I have spending a summer here into my craft," he said.
Sammy O'Brien became an even bigger fan of the game after being on Cape Cod last summer. "I love the stories. I did a feature on (Bobby) Melley (Barnstable native, first baseman for UConn and member of the 2014 Hyannis Harbor Hawks) last summer and that was one of my favorite things. I hope to do that a lot more. I hope I really enjoy play-by-play. I think it would be amazing to break some ground on female play-by-play," she said.
Being exposed to professional sports at a young age enhanced their passions for baseball but that only sparked their drive to work in the field.