League News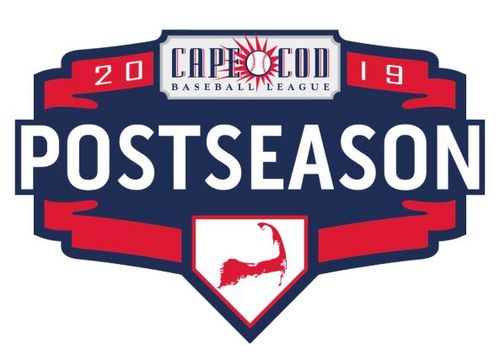 08/01/2019 9:22 AM
Article By: CCBL Public Relations Office


The 2019 Season is close to complete, and the 2019 playoff seeds have been determined. Here are the round #1 schedules, matchups, and key players:

WEST DIVISION

(1) FALMOUTH COMMODORES vs. (4) BOURNE BRAVES
Game 1: Friday August 2 @ Falmouth, 6 pm
Game 2: Saturday August 3 @ Bourne, 6 pm
Game 3 (If necessary): Sunday August 4 @ Falmouth, TBD

SEASON SERIES: Tied 3-3

FALMOUTH PLAYER TO WATCH: Zach Deloach, OF, Texas A&M
DeLoach led the Cape League with a .353 batting average while also belting 5 homers and driving in 23 runs. The Aggie outfielder enters the postseason on a five-game hitting streak and looks to be a key for the Commodores dangerous offense.

BOURNE PLAYER TO WATCH:Zavier Warren, C/IF, Central Michigan
Warren leads the Braves with 42 appearances on the season, and he has made them count, batting .315. He has also shown the ability to take over a game with his bat, registering 14 multi-hit games, including a 5-hit explosion on July 30 against Wareham.

(2) WAREHAM GATEMEN vs. (3) COTUIT KETTLEERS
Game 1: Friday August 2 @ Wareham, 6:45 pm
Game 2: Saturday August 3 @ Cotuit, 4 pm
Game 3 (If necessary): Sunday August 4 @ Wareham, TBD

SEASON SERIES: Tied 3-3

WAREHAM PLAYER TO WATCH: Ian Bedell, RHP, Missouri
The West Division All-Star Game starter has been one of the breakout stars on the Cape this summer. The righty is 4-0 with a 36-3 K/BB ratio in 30.2 innings and has conceded only 2 runs all summer.

COTUIT PLAYER TO WATCH:Nick Gonzales, IF, New Mexico State
Gonzales has dominated the Cape League from wire-to-wire. Gonzales led the Kettleers and was top-5 in the league in batting average, home runs, and RBIs while also going a perfect 6-for-6 stealing bases.

EAST DIVISION
(1) CHATHAM ANGLERS vs. (4) HARWICH MARINERS
Game 1: Friday August 2 @ Chatham, 7 pm
Game 2: Saturday August 3 @ Harwich, 5:30 pm
Game 3 (If necessary): Sunday August 4 @ Chatham, TBD

SEASON SERIES: Tied 3-3

CHATHAM PLAYER TO WATCH: Kolby Kubichek, RHP, Texas
The sophomore Longhorn has been lights-out this summer, allowing just 3 earned runs in 30 innings. Kubichek has struck out 34 batters this summer while walking 9 and allowing just 16 hits.

HARWICH PLAYER TO WATCH:Niko Kavadas, IF, Notre Dame
The Fighting Irish infielder has been one of the most dangerous hitters, sharing the league lead with 9 home runs. Kavadas had one of the best offensive games by any player this season on July 13, when he blasted 3 homers against the Wareham Gatemen.

(2) ORLEANS FIREBIRDS vs. (3) Y-D RED SOX

Game 1: Friday August 2 @ Orleans, 7 pm
Game 2: Saturday August 3 @ Y-D, 4 pm
Game 3 (If necessary): Sunday August 4 @ Orleans, TBD

SEASON SERIES: Y-D leads 4-2

ORLEANS PLAYER TO WATCH: Max Troiani, OF, Bentley
The senior outfielder paced the Firebirds with a .340 average and 19 RBIs and ended the season on a six-game hit streak. Troiani has also shown impressive discipline at the plate, drawing 20 walks.

Y-D PLAYER TO WATCH:Austin Wells, C, Arizona
Despite ending the season on a mini-slump, the Pac-12 Freshman of the Year has shown how dangerous he is at the plate this summer. Wells leads the Red Sox with 7 home runs and 26 RBIs. Wells has recorded multiple hits in 14 games and is always a danger to take over with his bat.