League News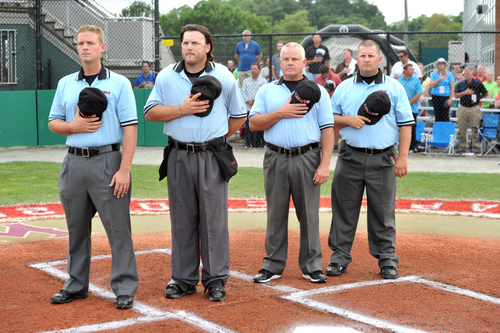 05/04/2020 8:37 AM
Article By: Nick Zibelli
Rick DelVecchio was a "baseball guy". Sure he was a terrific hockey player and referee, and could do just about anything sports-wise, but Rick was made for the game of baseball. Rick excelled not only as a player, team mate, teacher and coach. We remember Rick and mourn him in the Cape Cod League, as an outstanding umpire, respected by the players and coaches and admired by how he not only controlled the game but LOVED it.

Rick had a "little boy's" grin and a big smile for everyone on the baseball diamond. He worked just as hard in his role as an umpire as he did as a player, and boy, he could play. I have been fortunate in my 40-plus year career to have umpired at every level of the sport of baseball and have seen great catchers. No-one, and I mean no-one, was better then Rick DelVecchio. Rick brough enthusiasm, hustle, knowledge, and a true love for the game every-time he joined me and all other umpires and players on the baseball diamond. He got down low, giving the umpire the best possible view to see the pitches and do his job. He knew how best to catch and present the baseball, and could slide and move and block errant pitches, so you knew you were safe with Rick DelVecchio protecting you.

As an umpire, you think you are in control of the ball game. That was not the case when Rick DelVecchio arrived in full catcher's gear, patted you on the shin guard, and let everyone know he was there and the game could truly begin. As a catcher, he was in control of it all, and early on I just knew that someday he would transfer all that knowledge and enthusiasm and field presence over to "The Dark Side" and become as good an umpire as he was a player. A talented baseball player, Rick played with the best around, and as an umpire he strived to do the same and quickly rose up through the NCAA umpiring ranks, working regional championships, D-I conferences, and the premier summer baseball in the country, The Cape Cod Baseball League.

In 2015 Rick was recognized by the Cape League coaches and general managers for his part in making the league the ultimate baseball experience for players, coaches, and fans, alike. He was awarded the prestigious Robert "Curly" Clement award, as Umpire Of The Year, and everyone, especially Rick, was thrilled with the selection and honor.

Life, like baseball, plays out at its own pace. A team or player can be on a hot-streak and suddenly, they're in a slump. A pitcher can be breezing along through 7 innings and suddenly loses his control. Even an umpire, the person who has the final say and the ultimate control, can be delivered an unexpected and life-changing challenge. Rick DelVecchio's life changed on February 9, 2016 when he suffered a fall in his Braintree, Massachusetts home and suffered severe brain damage. After multiple brain surgeries, Doctors did not expect him to walk again or be able to retain short-term memories. There was slow progress, and then setbacks, all the while Rick knew he had to "concentrate, and listen" and work hard to rehabilitate his body and his mind, in order to survive.

Survive he did! Inspired by the medical personnel, rehabilitation specialists, and his loving family, led by his wonderful wife Jill, Rick made it back to where he wanted to be, where he was meant to be. Rick DelVecchio was behind home plate in Orleans on opening day of the 2017 Cape Cod Baseball League season. What a wonderful day that was!

On Friday, May 1, 2020 I received notification that Rick DelVecchio passed away after a long battle to survive what began with the tragic fall in 2016, and subsequent others that followed, and left him unable to be the smiling and happy baseball player, coach, and umpire that we all loved to see on the ball field. We miss you Rick. Rest in Peace!