League News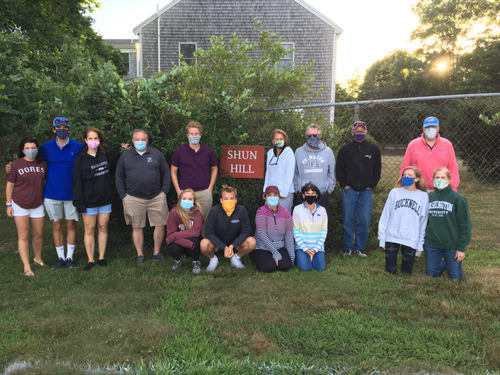 07/19/2020 12:12 PM
Article By: Taylor Viles
As most Cape League ballparks have sat empty this summer more than halfway through what was supposed to be the 135th year of baseball on Cape Cod, left-field at Guv Fuller Field was covered by 15 people in Falmouth on Thursday night to reminisce about baseball and catch-up amidst the separation and solitude.
The get-together, arranged by longtime Commodores Gameday Operation Coordinator Deb Brocklebank, was a chance for members of the Falmouth organization to spend time together and enjoy some dinner on the field. "The Commodores is more than baseball it's a 'summer family,'" said Brocklebank. "There is something magical about the Guv. It's a home away from home."
Attendees brought various takeout and drinks, they sat on blankets and chairs, and as the warm day turned into a brisk summer evening, layers were put on to keep warm.
It was the second time that Brocklebank had organized such an event this summer as she invited just a few people to join her for what would have been the season's opening day. This time the planning was more thorough. With the help of some friends, she spray-painted boxes ten feet apart to maintain a social distance and in her invitation explained one simple rule, "While you're in your square you can remove your mask, while outside of your square, we ask you keep your mask on," said Brocklebank.
Even though baseball is absent from Falmouth this summer, the 'Dores family made sure it's not forgotten.