League News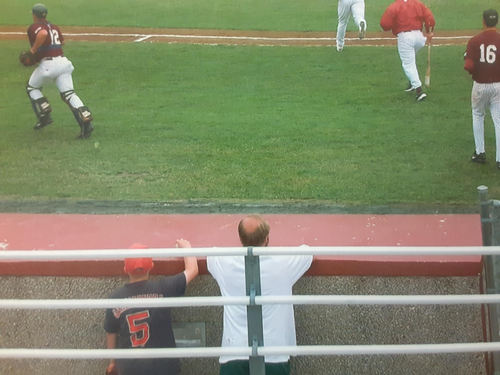 08/03/2020 5:01 AM
Article By: Taylor Viles



The concept of sports is a phenomenon that draws a selective crowd. The casual fans understand the game to a point and enjoy taking in the overall sport. But the passionate fans are the diehards who, as the name suggests, live and die by the success of their favorite team. Unless you are among them, it's almost impossible to understand the love and dedication the game brings those fans.

Bill Snow is one of those who's gone about his life while keeping in mind the impact decisions could have on his ability to watch and enjoy his favorite sport of baseball. The 75-year-old has become known as Falmouth Commodores "Superfan" over the last 20 years attending each home game and countless away games during that stretch. "When I say to people I go to every home game, I'm talking all 22," said Snow. "I don't go to 21 and call it all."

His love of baseball extended long before his first Cape League game as he's always had a "diehard mentality" when it came to sports. "All my life I've been an incredible professional sports lover and baseball's been number one," said Snow. "It has ruled my life since I was nine years old."

Back in the mid 1950's, a young Snow would go to Red Sox games with his father who instilled in him a love of collecting souvenirs of the game. Whether ball hawking at Fenway, collecting broken bats, or owning a substantial baseball card collection, Snow was immersed heavily in the world of baseball. It only made sense he would become a fanatic of the most prestigious summer college league later in life.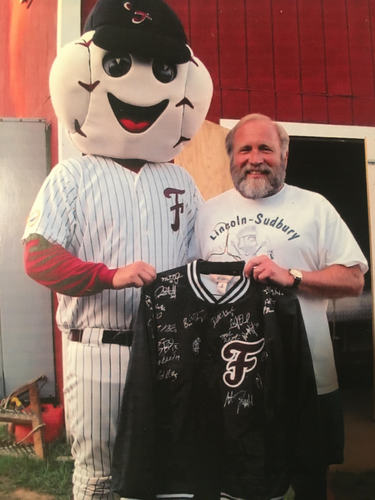 It was only a matter of knowing the league existed for Snow to begin coming to games. After spending summers on Cape Cod for 12 years, people who knew him and his love affair with baseball wondered why he'd never come to a game. He responded by saying he only liked Major League sports but decided to check it out anyway.

Along with his son Taylor, Snow attended a Commodores game late in the 2000 season. He explained that by the time "Take Me Out to the Ballgame" was played in the seventh inning stretch, "I almost had tears coming down my cheeks… I greatly regret missing those [12] years of Cape Cod Baseball," he said. "So many future stars played during that period of time and I missed seeing them. However, for the next twenty years, I made up for it. The total experience has been a highlight of my life."

Snow, a counselor at Lincoln-Sudbury High School for 37 years, has used his experience of working with young adults to connect with the Commodore organization on a deeper level. "Through the years, we weren't just fans, we were part of it," said Snow. The "we" he is referring to is his youngest son Taylor, who practically grew up at Falmouth's Guv Fuller Field every summer.

"He's a unique fan [because] he builds such close relationships with the players," said Taylor. "Most fans, once the game is over will pack up and head back to their cars, but he goes out on the field after every single game to see all the coaches and players. Even if they lose, he still goes out there and he'll give them some encouraging words… Not only do the players leave a positive impact on him but he's also a great influence on them."

As Snow has influenced players, he also shared with his son his lifelong love of baseball which inspired Taylor to continue his father's childhood tradition of ball hawking and collecting souvenirs.

The father-son duo would follow each summer's team closely, and make it their mission to collect as much team memorabilia as they could. This includes items such as Jacoby Ellsbury's bat and 'Dores pitcher Nick Webber's baseball glove, both signed. But perhaps most impressive was Conor Gillaspie's bat which he used the entire season and never broke once. With that bat, Gillaspie won the league batting title and crushed seven home runs.

When it came to chasing balls, Taylor was one of the best. He went on to snag 76 total balls (both foul and homerun), each of which were signed by the player who hit it. He also has 46 broken bats because his father would sit in the stands listening for the sound of a splintered bat and then report the information to Taylor so he could try and retrieve it from the player.

"Without Taylor, I probably wouldn't have been here all these years," said Snow.

Giving his son the love of sports from an early age wasn't his only motivation for enjoying summer baseball though. Since Taylor grew up and began coming to fewer Commodores games, Bill has carried on the tradition, revolving his summers around the Cape League. "If it's a game day, his entire day is planned around it," said Taylor. "He gets to every game early so he can sit in the exact same corner of the first base grandstands."

If you attend a game at the Guv you can always expect to see Snow there. He says it gives the best vantage point of the diamond plus it allows him the option to stand without blocking anyone. His area in the bleachers is so well known that, "there have been countless times...people make a point to block [it] off...because they know I'll be coming eventually," he said.

From that seat, Snow has taken in multiple Western Division Championship seasons from the Commodores and seen young talent blossom in budding superstars. The stories he can recall from his years as a Falmouth fan, along with the future professional baseball stars who he's shared laughs with, would make any fan envious.

One particular story could pique the interest of the Cape League Hall of Fame. In 2004, the Commodores were graced with players such as future first rounders Ellsbury, Cliff Pennington, and Matt Antonelli. Another player who was a standout that summer was Dan Carte who belted 11 home runs and hit .308 in 43 games. He is also the only player in Cape League history whose first three hits on Cape Cod were homers.

This is of note because of what happened in his next plate appearance. "He broke his bat the next time up after hitting [his third] home run and Taylor asked for the bat after the game," said Snow. He explained the Cape League Hall of Fame has a replica of the bat that Carte used to accomplish the unprecedented feat. "We have the real bat!" he said.

It's not only the on field antics Snow enjoys being part of when he comes to the ballpark. He has also come to enjoy the companionship of multiple fans in the stands. "Different factions of people will come [to games] on their summer vacation…and I'm the one constant person," he said. "We start a conversation. It's been wonderful, I've met a lot of great people through the years."

But not this season. 2020 has given Snow a different perspective on his life. For the first time in 20 years, he has no 6 p.m. first pitch to look forward to and he has no team to rally around. "When Coronavirus came along, losing professional sports on television was one blow. The second was not being able to get into the beaches," he said. "But the final nail in the coffin was when they cancelled the Cape League."

For many people, losing your lifeblood would be a motivation killer, but Snow has another hobby besides watching baseball which has kept him going just fine since the halt to normal life. "My favorite thing to do in life is nothing," he says. He is able to keep himself entertained with the professional sports memorabilia he has displayed around his house such as 17 autographed items by Ted Williams and his seven rare Roberto Clemente baseball cards. He also enjoys spending time in his North Falmouth home which looks out on Buzzards Bay.

But Snow is ready for summer baseball to return and is confident those diehard Cape League fans will be right back in their seats when it does, as if there was just an extended offseason.

"It'll come back, it will come back. It may be a couple of years before we get back to what we know as normalcy," he said. "I see whenever it begins...that there will just be continuity and [like] nothing happened in between… I just hope to pick up where it ended."


Photos Courtesy of Bill Snow