League News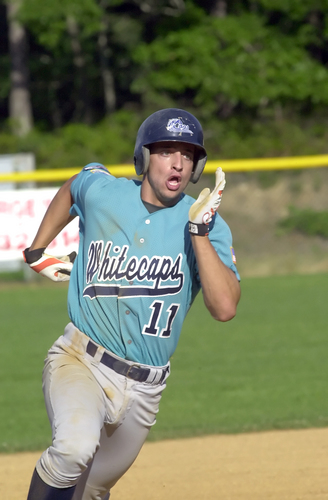 11/05/2020 5:40 AM
Article By: Taylor Viles
Tuesday marked the start of an important vote. No, not that one; this one was a vote with far fewer repercussions.

It's a vote to decide what the best all-time team from the CCBL's East Division is. Each team from the division has sent in a roster to the league with the best player who has suited up to play each position. This includes a right-handed pitcher, a left-handed pitcher and a relief pitcher as well as the other eight fielders. Although links to voting can be found on the Cape League website and social media accounts, below is a breakdown of the submitted teams from the East and the players picked to represent them.

Teams went about putting together their rosters in different ways. Some picked players who have had illustrious MLB careers after their summer on the Cape, other teams picked players who had outstanding summers with their team but may have disappeared from the baseball scene afterwards, and some teams did a combination of both. Teams that chose to pick players who might not have a headline name should not be counted out, however, because those players likely tore up the league during their time on Cape Cod.

Brewster Whitecaps

The Whitecaps were introduced to the league in 1987 and their team was pulled from most of the team's history.

Billy Wagner pitched for Brewster in 1992 and later enjoyed a 16 year career, last appearing in 2010 for the Atlanta Braves. That season he was an all-star, the seventh time in his career. In his career, he had a .231 ERA and collected 422 saves.

The two other 1990's players on the Whitecaps roster are Aaron Rowand ('96, '97) and Chase Utley ('98, Cotuit '99). Both players fared well on the Cape as each came back for a second season. In the major leagues, the two fielders crossed paths in Philadelphia for two yearsand represented the Phillies at the all-star game in 2007. Both players' batting averages were within two points of each other, but Utley prevails as a better player as he hit 259 home runs over his career as compared to Rowand's 136.

Kyle Hendricks played in 2010 and in 14 games on the Cape, his ERA was only 1.73 during the regular season. He has become a star for the Chicago Cubs in the MLB helping them to their first World Sereis in 108 years in 2016.

The most exciting player from recent years on this roster is Aaron Judge who played on Cape Cod in 2012. His rise to stardom on the New York Yankees was fast, winning rookie of the year in 2017 hitting 52 home runs. He hit five home runs for Brewster, a stat that led the league.

While Brewster's all-time roster includes many stars such as ones already mentioned as well Ryan Braun ('04) and Yasmani Grandal ('08), some lesser known players are also on the roster who deserve to be looked into.

Mike Aviles played on the Cape in 2002. He played in 35 games with a .168 average and registering 2 doubles, a triple and a home run. In the MLB, he played 10 years hitting .261. He retired in 2017.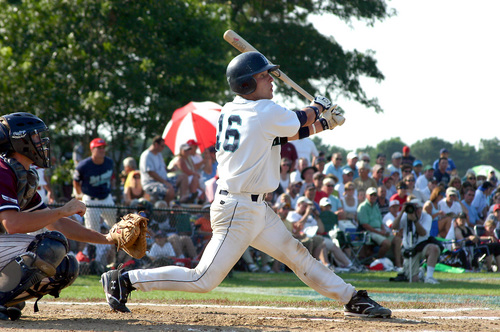 Harwich Mariners

Not many teams could beat this Hall of Fame or soon-to-be Hall of Fame studded roster the Mariners possess.

Many of the athletes on this team were in a Mariners jersey at the same time. Brandon Belt and DJ LeMahieu were each on the Cape in 2008. Belt hit five home runs during his summer on the Cape and since has put together an impressive resume with the San Fransisco Giants. His most recent season saw him hit a career-high .309. LeMahieu has become a superb infielder during his MLB career and was recently announced as an A.L. MVP finalist for the New York Yankees. With Harwich, he hit .290 and collected 13 RBI's in 28 games.

With starting pitchers Tim Lincecum ('05) and J.A. Happ ('03), opposing hitters would face a tough test to get on base if this were an actual roster. On the Cape, Lincecum owned a 0.69 ERA with 68 strikeouts. In the MLB, he won the National League Cy Young award twice. Happ is closing in on 2000 career innings pitched and averages just under a strikeout per inning.

Sean Doolittle was teammates with Lincecum in 2005 but not on the mound like he's become known for in the MLB. He appeared as a hitter in five games and registered five hits.

Josh Donaldson played in 39 games for the Mariners with an average of .302 in 2006. He was second on the team in batting average but led in RBI's with 21 and total bases with 68. In the majors, he has been an all-set three times and has four seasons of 30 or more home runs.

Ian Happ was an all-star during his season on the Cape hitting five home runs in 2013. In the all-star game, he was given a rare four at-bats collecting a double and a home run during the game. Happ is the most recent team member the Mariners included on their roster.

The earliest Harwich alum included was Kevin Millar who suited up for the team back in 1992. He was a crucial member of the 2004 Boston Red Sox helping them win their first World Series in 86 years.

Orleans Firebirds (formerly Cardinals)

While the history of Harwich goes back all the way to the 1930s, Orleans' history goes back even further and it's shown with their all-time roster picks.

Before Carlton Fisk was a Hall of Famer in the major leagues, playing for both the Boston Red Sox and the Chicago White Sox, he suited up for the (then) Cardinals in 1966. In his first-ever Cape League at-bat he hit a home run. Fisk is the first of many who played for Orleans who have already completed illustrious careers in the MLB and have also been inducted into the Hall of Fame.

Frank Thomas was a large part of the home run frenzy that came with the 1988 season. He holds the record for the longest home run ever hit at Eldridge Park in Orleans. In his big league career, he broke records hitting 521 home runs.

Nomar Garciaparra makes up the second former Boston Red Sox player on this list, playing for Orleans in 1993. Steven Wright was the third player to suit up for Boston on the roster. He was in Orleans in 2005 as part of one of the greatest pitching summers the Cape has ever seen. Wright's ERA was only 0.63 during the summer as the teams closer. He pitched seven years for the Red Sox and was a part of two World Series teams.

Five years after Wright was on Cape Cod, Kolten Wong and Marcus Stroman were teammates with Orleans. Both players have made names for themselves at the major league level. On the Cape, Wong won league MVP hitting .341 during the season. Stroman pitched 25 innings that season allowing no runs and picking up 25 strikeouts.

Yarmouth-Dennis Red Sox

The Yarmouth-Dennis Red Sox selected a mix of players ranging from the mid 1980's until 2014. A couple of these rostered athletes overlapped on YD as well.

Craig Biggio played in 1986 and then went on to the MLB Hall of Fame as a member of the Houston Astros where he played for 20 years. During his playing career, he led the league in doubles. He is father to Cavan Biggio who played for Harwich in 2014 and 2015 and now plays for the Toronto Blue Jays.

Current MLB reliever David Robertson spent time on the mound on Cape Cod in 2006 pitching to longtime San Fransisco Giants catcher Buster Posey. Robertson was second in team saves appearing in 16 games. Posey played in every game of the regular season for YD batting .289. He also helped the YD Red Sox to back to back championships as he returned the following season and played in 35 games.

Chris Sale played in 2009 and won the outstanding pitcher award at season's end. Sale owned a 1.47 ERA and led the league in strikeouts with 57. He has gone on to have a successful career with the Chicago White Sox and the Boston Red Sox.

The final pitcher on this roster, Walker Buehler, played with Andrew Stevenson in 2014. Beuhler has become the ace for the Los Angeles Dodgers, helping them win the 2020 World Series last month. On the Cape, Buehler previewed his MLB success with a 1.35 ERA that summer and going 2-0 in the playoffs without allowing a run. Stevenson hit .327 during the season garnering him an all-star appearance. He hit one home run in the playoffs and knocked in four runs.

Justin Turner, another current Dodger, played during the 2005 season. The young Turner helped Yarmouth-Dennis with 55 total bases and three home runs over the season. He has become a playoff sensation in the MLB hitting 12 home runs and 41 RBI's in 72 playoff games. He was also the NLCS MVP in 2017.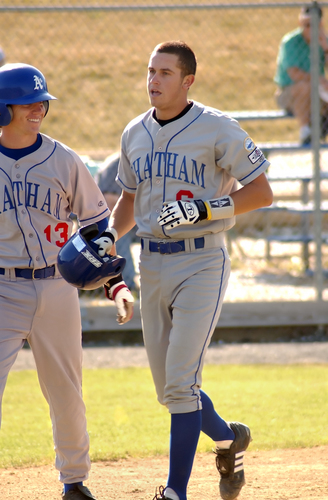 Chatham Anglers (formerly Athletics)

Chatham went with a similar system as Orleans by using their whole history to create their all-time roster.

Charlie Hough was a knuckleballer back in the mid 20th century. He played for the (then) Athletics in 1964. He went on to play 25 years for four teams primarily the Los Angeles Dodgers and the Texas Rangers. His final season came at his age 46 season, an age that is not uncommon to reach for knuckleballers.

Three years later, Thurman Munson batted .420 which led the league and won the league MVP. He batted .292 over 11 seasons with the New York Yankees. He was an all-star for seven of those seasons.

Joey Cora, brother of former Red Sox manager Alex Cora, played for Chatham in 1984. He won the MVP that season hitting .373 he also had a league high 28 stolen bases. He played 11 years at the major league level. That season in another team on the Cape was home to another future Chatham player.

Brian Roberts grew up in the Cape League atmosphere as his father, Mike Roberts, coached the Wareham Gatemen when he was growing up. The yougers Roberts was a batboy for the team at the age of six. 14 years later, he made a more formal debut with the league playing for Chatham in 1998. Brian's father, Mike is now the longtime manager of the Cotuit Kettleers.

David DeJesus and Jason Bay were teammates on Chatham in 1999. DeJesus was in his second year on Cape Cod, his first coming with Bourne. DeJesus and Bay made up two-thirds of the outfield in '99.

During the pitching frenzy that was the 2005 season, Andrew Miller was a leader on the mound. He finished the season winning the pro prospect award as well as sharing the league's outstanding pitcher award with Falmouth's Tim Norton. Miller finished the season with a 6-0 record and a 1.65 ERA. Evan Longoria was also part of that team. He took home the league's MVP award after hitting a league leading eight home runs and hitting .299.