League News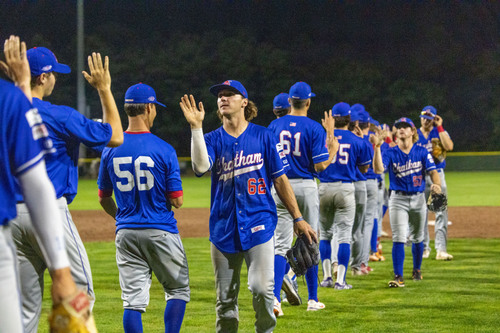 05/31/2023 9:19 AM
Article By: CCBL Public Relations Office
The Chatham Anglers home opener will be June 11th, when they host the Brewster Whitecaps. The Anglers will be looking to return to the playoffs for the first time since 2019, when they were the regular season East Division champions.
In the dugout, Tom Holliday returns for his fifth year as Chatham's manager. Joining Chatham as assistant coaches are Mike Henneman and Brock Riley. Henneman spent 10 years in MLB, finishing his career with 193 saves. Riley pitched for Chatham in 2018, when the Anglers reached the CCBL Championship.
On the field, Aidan Meola is one of nine returning Anglers from last summer's team. Tanner Witt is one of the top 2023 draft-eligible prospects playing in the Cape League this summer, as he's currently projected to be a first round pick.
Chatham will run their youth clinics the following weeks this summer: June 26 - June 30, July 3 - July 7, July 10 - July 14, July 17 - July 21, July 24 - July 28, and July 31 - August 4. Their youth clinics are for boys and girls ages 6 - 17. You can learn more information about the youth clinics, or register your children for this summer, by clicking here.
On July 2nd, the Chatham Athletic Association will be hosting a fireworks night at Veterans Field, preceded by a performance from Dan Clark the singing trooper. A few other notable events for the Anglers this summer include Coast Guard and First Responders Night, with a Black Hawk helicopter flyover on July 8th, and a 100-Year Anniversary night on July 13th.
All of Chatham's home games are played at Veterans Field, located right off of Main St. in Chatham. The field's address is 702 Main St. Chatham, MA.