League News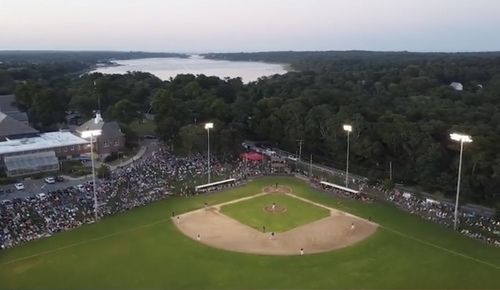 08/11/2023 8:18 PM
Article By: Kaileigh Grieb
Bourne Braves defeat Orleans Firebirds (Bourne Leads Series 1-0)

It was an intense battle last night at Eldredge Park between the Bourne Braves and the Orleans Firebirds.
Leading off for the Firebirds, Fenwick Trimble wasted no time getting up on the board, drilling a homerun to left field.
However, Jonathan Vastine got Bourne on the board in the fourth after Joshua Kuroda-Grauer's double sent him home. Bryce Eblins' putout helped give the Braves the lead, bringing Kuroda-Grauer home.
Orleans didn't take their lead lightly, coming back in the bottom of the fourth with two RBI doubles by Jack Penney and Matt Halbach.
This lead didn't last long.
Bourne came back to lead in the fifth thanks to Kuroda-Grauer coming back to the plate again, bringing in a two RBI double. The game remained stagnant up until the eighth inning where Eblin shot a single into right field, bringing Kuroda-Grauer home once again.
While in the bottom of the eighth, Eddie King Jr. hit a single which brought an earned run by Fenwick Trimble for Orleans.
No matter how hard the Firebirds pushed, the push back from the Braves was just too much, causing the score of Game 1 of the Championship Series to be 6-4 Bourne. The East Division champs will make another game time appearance at Doran Park in Game 2 of the Championship Series tomorrow at 6pm.