League News
09/11/2001 11:34 AM
Article By:
for immediate release: 10 September, 2001
Braves' All-Star Righty Signs with Pittsburgh Pirates


JACKSONVILLE, FL -- Bourne Braves' righty ace Casey Shumaker (Jacksonville University) followed up his stellar summer on Cape Cod by signing a contract with the Pittsburgh Pirates late last month, marking yet another Cape Cod Baseball League player to go to the Big Leagues in 2001.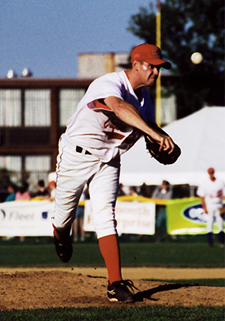 Bourne Braves righty ace Casey Shumaker followed up an all-star summer with a Major League contract.
Sean Walsh/CCBL 2001
Selected by the Pirates in the 23rd round (684th pick overall) of this year's Major League Baseball First-Year Player Draft, Shumaker came out of the gate this summer on fire, running up an impressive string of quality starts before succumbing to a bout with tonsillitis. Still, Shumaker persisted through his brief illness and was named to the West Division All-Star Team in July. Finishing the season by helping lead the Braves to the playoffs, Shumaker went 6-2 with a 1.19 ERA and 62 Ks in 60 1/3 innings pitched. He scattered 35 hits, gave up just 11 walks and 12 runs. He was tied for the league lead in wins (6) with Miami (Ohio) University's Chris Leonard (Wareham) and ranked fourth in ERA.

He was ranked the 12th top pro prospect to emerge from the Cape League by Baseball America.

In the spring before arriving on the Cape, Shumaker led Jacksonville to the NCAA Tournament en route to First-Team All-America honors. Serving as a reliever on the college circuit, the hard-throwing righty had no trouble converting from a reliever's role to a starting role on the Cape, where his low-90s fastball and tremendous slider quickly placed him among the top pitchers in the league. The 6-foot-4, 190-pound hurler was tabbed Coca-Cola Cape League Pitcher of the Week on July 1 after allowing no earned runs and scattering four hits with 10 strikeouts in two wins for the Braves in late June.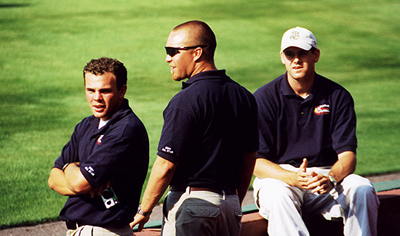 Cape League All-Star pitcher Casey Shumaker (right) shares a moment at Fenway Park in July with fellow Bourne Braves' all-stars Nick Italiano (left) and Mike Dennison (center). Sean Walsh/CCBL 2001
Shumaker was selected as a first-team All-American by the National Collegiate Baseball Writers' Association and a third-team All-American by Collegiate Baseball in 2001. He went 7-6 for the Dolphins with a school-record 12 saves and a 1.91 ERA, which ranked 8th nationally. He also led the nation with 14.0 strikeouts per nine innings after striking out 117 batters with only 40 walks in 75.1 innings pitched. After only two seasons at JU, Shumaker ranks second all-time with 13 saves and third all-time with 201 strikeouts. He appeared in 33 games for the Dolphins last year, making three starts, while hurling one complete game.

Sean Walsh/CCBL 2001
with special thanks to the
Jacksonville University Baseball Program