League News
06/23/2003 10:31 AM
Article By:
This week in Baseball
23 June 2003


Like Father, Like Son
Major League Offspring Playing in the Cape League
SOUTH YARMOUTH -- It wasn't an old timer's game, though many of
the names in last Saturday's Cape Cod Baseball League game between Y-D and
Wareham seemed familiar.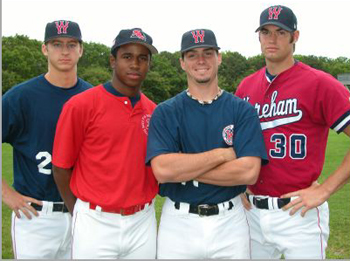 Ron Taylor, Oscar Gamble, Craig Reynolds, and Dave Laroche
Lou Barnicle/CCBL 2003

For the first time this season, the Yarmouth-Dennis Red Sox and two-time defending champion Wareham Gatemen squared off, meaning four sons of former major leaguers, Ron Taylor, Oscar Gamble, Craig Reynolds, and Dave Laroche were in uniform. A fifth son of former major league slugger John Mayberry, was playing for Stanford in the College World Series.

Sean Gamble, son of Yankee slugger Oscar, was the lone Red Sox of the four. Hailing from Montgomery, AL and attending Auburn University, Gamble is a left-handed hitting outfielder who can do it all. After finishing a strong sophomore season hitting an even .300, Gamble looks forward to improving his draft stock for the coming season. After being drafted in the 11th round out of high school, Gamble chose to go to college and develop his skills as well as his skinny frame. Though he was only four when his father played his last game, Gamble has taken advantage of game tapes to gain a strong appreciation for the type of player his father was. He says his favorite moment was watching his dad and Reggie Jackson hit back to back homeruns in the AL division playoffs in 1981. Sean talks to his father, who now runs a sports agency, every day and is rapidly seeing his lifelong dream of following in his footsteps becoming a reality.

Wareham's Andy Laroche, son of two-time All-Star pitcher Dave LaRoche, came into Saturday's action hitting a strong .304 with one home run. Laroche is a shortstop from Grayson County, who also played football in high school, yet always dreamed of playing professional baseball. He has no memory of his father as a player, yet has plenty of stories of his father, the pitching coach. He looks back fondly his days of playing the Kansas City Royals? clubhouse with Bo Jackson's son, and taking batting practice with Frank Thomas. He talks often with his dad, currently the pitching coach of the surging Royals, taking advice from the man Yankee great David Wells called in his new book the "savior of his career". Andy hopes to someday credit his father with the same title in his own book.

On the other side of second base stands Kyle Reynolds, son of a two-time All Star shortstop and 14-year veteran, Craig Reynolds. Just like his father, Kyle is a tall, wiry middle infielder with good speed. While attending Baylor, just outside of his hometown of Houston, Kyle enjoys the pleasure of playing front of his dad many times a season. Craig, Kyle says, is real encouraging and doesn't talk much about what is going wrong, and this type of positive reinforcement has helped Kyle to develop into one of the top infielders in the Big XII conference. Kyle is proud to say he was the 3rd to last player taken in the 2002 draft, though he hopes to improve his position in his final three years at Baylor, and this summer with the Gatemen.

Saturday's starter, Drew Taylor, has plans to follow in dad's footsteps whether he makes the big leagues or not. As a pre-med major at the University of Michigan, Taylor hopes to one day play in the major leagues, and then practice medicine, just as his father Ron has done. Ron is currently the team doctor for the Blue Jays as well as a highly regarded surgeon in Toronto, after a successful career as a relief pitcher for the New York (amazin') Mets and St. Louis Cardinals. As well as his father, Taylor looks up to David Wells as a pitcher he would like to emulate. He likes Wells' sharp-breaking curveball, and especially his hard-nosed, all business demeanor on the mound. He said he also wouldn't mind having as much as Wells has off the field. Taylor plans to finish school, unless the baseball world comes calling with an overwhelming offer, as his degree from such a highly regarded school may be worth more than a contract.

Also on the Y-D roster is Stanford standout John Mayberry Jr. but he did not play, as he was busy finishing up the College World Series. Son of John Mayberry Sr. another two time All Star, John Jr. will be arriving on the Capea soon after losing Monday to Rice in the College World Series
championship. - Brian Higgins <[email protected]>
Twomley and Avery Player and Pitcher of the Week
Jason Twomley of the Brewster Whitecaps has been named the Coca-Cola Player of the Week for the Cape Cod Baseball League. Twomley led the Whitecaps with a .438 batting average (7-for-16) with two homers, five RBI and a lusty .815 slugging pct. He also had a .500 on-base pct. James Avery of the Chatham Athletics has been named Coca-Cola Pitcher of the Week. Avery led all Cape league pitchers last week with a perfect 2-0 record with a 0.00 ERA in 13 innings pitched. He allowed just four hits and three walks while striking out 11 batters. - John Garner, Jr. <[email protected]>