League News
01/16/2006 2:19 PM
Article By:
for immediate release: 16 January, 2006
Cape League Hall Of Famer Len Merullo
Accepts Judge Emil Fuchs Award
BOSTON – Long-time scout and Cape Cod Baseball League Hall of Famer Lennie Merullo was presented with the prestigious Judge Emil Fuchs Award for long and meritorious service to baseball last Thursday at the 67th Boston Chapter Baseball Writers Association of America Awards Dinner.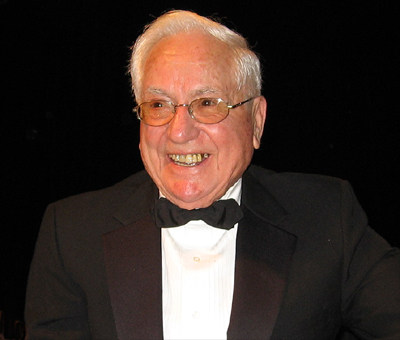 CCBL Hall of Famer, Lennie Merullo
was honored with the prestigious
Judge Emil Fuchs Award
at the 67th Boston Baseball Writers.
CCBL/2006
The 87-year-old Merullo, involved in baseball for over 65 years as a player and major league scout, joins an impressive list of former Fuchs recipients including Ernie Banks, Bob Gibson, Carl Yastrzemski, Joe Cronin, Dick O'Connell, Hank Aaron, Willie Mays, Frank Robinson, Brooks Robinson, Tom Seaver, Johnny Pesky, Bill White, Joe Morgan, Lou Gorman, Dennis Eckersley, Buck O'Neil, Ernie Harwell, Bud Selig and Marvin Miller.

"This is a big thrill and perhaps the highlight of my long career," said Merullo, who was on a dais that included Red Sox Pitcher of the Year Tim Wakefield, MLB Executive of the Year Ken Williams and Red Sox manager Terry Francona.

A native of East Boston and one of 12 children born to Italian immigrants, Merullo graduated from high school at age 16 and led Barnstable to the Cape League title in 1935. He attended Villanova, where he captained the baseball team before the Chicago Cubs signed him to a contract in 1937.

It was with a tryout with the Cubs during the spring of 1935 that brought him face to face with one of the legends of baseball at Braves Field in Boston.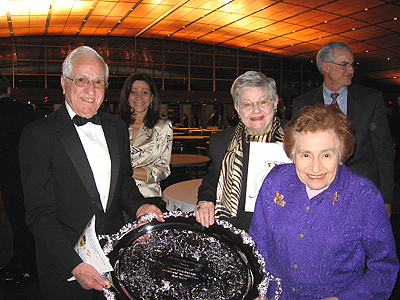 Lennie Merullo , Mrs. Fuchs Meltzer, Rick Merullo, and Mrs. Jean Merullo,
at the Boston Convention and Exhibition Center. photo by CCBL
"I went into the clubhouse to get ready for my workout when all of sudden I saw players from both teams crowded around a locker in the Braves' clubhouse," remembered Merullo. "Making my way through the crowd, I saw none other than the great Babe Ruth sitting on a stool with that big stomach. He was finishing up with the Braves that season."

After his brilliant career with the Red Sox and New York Yankees, Ruth was signed by Boston Braves owner Judge Emil Fuchs – the same Fuchs whose name graces Merullo's award – who wanted the "Sultan of Swat" to help bolster sagging attendance.

After spending a couple years in the Cubs minor league system, Merullo made it to the majors with the Cubs in 1942, hitting .256 with 23 doubles and 14 stolen bases.

Despite tying a major league record with four errors in a single inning at shortstop, Merullo enjoyed a seven-year career in the majors and played in the 1945 World Series against two-time MVP Hal Newhouser, Virgil Trucks, Tommy Bridges, and slugger Hank Greenberg of the Detroit Tigers, who won an exciting seven-game series against the Cubs.

After retiring from baseball, he scouted for his beloved Cubs from 1950-72, signing among others relief pitcher Moe Drabowsky. He left the Cubs in 1973 to join the fledgling Major League Scouting Bureau, which he served with distinction until his retirement at age 85 in 2003. He drove an estimated 20,000 miles per year during that 30-year period evaluating high school, college, American Legion and yes, countless Cape League players.

Merullo was named Major League Baseball Scout of the Year in 1990. In 2000, he was inducted into the inaugural Cape League Hall of Fame class with Dick Bresciani, fellow scout Bill Enos, Mike Flanagan, Eddie Lyons, Thurman Munson, Arnold Mycock, Jeff Reardon, Danny Silva, Frank Thomas, Mo Vaughn and Red Wilson.

Lennie's grandson Matt Merullo was a catcher for the Chicago White Sox for several years and, following in his grandfather's footsteps, is currently a scout with the Arizona Diamondbacks.

"Lennie has left an indelible mark on everyone he has met," said CCBL President Judy Walden Scarafile, a long-time friend and colleague. "Not only was he a shrewd evaluator of talent, but he has great integrity and people skills. He's a class act in every way."