News
07/12/2008 10:44 AM
Article By:
12 July 2008
10 Cape Cod League Graduates
Ready for 79th MLB All-Star Game
Tuesday, July 15, at Yankee Stadium
Tampa Bay's rookie third baseman Evan Longoria won the "32nd player" fan balloting on Thursday, July 10, bringing the Cape Cod Baseball League's total to 10 players on the American League and National League rosters for the 79th Major League Baseball All-Star Game on Tuesday, July 15, at Yankee Stadium in New York.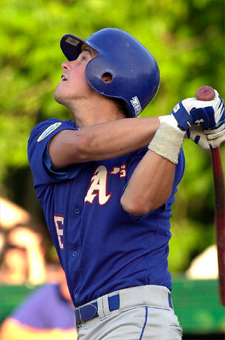 Evan Longoria with the Chatham A's in
2005. (SportsPix photo)
Longoria, who three summers ago was excelling at three different infield positions for the Chatham A's, polled a record nine million online votes to capture the final spot on the American League All-Star Team. In doing so, he out-polled such established stars as Jermaine Dye of the Chicago White Sox, Jason Giambi of the New York Yankees, Brian Roberts (Chatham 1998) of the Baltimore Orioles and Jose Guillen of the Kansas City Royals.

Meanwhile, Milwaukee Brewers outfielder Corey Hart collected eight million votes to beat out the New York Mets' David Wright, Philadelphia's Pat Burrell (Hyannis 1996), San Francisco's Aaron Rowand (Brewster 1996, 1997) and Houston's Carlos Lee as the final selection for the National League squad. Wright later found himself on the NL team, however, when he was picked to fill the roster spot of injured Chicago Cubs outfielder Alfonso Soriano.

Four of the 10 ex-Cape Leaguers were the fans' favorites and thus earned starting berths. Red Sox Gold Glove winner Kevin Youkilis (Bourne 2000) will start at first base for the American League, while two former Brewster Whitecaps and an ex-Wareham star will start for the National League. Philadelphia second baseman Chase Utley (Brewster 1998, Cotuit 1999) and Milwaukee outfielder Ryan Braun (Brewster 2004) are joined by Houston first baseman Lance Berkman (Wareham 1996) in the NL starting lineup.

Longoria showed Chatham fans he was on the fast track to big league stardom by earning the Cape League's 2005 Most Valuable Player award even though he finished below .300 in batting. Checking it at .299, he led the league in home runs with eight, tied for the lead in extra base hits with 16 and was first in RBI with 35. He easily topped all rivals with a .500 on base percentage and he led his team in hits (49) and runs (25). He played second base, shortstop and third base, and was named the starting second baseman on the end-of-season All-League Team.

Red Sox catcher Jason Varitek, a Hyannis Met in 1991 and 1993, may be struggling at the plate this season, but his election to the team by his fellow players shows how much they admire his catching skills. Varitek's .220 batting average is well below the .371 figure he posted at Hyannis in 1993 to not only win the batting title but also clinch the MVP award.

Houston's Berkman is another former Cape League batting champion. His .352 average captured the Thurman Munson Award with the Gatemen in 1996.

Joining starter Youkilis and reserves Varitek and Longoria on the American League team is Los Angeles Angels pitcher Joe Saunders (Harwich 2001). The left-handed hurler compiled a 4-3 record and posted a second-in-the-league 1.02 ERA for the Mariners. In 53 innings, he struck out 61 while walking only 11 and doling out 32 base hits.

Three pitchers round out the Cape Cod delegation on the National League team – New York Mets left-hander Billy Wagner (Brewster 1992), Milwaukee right-hander Ben Sheets (Wareham 1998, Orleans 1999) and San Francisco right-hander Tim Lincecum (Harwich 2005).

Lincecum, who graced the cover of last week's issue of Sports Illustrated, posted a 2-2 record and a 0.69 ERA in the Cape League. He started three games, going the distance in one of them, but pitched in a total of 19 games, giving up just seven runs and 14 hits in 39.1 innings. He walked only 11 batters and struck out 68, fourth best total in the league. Along the way, he also picked up seven saves.

The All-Star Game will be televised nationally by Fox (Channel 25 in Boston). Pre-game ceremonies will begin at 8 p.m. ESPN Radio will provide national radio coverage that will also be carried on XM Satellite Radio. MLB.com will provide online coverage.

By Joe Sherman, CCBL Public Relations Staff ([email protected])

Interns: Chris Blake, James Chandley, Ashley Crosby, Phil Garceau, Stefanie Marini, Laura Rasmussen