News
07/24/2008 12:52 PM
Article By:
24 July 2008
Falmouth's Coleman Is Walking Off
With CCBL Lead in Bases on Balls
While Proving His Ability as a Catcher
FALMOUTH, Mass. – Trevor Coleman likes to keep things simple.

Oddly enough, the newly named all-star catcher's contributions to the Falmouth Commodores have been anything but simple.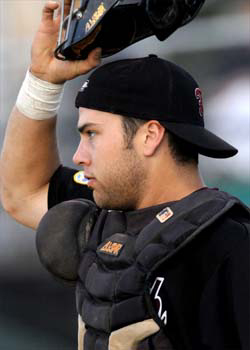 Trevor Coleman, Falmouth Commodore
SportsPix / 2008
Coleman, who will be a junior in the fall at Missouri, currently leads the Cape Cod Baseball League in a strange category for a 6-1, 210-pound switch hitter.
In a league that is known to favor pitchers and frustrate hitters, Coleman has 30 walks. Those 30 walks have come in 29 games and are countered with only 15 strikeouts through Saturday, July 19.

Commodore manager Jeff Trundy has also noticed that several of Coleman's 30 walks have been issued on 0-2 counts, a testament to his patience at the plate.

"He is an extremely disciplined hitter who knows that strike zone very well," Trundy said. "He tries not to swing at bad pitches early in the count and even if it is a marginal strike, he is a good case of a kid who doesn't get himself out. He is a good hitter besides. He is not just a hitter up there drawing walks."

Coleman, who has also driven in 15 runs, mostly batting third, is surprised by his free pass total.

"It is the way it has turned out. I have been trying to keep my approach at the plate pretty aggressive," Coleman said. "Sometimes the strike zones can get pretty big, so I try to take those out of play, but it just turns out I haven't had a lot of pitches to hit. I don't know why that is."

A native of Dripping Springs, Texas, Coleman has achieved another not-so-simple task this summer. He has safely reached base in all but one game, including a streak of 21 games that began at the beginning of the season.

His goal is to keep things simple to sustain the success.

"I really want to keep it as simple as a can," he said. "A lot of the time it is easier said than done as far as going up to the plate and having a consistent mental approach that will help you be successful. In general, I want to simplify my thoughts at the plate and work on reacting to pitches."

That is one goal he can consider already achieved.

"He has done a good job in that respect," Trundy said. "It is easy to get too analytical. We talk to the kids all the time about 'Hey, let's try not to do too much, let's try not to do something that is out of our range of ability.' Obviously, they are talented kids, but you can again step too far trying to do too much. He never seems to do that. He is always fairly consistent with his approach and I think his approach is fairly simple, yet at the same time it is an approach that is very successful so he knows it is going to work for him and he sticks with it."

Coleman's "simple" style earned him Big XII Conference Freshman of the Year honors in 2007, along with being named a Louisville Slugger All-America. As a freshman, he was second for the Tigers in home runs with nine and slugging percentage with a .506 clip. He followed that up with a .295 average and 35 RBI this past spring.

A 38th-round draft pick of the Cincinnati Reds in 2006, Coleman also has a skill that puts him in a special category, one that includes the likes of Jason Varitek, Jorge Posada and Ted Simmons. That skill is switch-hitting.

A successful switch-hitting catcher is hard to come by, but Coleman is making a case for himself.

"He makes sure that he gets equal time hitting from both sides when it comes to hitting BP or working in the cage. He really is very respectful of the fact that he is not going to favor one side over the other. He is smart enough not to do that," Trundy said. "To me, he is pretty equal from both sides."

"It is fun. I love it," Coleman said. "I think it is a tool I am good enough at and have worked hard enough at, that can be a real asset for me down the line. It can be difficult at times as well as being an advantage."

At Missouri in both 2007 and 2008, he was also the backstop for a dominant pitching staff that included Aaron Crow and Kyle Gibson. He started 43 games at catcher as a freshman and 54 as a sophomore.

"They are great pitchers and great guys, tremendous competitors," Coleman said of his teammates. "Kyle has got a bright future. I am looking forward to getting back to school to work with him again, as well as the rest of our staff. They all have great arms and if we can get them to pitch up to their potential, we will have success this year at Missouri. I think it has helped them to see Aaron Crow go through the process and see the success he has had up here (on the Cape) as well as at Missouri. And the things he did to be successful, as far as working hard and treating people right and doing stuff the right way, is showing some of the younger guys, including Kyle Gibson, how you need to go about your business."

Last summer, Crow was the ace of the Commodores staff and took home the Cape League's Top Pro Prospect Award.

Coleman, however, limited advice he received from Crow about what experience to expect from playing for Falmouth. He says he was mostly curious about things such as travel, umpires and what kind of job to land.

"I didn't want to let their thoughts affect my experience out of it," Coleman said. "It was just an inquisitive thing and it wasn't like I was searching for real answers. I was just excited to get up here."

Another thing that excited Coleman was the challenge of working with a new set of pitchers. He says despite the first week, he feels he has done well and established a familiarity with his hurlers.

"I have got to the point where I know what pitcher is going to go where and who is going to throw what kind of stuff. I really stepped up my game catching since that first week because it was difficult getting used to the new pitchers," he said. "It does not have a long-term effect, but it can also be a struggle. It is also one of the tricks to catching. If I want to be a catcher in the big leagues I am going to have to be able to adjust to new pitchers on the fly and see better pitchers."

The Commodore coaching staff permits its catchers call games. Even though they may talk about how to approach a hitter or discuss game-calling between innings, the responsibility is ultimately that of the catcher.

A responsibility Coleman displays he can handle.

"I think pitchers are very, very comfortable throwing to him. They trust his game calling," Trundy said. "I feel (the catchers) see the game better than we do. Plus, we want them to develop as players because professionally that is what they are going to do. We really trust what he does behind the plate as far as his game calling and his catch-and-throw skills are obvious. I think anybody would say he is a good catcher when it comes to those things, but above and beyond that, he brings leadership and game savvy that you would like to see out of a catcher. He is a kid who takes charge in a game."

On days when he is not catching, Coleman is used as the designated hitter, another role Trundy can easily trust him in.

It is an advantage the Commodores can exercise because of Coleman and Michael Thomas (Southern), who is equally impressive behind the dish.

Coleman says it is one of the reasons he has been able to do well at the plate and stay consistent.

"You more or less get a day off, but still get to stay in the game and keep a rhythm at the plate. As far as DH-ing, you still get to see pitches, which is an advantage to continue to stay in a groove. If you're hot, you're hot, and can keep going to the plate with that."

Coleman's summer job duties include being responsible for the team's laundry as well as picking up the locker room and working on the batter's box and home plate at Guv Fuller Field.

"I lay it out all organized and neat for everybody so they can have all their stuff," Coleman said of his laundry duties. "Even if I didn't have a job, I like waking up, getting up and doing stuff instead of sitting in bed all morning. It would be hard for me to gear up for the game. Instead I am already going. It is a blast and I am making money doing it so that is always a plus. It is just a fun experience and I am enjoying every minute of it."

Enjoying every minute of it because Coleman knows the opportunity to compete on the Cape is an opportunity of a lifetime.

A dream come true.

A privilege.

He spent last summer in the Northwoods League with the La Crosse Loggers. To him, the differences in the two leagues is obvious, but the experience was worthwhile.

"It was more of a grind. Out there we played a game every night, we had an off day every two weeks," he said. "The travel is a lot farther. Up here, you are traveling 45 minutes to Brewster. There, I had a nine-hour trip across Wisconsin to Michigan. If you are looking at modeling minor league ball, they probably do it better in that respect, but as far as talent, the Cape League has some of the best players in the country and you are seeing the best talent."

With Coleman near the top of the list.

Reaching base game after game. Walking. Switch-hitting. Calling games and adjusting to new pitchers.

Somehow, Coleman manages to make it all look simple.

Laura Rasmussen, CCBL Intern ([email protected])

Interns: Chris Blake, James Chandley, Ashley Crosby, Phil Garceau, Stefanie Marini, Laura Rasmussen