News
08/09/2008 1:40 PM
Article By:
August 2008
THIS WEEK IN THE CAPE LEAGUE
2008
MANNY ROBELLO
10TH PLAYER AWARD
Harwich's Giobbi the People's Choice
As Robello 10th Player Award Winner
HARWICH, Mass. -- The Cape Cod Baseball League's Manny Robello 10th Player Award is given to a player who performs above and beyond expectations. This year's award goes to Andrew Giobbi (Vanderbilt) of the Harwich Mariners, whose courageous comeback from a near-disastrous on-field injury inspired teammates and opponents alike.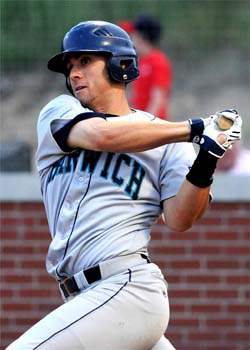 Andrew Giobbi
SportsPix 2008
Had Giobbi decided to call it a season on June 25, no one would have blamed him. In the eighth inning of a game at home against Wareham, Chris Hicks (Georgia Tech) lost control of a fastball that caught Giobbi just below his left eye.

"At first, they told me I wouldn't play again all year," said Giobbi of his injury. "But I went home and my doctor said I wouldn't need any reconstructive surgery. I was just so thankful because this is my last chance to play summer ball."

Giobbi took to wearing a mouth guard and a face guard that extended from his ear flap to his chin when at bat. "The helmet extension isn't so bad, but the mouth guard took some getting used to. But, hey, whatever I have to do to play," he said.

"The kid has been a team leader since he got here," said Harwich manager Steve Englert of his persistent outfielder and designated hitter. "That didn't change at all when he got hurt, He was gone for a little while and when he got back he was the same player and the same leader."

The only thing that changed after his injury was that as a precautionary measure Giobbi would no longer be used as a catcher. Instead he played in the outfield and occasionally at first base.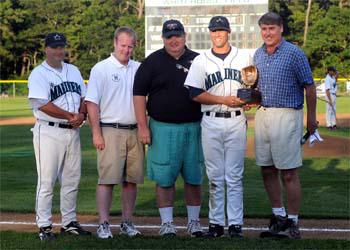 Steve Englert, John Reid, Paul Galop, Andrew Giobbi and John Garner
SportsPix 2008
Players around the league think very highly of Giobbi. He could often be seen making teammates and opponents laugh before and after games. He's a young man for whom it is truly easy to root. Aside from being a team leader and one of the consensus "nice guys" in the league, Giobbi has performed well on the field.

His ability to hit for power has been an asset to the Mariners. He finished the regular season with four home runs, 19 RBI and a slugging percentage of .456.

His injury aside, Giobbi was the perfect candidate for this award. He was added to the Mariners' roster just a few days before the season opened. He barely made it to the Cape this year and now he is playing well on a playoff team.

The award is named for Manny Robello, a longtime volunteer for the Cotuit Kettleers and the Cape League.
Jim Chandley, CCBL Intern ([email protected])

Interns: Chris Blake, James Chandley, Ashley Crosby, Phil Garceau, Stefanie Marini, Laura Rasmussen