News
09/09/2008 2:35 PM
Article By:
Chatham Shortstop Grant Green
Picked No. 1 by Baseball America
On List of Top 30 CCBL Prospects
CAPE COD, Mass. – Baseball America is considered the bible of amateur baseball, so like E.F. Hutton, when they speak, people listen.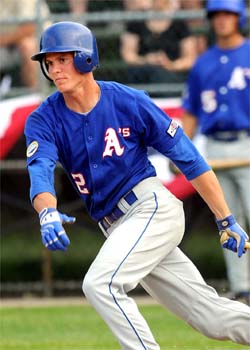 Grant Green
SportsPix 2008
The prestigious baseball magazine has come out with its annual list of Top 30 prospects for the Cape Cod Baseball League and to almost nobody's surprise, slugging shortstop Grant Green (Southern California) of the Chatham A's has been selected as the number one CCBL prospect.

Rounding out the top five CCBL prospects are talented outfielder Dustin Ackley (North Carolina) of the CCBL champion Harwich Mariners, hard-throwing right-handed pitcher Matt Harvey (North Carolina) the Chatham A's, flame-throwing right-handed pitcher Ben Tootle (Jacksonville State) of the Falmouth Commodores, who was clocked at 99 MPH and Texas Longhorn RHP Brandon Workman of the Wareham Gatemen.

The Cape League's Pat Sorenti Most Valuable Player Award winner, hard-hitting outfielder A.J. Pollock (Notre Dame) of the Falmouth Commodores, was selected at number seven.

First baseman Kevin Patterson (Auburn) of runner-up Cotuit, who was presented with the CCBL's sportsmanship award, was the 17th choice.

The multi-talented Green was also named 2008 winner of the CCBL's Robert A. McNeece Outstanding Pro Prospect Award, joining such past and present Major League stars as Mark Teixeira (Orleans 1999), Billy Wagner (Brewster 1992), Chuck Knoblauch (Wareham 1988), Robin Ventura (Hyannis 1987), Ron Darling (Cotuit 1980) and Steve "Bye Bye" Balboni (Yarmouth -Dennis 1977).

He finished fourth in the Cape League with a .348 batting average and was among the leaders in six other key offensive categories. He was second in runs scored (37) and slugging percentage (.547) and third in hits (56), doubles (12) and extra-base hits (19). And his on-base percentage of .451 ranked fifth in the league. He also stole 10 bases in 13 attempts.

During the Under Armour Cape Cod Baseball League All-Star Game at Chatham's Veterans Field, Green belted a two-run homer to earn the East's MVP award.

The 6-3, 180-pound native of Anaheim Hills, Calif., has entered his junior year at USC, where he was named to the All-Pac-10 Team last spring after he hit .390 with nine homers and five triples and drove in 46 runs..

"He's a true five-tool player," said his Chatham manager John Schiffner, earlier this summer. "He can run, although he doesn't have blazing speed, and he has a strong arm and can throw people out. And he certainly can put the bat on the ball. The scouts I've talked to say he's almost certain to go in the first round of the draft next June."

Schiffner says Green compares to Tampa Bay rookie third baseman Evan Longoria, whom he managed at Chatham three summers ago. "They're similar body types and have the same dedication to the game," Schiffner said. "I'm very fortunate to have had them both here at Chatham." Longoria (Long Beach State) was the Cape League's MVP in 2005. He was Tampa Bay's first-round pick (third over-all) in the 2006 draft, made the big league club in April and was named to the American League All-Star Team.

In 2007, Green helped Yarmouth-Dennis capture the Cape League championship as he hit .291 with four homers, 12 RBI and 11 steals. He played all four infield positions for the Red Sox and was considered the No. 16 prospect in the Cape League at season's end.

Cape League's Top 30 Prospects
Selected by Baseball America
1. Grant Green, SS, Chatham (Junior, Southern California)
2. Dustin Ackley, OF, Harwich (Junior, North Carolina)
3. Matt Harvey, RHP, Chatham (Sophomore, North Carolina)
4. Ben Tootle, RHP, Falmouth (Junior, Jacksonville State)
5. Brandon Workman, RHP, Wareham (Sophomore, Texas)
6. D.J. LeMahieu, SS, Harwich (Sophomore, Louisiana State)
7. A.J. Pollock, OF, Falmouth (Junior, Notre Dame)
8. Brett Jackson, OF, Cotuit (Junior, California)
9. Jeff Inman, RHP, Yarmouth-Dennis (Junior, Stanford)
10. Brad Stillings, RHP, Orleans (Junior, Kent State)
11. Robbie Shields, SS, Cotuit (Junior, Florida Southern)
12. Ben Paulsen, 1B, Hyannis (Junior, Clemson)
13. Matt Thomson, RHP, Orleans (Junior, San Diego)
14. Bryce Stowell, RHP, Bourne (Signed with Indians)
15. Shawn Tolleson, RHP, Yarmouth-Dennis (Sophomore, Baylor)
16. Rich Poythress, 3B, Orleans (Junior, Georgia)
17. Kevin Patterson, 1B, Cotuit (Sophomore, Auburn)
18. Craig Fritsch, RHP, Yarmouth-Dennis (Sophomore, Baylor)
19. Mike Bianucci, OF, Cotuit (signed with Rangers)
20. Brad Boxberger, RHP, Chatham (Junior, Southern California)
21. Chad Bettis, RHP, Falmouth (Sophomore, Texas Tech)
22. Tim Wheeler, OF, Orleans (Junior, Sacramento State)
23. Dusty Coleman, SS, Bourne (Signed with Athletics)
24. Evan Danieli, RHP, Falmouth (Sophomore, Notre Dame)
25. Sean Black, RHP, Harwich (Junior, Seton Hall)
26. Nick Hernandez, LHP, Cotuit (Junior, Tennessee)
27. Marc Krauss, OF, Harwich/Bourne (Junior, Ohio)
28. Matt Bashore, LHP, Wareham (Junior, Indiana)
29. Ryan Wheeler, 1B, Brewster (Junior, Loyola Marymount)
30. Chris Dominguez, 3B, Hyannis (Junior, Louisville)
John W. Garner Jr.