News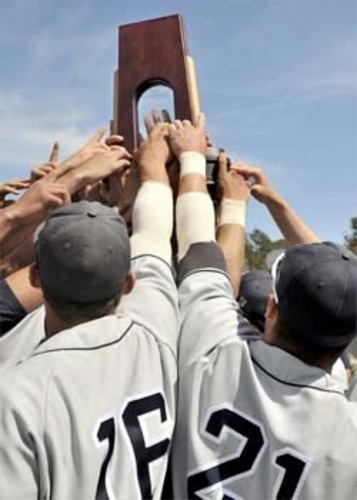 05/22/2013 4:43 PM
Article By: John Garner Jr.
The 2013 NCAA Division III New England Regional Championships in Harwich ended much like the first one at Whitehouse Field did a dozen years ago, with Southern Maine emerging out of the losers' bracket and punching a ticket to the College World Series.
The Huskies earned a trip to Cape Cod with an offensive onslaught that led the nation averaging 10 runs and was second among Division III teams in hits (516), home runs (36) and slugging percentage (.528).
But it was pitching and defense that led the way for Southern Maine in the regional, with 6-4 junior lefty Logan Carman hurling bookend shutouts - a three-hit, 5-0 whitewashing in the opener against Daniel Webster and a seven-hit, 9-0 laugher over No. 3 Endicott in the finale Sunday afternoon before nearly 300 sun-drenched fans at Whitehouse Field.
Another pitching standout for the Huskies was sophomore righty Andrew Richards, named most outstanding player after going 3-1 with a 1.35 ERA in 20 innings, including a yeoman 14 2/3 innings on 157 pitches in a pair of wins last Saturday.
The other nationally ranked team, perennial powerhouse Wheaton, was ousted from the tournament last Friday night with an 8-3 loss to Western New England, which lost to the Huskies early Saturday afternoon to set up the two-game series between Endicott and Southern Maine.
The World Series appearance will be Southern Maine's seventh in the 28-year coaching career of former Chatham A's player Ed Flaherty (Maine '75). The Huskies captured national titles in 1991 and '97 and set a team record this spring with 41 wins.
Numerous players from previous New England regionals have stayed put to play in the Cape League, including current Barnstable coach Joe DiMartino, who caught for Wheaton; current Seattle Mariners southpaw Charlie Furbush, who pitched for Hyannis for two seasons in 2005-06 and hurled a no-hitter; and Nauset infielder Jake Yagjian, who played for Wheaton and the Brewster Whitecaps.
Under the watchful eye of NCAA national and New England regional chairman Greg Kaye of the Commonwealth Coast Conference, the administration of the tournament was a team effort headed by Eastern College Athletic Conference interim commissioner Steve Bamford, tournament director Dave Morin and media relations director Roger Crosley of the ECAC, which hosted the event.
Assisting were the Cape Cod Chamber of Commerce and its sports advisory council, staffed by Patti Lloyd and chaired by Barry Souder of the Brewster Whitecaps, Cape Cod Baseball League and Harwich Mariners, Massachusetts Maritime Academy, the Town of Harwich and its recreation department, Harwich High, Cape Tech and others.
The regional sold 1,584 tickets, with an additional 15-25 VIP passes and media per game. Morin estimated the tournament averaged a little more than 100 fans per game in the early rounds, 300 for Saturday and 235 for Sunday's championship game.
"Overall, I thought everything went as well as it could possibly go," Morin said. "The feedback for the event has been overwhelmingly positive and we're going to do our best at ECAC to earn the opportunity to host again."
All in the Family
Congratulations to Wesleyan head baseball coach Mark Woodworth, named New England Small College Athletic Conference baseball Coach of the Year after a 25-win season in which the Cardinals lost to Amherst in the title game. Woodworth, the son of Yarmouth-Dennis Red Sox volunteer Nancy Woodworth, played for Wareham in mid-1990s. Woodworth, Doug Stead (son of former CCBL Commissioner and current MLB scout Bob Stead) and Derek Butts of Falmouth were integral players for 1994 Wesleyan team that was first NESCAC squad to qualify for NCAA tournament after a postseason ban was lifted by conference presidents.The Cardinals won the regional and lost in the World Series finale to Wisconsin-Oshkosh. Woodworthassistswiththe FrankFinnCape Cod Baseball League Tryout.
Rags to Riches
The annual Frank Finn Cape Cod Baseball League tryout will be Saturday, June 1 at Clem Spillane Field in Wareham, and coordinator Sue Pina of the Cotuit Kettleers still needs positional players, especially middle infielders, to round out tryout rosters. Top players have emerged from past tryouts, including Justin Maxwell (Maryland) who won 10th Player Award with Bourne in 2003; and Furbush, who, after striking out all three batters, was signed to a contract by former Hyannis GM John Howitt and a week later started against the U.S. Military All-Stars. Both are currently in the major leagues.
Friendly's First Scoop
More than 40 Cape League officers and team volunteers enjoyed the hospitality of the Friendly's staff last week by gathering together at the Hyannis restaurant located on Route 132. Friendly's has come on board as presenting sponsor for the Cape Cod Baseball League All-Star game, slated for Saturday, July 27 at Red Wilson Field in South Yarmouth at 4:30 p.m.
First Pitch Brunch
The Ninety Nine Restaurant in West Yarmouth will be site of the Cape League's annual First Pitch Brunch on Sunday, June 9 at 9:30. Each field manager will give a team preview, and Cape League Commissioner Paul Galop will announce the 2013 Hall of Fame induction class.