News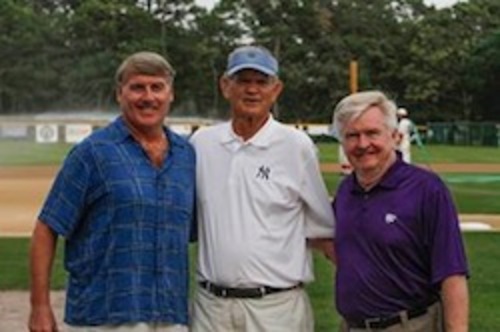 07/16/2013 2:48 PM
Article By: John Garner Jr.
Ralph Terry tossed two of the most famous pitches in World Series history: the first taken yard by Bill Mazeroski of Pittsburgh to win Game 7 in 1960, and the second lined to Bobby Richardson with two runners on to preserve a complete-game 1-0 shutout over San Francisco in Game 7 of the 1962 World Series.
Terry, who enjoyed a 12-year major league career and played on seven American League pennant winners with the New York Yankees, threw out a ceremonial first pitch before a recent Brewster-Harwich game. When public address announcer Elizabeth Layton announced his name and some of his career accomplishments, the overflow crowd at Whitehouse Field responded enthusiastically with hearty applause.
During his MLB career, Terry enjoyed a 107-99 record, with 1,000 strikeouts in 1,849 innings pitched with 257 games started, 20 shutouts and an impressive 75 complete games to go along with a 3.27 ERA.
Without question, his best season came in 1962 when he posted a 23-12 record and led the American League in wins and the Yankees to another world series title, capturing two series games en route to be named World Series MVP. Terry also posted a 16-3 mark on the 1961 Bronx Bombers, considered one the top teams in major league history with a 109-53 mark and a 4-1 series record over Frank Robinson, Vada Pinson and the Cincinnati Reds.
The Yankees of the 1950s and early '60s featured such legendary names as Mickey Mantle, Roger Maris, Whitey Ford, Yogi Berra, Elston Howard, Bill Skowron, Bobby Richardson, Tony Kubek and Clete Boyer, along with managers Casey "The Ole Perfessor" Stengel and Ralph "The Major" Houk.
And yes, one Ralph Willard Terry.
"I played on some great teams with some terrific guys, on and off the field," said Terry, who roomed with Hall of Fame pitcher Edward "Whitey" Ford, himself a 25-game winner in 1961. "We had a great time and forged a lot of lifetime memories."
Terry was a workhorse who led the AL in games started in 1962 (39) and '63 (37) and innings pitched (298.2) during his banner season of '62.
Terry, a native of Big Cabin, Okla., played in the Ban Johnson Summer League before being signed by the Yankees.
"This Cape Cod League reminds me a little of that, only with better facilities and playing conditions," said Terry, who along with his wife, Tanya, stayed in Harwich Port with longtime friend Dan Rea, of WBZ-TV and Radio.
Terry mentioned that the two hardest throwers he ever saw were both teammates: Hall of Famer and all-time strikeout king Nolan Ryan with the New York Mets, and "Sudden" Sam McDowell, who led the AL in strikeouts five times with the Cleveland Indians. Another flame-thrower was his Yankees buddy "Bullet" Bob Turley.
After Terry's retirement from baseball in 1967, he became a pro golfer and played in four PGA Tour events in 1981-82 and later joined the then-Senior PGA tour, finishing 10th in the 1989 Showdown Classic.
Like father, like son
Among the many father-son baseball combinations are Charlie and Brandon Leibrandt and Calvin and Lukas Schiraldi. The elder Leibrandt was a crafty left-hander pitcher who spent 14 MLB seasons in the majors, finishing with a 140-119 record for several major league teams and led the Kansas City Royals to a World Series title. Brandon Leibrandt, who attends Florida State, was named Coca-Cola Player of the Week in the Cape League after pitching seven shutout innings for Brewster in a 1-0 win over Y-D last week and compiling a 2.25 ERA.
The elder Shiraldi was a teammate of Roger Clemens and Spike Owen on a national championship University of Texas squad and was a closer for the 1986 AL champion Boston Red Sox. The younger Schiraldi is one of the top pitchers in the CCBL with a 2-1 record with a 1.75 ERA and is transferring from Navarro College to his father's alma mater, Texas.
Who's Hot
Princeton Tiger Mike Ford still wields a hot bat for Cotuit with a league-leading .407 batting average, with five homers and 18 RBIs. Max Pentecost (Kennesaw State) ranks second with a .370 BA and is tied for the Cape League lead with five homers and has driven in 18 runs. Casey Gillaspie (Wichita St.) of Falmouth and Dylan Davis (Oregon St.) have also belted five homers, while Rhys Hoskins (Sacramento St.) leads the league with 24 RBI, followed by Kevin Cron (TCU) of Falmouth. Jaron Long (Ohio St.) of Bourne is 4-0 with a league-leading 0.41 ERA, while Ryan Bummer (Nebraska) is 4-1 with a 0.84 ERA. Ben Smith (Coastal Carolina) of Cotuit leads the league with 30 strikeouts.
Appreciation for the no-no
In the wake of a no-hitter by former Harwich hurler Tim Lincecum of the SF Giants and a 6 1/3 inning gem by former Wareham RHP Brandon Workman of the Boston Red Sox, it's interesting to note that three pitchers have thrown no-hitters in their first major league starts; two others have done it in their second major league starts.
On Aug. 11, 1991, Wilson Álvarez of the White Sox pitched a no-hitter in his second career major league start, a 7-0 victory over the Orioles. In Alvarez's first career start, he had allowed three runs on a pair of home runs and did not retire a single batter. Clay Buchholz pitched a no-hitter for the Red Sox in just his second major league start on Sept. 1, 2007, at Fenway Park. The game ended in a 10-0 victory, also over the Orioles. Since 1901, 21 MLB rookies have pitched a no-hitter since 1901.
Joe Sherman contributed to this report.