News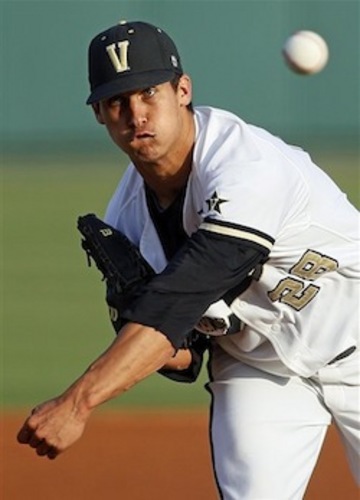 07/19/2013 3:24 PM
Article By:
Jared Miller is a 6-foot-6 southpaw from Vanderbilt University. As a sophomore this past year, Miller had a 2.31 ERA and a 2-1 record in relief for the Commodores. On the Cape, Miller is 1-1 with a 1.26 ERA for the Orleans Firebirds, following in the footsteps of past Vanderbilt teammates to play for Manager Kelly Nicholson. Miller rooms with college and Firebird teammate Vince Conde this summer.
What is it like on the Cape, playing with Kelly Nicholson?
It's been good, getting to work with Skip (skipper Kelly Nicholson). We've had Vanderbilt guys coming up here for the past five or six years and they've all had great things to say so I guess I had a pretty high expectation for what he was going to be like and he's reached high expectations and then some. He's willing to help us out in every way, shape and form, and it's been fun.
What did your Vanderbilt teammates say about their time on the Cape?
They mainly just say Orleans is the best place to play. They say he's laid back, he lets the players play, and that's good. That's what we come up to summer ball to do. He sets us up to preform at our highest level.
What's the biggest difference between playing in the Southeastern Conference and here on the Cape?
Down there, we play a very high level of baseball obviously. It's pretty structured but we have fun. Up here, it's a little more laid back but we're still trying to win baseball games.
What was it like getting to host the NCAA Super Regionals this year?
It was a cool atmosphere. It was nice to set ourselves up to be in a position to play at home. Obviously had the opportunity to win two games and go to Omaha. Unfortunately, we couldn't do it. But we still had a really good year and we're going to build on that next year.
What did you take out of that loss to Louisville?
I just think we realized it's not always about who the best team is, it's about who's playing the best. Louisville came in and outplayed us for a weekend.