News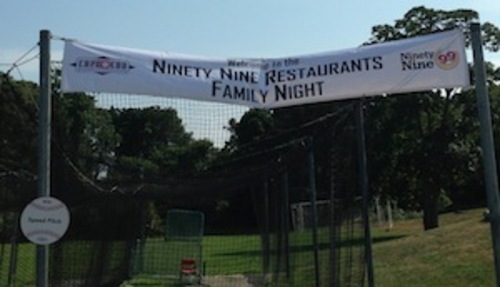 07/24/2013 7:17 PM
Article By:
HYANNIS, Mass. – Baseball and family fun go hand in hand, and it was no different Wednesday at McKeon Park for the Ninety Nine Restaurants' fourth annual Kids Night.
Families and other fans were treated to a variety of activities and novelties, including a speed pitch machine, prize tent, water balloon toss, Cornhole, moon bounce and even a cotton candy machine that had kids lined up around the corner.
"We wanted it to be about more fun and family, and also about thanking our team members," said Michelle Giovine, senior director of marketing for the Ninety Nine Restaurants. "It's the culture. It's what it's about."
Along with fun and games, those in attendance were treated to dinner provided by the Ninety Nine, featuring burgers, hot dogs, water and Gatorade.
Dale Roy, manager at the Ninety Nine in Centerville and a 16-year employee of the organization, threw out the first pitch. The Johnson & Wales University grad and his family now call Cape Cod home. Amber Broadway sang the national anthem.