News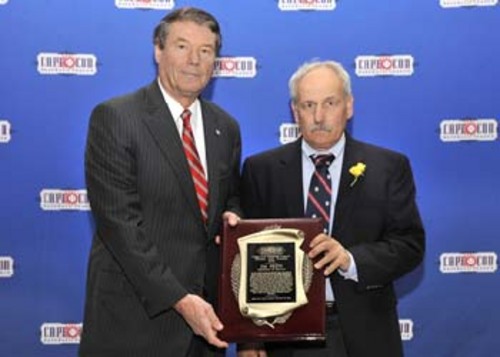 11/24/2013 11:06 AM
Article By: John Garner Jr.
A lion's share of the attention during the 14th Cape Cod Baseball League Hall of Fame induction was showered on big leaguers Matt Wieters, Garrett Atkins and Ryan Speier, but it was Jim Prete who stole the spotlight by becoming the third inductee to a Hall of Fame family from Sagamore. (Class of 2013 photos by SportsPix).
Prete, presented by longtime rival and 2010 inductee Peter Ford, joined family members Pat Sorenti, inducted in 2003, and pitcher Jack Sanford, a 2005 inductee, as members of the Cape League Hall of Fame.
The Sagamore resident joined inductees 2013 inductees Atkins (Cotuit, 1998, '99), Daniel Carte (Falmouth, '04), Merrill Doane (player, coach, administrator from Chatham), Ed Drucker (Harwich, '66), Mickey O'Connor (Chatham, '76), Speier (Boure '01) and Wieters (Orleans, '06).
During his acceptance speech, Prete recalled serving as ball boy for the Sagamore team in the early 1950s and fishing a baseball out of the canal hit by prodigious left-handed power hitter Jim Perkins (Cotuit) at hitter-friendly Keith Field.
"I probably should have saved it, but we just dried it off and used it again amongst us youngsters," Prete said. The sure-handed Prete was a middle infield star at Bourne High and signed with Wareham after his graduation in 1966, posting a .319 batting average.
It was the first of four Cape League seasons for Prete, whose best year was 1970 at Wareham after a season at Bourne and a season sidelined by a broken leg. Prete hit .336 in 39 games with two homers, seven doubles, four triples, 17 RBIs and nine stolen bases.
He was voted recipient of the Pat Sorenti Award as league MVP, the first and only time in history it went to a player who grew up on the Cape. Ironically, Sorenti was Prete's uncle, and Sanford was married to Sorenti's daughter, making it a Cape Cod baseball family affair.
Prete starred at New Mexico, where as a freshman in 1967 he led the Cowboys to their first NAIA national championship. In 1970, he was named to the first of his two All-America first teams and made three All-District VII teams and two All-NAIA Area II teams.
In 1971, the Washington Senators signed Prete to a minor league contract and played for Geneva in the New York-Penn League. In 2010, Jim was inducted into the New Mexico Highlands Hall of Fame.
Born in 1907, Sorenti began his 50-year association with the Cape League as a player with the Osterville franchise in the 1920s, and played semi-pro ball for Salem (Mass.) and Lewiston (Maine). Sorenti was president and manager of Sagamore during the 1940s and served as president and commissioner of the Cape League from 1947-53. He was first commissioner of the Upper Cape League in the late 1940s.
Sorenti instituted the first Little League Baseball program on Cape Cod in the 1950s, ran the Bourne Baseball School and served as birddog scout for the Boston Braves. The Cape League honored his contributions by recognizing its Most Valuable Player in his name. Sorenti, who passed away in 1971, was survived by his daughters, Patricia Sanford and Marcia Huff.
Sorenti's son-in-law and Prete's first cousin by marriage was the hard-throwing Jack Sanford, who played for Bourne and Sagamore from 1946-54 and holds the pre-modern era (before 1963) record for most wins in a season with 14.
Sanford posted a league-record 60 wins during his career. His best seasons were 1951 when he posted a 14-1 record and followed up with an 11-1 mark in '52, posting a 25-2 mark – the best two-year record in Cape League history. He signed a contract with the Boston Braves after leading Sagamore to its first league championship.