News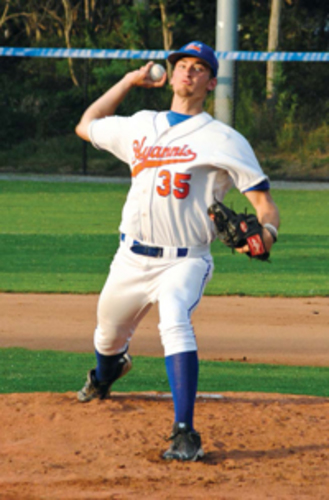 02/14/2014 9:18 PM
Article By: CCBL Public Relations Office
Carson Cross, the 6-5, 210-pound right-handed ace of the University of Connecticut pitching staff, has been lost to the team for the season after undergoing corrective shoulder surgery.
The former Hyannis Harbor Hawk (2012) went 9-4 last spring for the Huskies with a 2.44 ERA, 86 strikeouts and 24 walks in a team-leading 110 2/3 innings, earning selection to the All-Big East Second Team. He was named a tri-captain of the 2014 Huskies, was selected as the Preseason American Athletic Conference Co-Pitcher of the Year and was named to the Preseason All-Conference team.
Drafted by the Pittsburgh Pirates in the 24th round last June, Cross decided to return to school for his redshirt junior year. "You don't replace Carson Cross," said UConn coach Jim Penders. "We have a lot of different guys who could eat away those innings (but) you're just not going to replace him with one guy."
Cross, who has another season of eligibility remaining at UConn, was ranked the No. 12 draft prospect in the six-state region by the New England Baseball Journal. He is a native of Brentwood, N.H., and is a former baseball and football star at Exeter High School.
UConn did not release a date for Cross's surgery, but it did confirm that it would be performed by specialist Dr. James Andrews.
Cross had a rough time at Hyannis in 2012, finishing at 0-1 with an 8.10 ERA in 10 relief appearances, although his strikeouts-to-walks ratio was a strong 20-5.
UConn was scheduled to open its 2014 season against Ohio State on Valentine's Day in Port Charlotte, Fla.
-ccbl-