News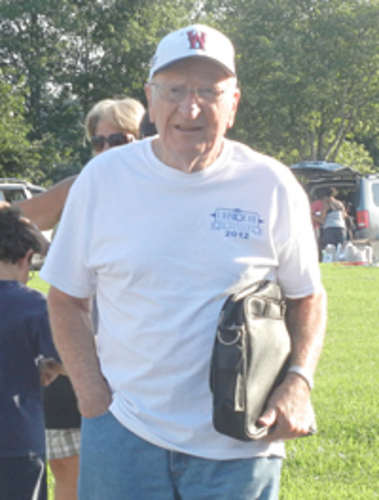 11/15/2016 4:45 PM
Article By:
Bob St. Pierre has spent past 36 years as a dedicated volunteer and fan of the Wareham Gatemen. This Saturday, at the Cape Cod Baseball League's Hall of Fame Induction Ceremony brunch, St. Pierre will be recognized for his contributions when he's presented with the Fred Ebbett Lifetime Achievement Award.

St. Pierre has been a fan of Wareham since 1981 and joined the Gatemen organization when it was formed in 1989. He volunteered in the Booster Club's concession and merchandise booth and served as their treasurer from 1993-1998 and the assistant treasurer from 1999-2006.

St. Pierre was the assistant director of concessions and merchandising and the Food Concession Liaison Committee. Bob has represented Wareham on the CCBL Board of Directors since 1985 and as a member of the Cape League Merchandise Committee.

Tom Gay, president of the Wareham Gateman, is excited Bob is being recognized. "The Gatemen Organization is extremely proud of and happy for Bob to be receiving this prestigious award," said Gay. "It's truly a tribute to him for his dedication and commitment to our organization, to the CCBL and to the game he loves - baseball!"

St. Pierre played baseball for Salem State, attended Bridgewater State and is a veteran of the U.S. Navy. He's a retired science teacher. Bob and wife Liz have three children and he's still very active with the Gatemen organization. He can be found supporting his team at Spillane Field and most away games.

The Fred Ebbett Lifetime Achievement Award is a highly coveted recognition by the CCBL Hall of Fame Committee. Integrity, professionalism, sense of fairness and a high level of respect were attributes shown by former commissioner and field manager Ebbett and naming this award in his honor is indicative of how important this award is.

This award recognizing a significant franchise volunteer was named in 2003 in recognition of contributions made to the CCBL by the late Fred Ebbett, inductee in the Cape Cod Baseball League Hall of Fame.

PREVIOUS WINNERS
2002 – Arnie Allen, Falmouth Commodores
2003 – Tom Desmond, Chatham Athletics
2004 – Ed Mooney, Orleans Cardinals
2005 – Tommy Gage, Brewster Whitecaps
2006 – Tim Ellstrom, Hyannis Mets
2007 – Al Irish, Falmouth Commodores
2008 – Paul Zuest, Chatham Bars Inn and Art Hyland, CCBL
2009 – Phil Edwards, CCBL
2010 – Jim McGonigle, Harwich Mariners
2011 – Peter and Diane Troy, Chatham Anglers
2012 – Bob Corradi, Mass. Maritime and CCBL
2013 – Nick "The Greek" Siemasz, Hyannis Harbor Hawks
2014 – Jim Martin, Yarmouth-Dennis Red Sox

Tickets are still available for the Hall of Fame Induction Ceremony at the Chatham Bars Inn and can be purchased by calling 508-432-6909. Ticket buyers will be entered into a raffle to receive two free tickets the Boston Red Sox 2017 home opener.