News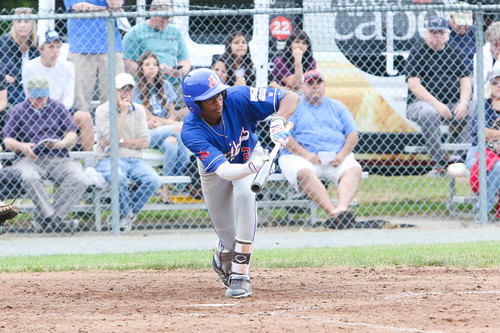 07/10/2018 10:19 AM
Article By: CCBL Public Relations Office
Week 4 Cape Cod Baseball League Wrap Up

Another week goes by in the Cape League, and it marks the first month of the season. The Wareham Gatemen have continued to roll and lead the West, and possessing the most wins the league at 14. The Y-D Red Sox are the leaders in the East and hold the most points in the league at 30. There is a still a lot of baseball to be played while the All-Star Game break is still two weeks away.

East

Yarmouth-Dennis Red Sox

Record: 13-6-4
Points: 30
Games Back: --
Last 10: 7-1-2

The Y-D Red Sox have been on a tear and have had positive contributions from multiple people on the roster. Quin Cotton has been dynamite for the Red Sox. He has twenty six hits in eighty one at bats with five doubles, eleven RBI, and is hitting .321. Another offensive force the Red Sox has to offer is Andrew Daschbach. He is hitting .324 with a team best three home runs along with seven doubles. He too has driven in eleven runs, and a .440 OBP. Y-D also has some gun hurlers in their rotation and pen with a sub 2.00 ERA with a minimum of six appearances. Sam Kessler is one of those pitchers holding a 0.81 ERA in six appearances. He has shown that he has good stuff, striking out fourteen hitters in eleven innings while giving up just two walks and three hits. His batting average against is at a scary .086 with a 0.45 WHIP.

Harwich Mariners

Record: 11-12-1
Points: 23
Games Back: 4
Last 10: 4-6

Despite losing their last two ball games, the Mariners have been a solid, consistent team in the first month of play. Along with their almost .500 record, their runs scored sits at eighty nine and runs against are at eighty three. The offense has been powered by Andre Lipcius and Tanner Morris. Lipcius is hitting .295 in seventy eight at bats. He has three home runs, the most for Harwich, with twelve RBI. He has worked his way on base with twelve walks, and has swiped two bags. Shortstop Tanner Morris has been equally impressive. Hitting .317, Morris has collected seven doubles in the campaign with eight RBI and two stolen bases. Ty Buckner has started four games on the mound. He has a 1-2 record, but don't let that fool you. His ERA sits at 1.44 and he has a 1.29 WHIP in those four starts. He has sixteen strikeouts in eighteen and two thirds innings giving up just three runs.

Chatham Anglers

Record: 10-10-2
Points: 22
Games Back: 3.5
Last 10: 4-6

Chatham took a tough loss on Sunday evening, but overall they sit in a good spot in the East, just a point behind second place Harwich. First Baseman Tristin English has played a big role in the Anglers' offense hitting .338 with a team best fifteen RBI. Along with an impressive four long balls, English has stolen five bases, showcasing his power and speed. Chatham has a few arms that have been great in Gregory Veliz and Troy Miller. Veliz has made seven appearance, pitching eleven innings and sitting down a whopping nineteen hitters. Giving up just two runs on seven hits, his ERA sits at a smooth 1.63 and 1.00 WHIP. Miller has also been incredible for the Anglers with a 1.35 ERA in thirteen and a third innings with sixteen strikeouts against four walks.

Orleans Firebirds

Record: 9-13-1
Points: 19
Games Back: 5.5
Last 10: 4-5-1

Orleans was able to capture a victory on Sunday with the score of 9-8 as they hosted Brewster. The Firebirds have struggled this far, but certainly cannot be counted out with the talent their team has. Outfielder JJ Bleday has been stroking the ball in his sixteen games boasting a .348 average with eleven runs scored, six doubles, a triple, and one home run. Spencer Steer patrols third base defensively, and has been good for the Firebirds on offense. In sixty at bats, Steer has four doubles and three home runs with a team best thirteen RBI. He is tied with Bleday for the most runs scored with eleven. Pitcher Andrew Abbott has been impressive for Orleans. In four starts, he has thrown sixteen innings and surrendered just two runs. Although he has an 0-1 record, he holds a 1.12 ERA.

Brewster Whitecaps

Record: 4-17-3
Points: 11
Games Back: 10
Last 10: 1-7-2

The Whitecaps have had a rough 2018 season, sitting ten games behind the leader Y-D. There is definitely room for improvement, with a lot of time for the improvement take place. Outfielder Dominic Canzone has done a great job offensively through his first thirteen games, hitting .319 with a triple and a home run. He also has a stolen base. Middle infielder Michael Massey has been strong as well with a .299 batting average. In his twenty three hits, four of them were good for an extra base and one has carried the fence for a home run. He adds eight RBI to his resume, and also shows immaculate speed stealing seven bases.


West

Wareham Gatemen

Record: 14-10-1
Points: 28
Games Back: --
Last 10: 5-5

Wareham has been rolling in the first month of the season. Despite losing their last two games, they continue to impress night in and night out. The Gatemen have six hitters with an average of .300 or better. One of these players, Austin Shenton, has been outstanding. The third baseman is hitting a team best .408 with thirty one hits through seventy six at bats. He has sprinkled in five doubles, five home runs, an incredible eighteen RBI and sixteen walks. He has the best OPS with a 1.069, also good for team best. 2018 College Baseball Golden Spikes winner Andrew Vaughn has continued to rake, making a smooth transition from school to summer ball. He has hit five home runs and driven in fourteen runs with a batting average of .308. Pitcher Joseph Matulovich has made five appearances with four starts, and has an absurd 0.37 ERA. He has given up just one earned run in twenty four innings, thanks to striking out twenty one batters.

Hyannis Harbor Hawks

Record: 13-8-2
Points: 28
Games Back: .5
Last 10: 5-4-1

The Hawks are hot, right on Wareham's trail. They are tied in points, and it should be very interesting to watch the entire West as it is tightly contested. Hyannis has five batters over the .300 mark for batting average. Matthew Barefoot has a team best .373 in twenty one games. He has four doubles, three bombs, thirteen RBI, and eleven walks. He is also five for six stealing bases. Seth Gray is sitting at .345 with eight RBI, three doubles and a triple. He has just nine strikeouts in fifty five at bats, and has worked a walk eight times. Hawks reliever Dylan Thomas has been able to come into games and shut it down. In twelve and a third innings, Thomas has struck out seventeen batters while walking just one, and giving up only two runs. He is 3-0 with a team best three saves.

Bourne Braves

Record: 12-10-1
Points: 25
Games Back: 1
Last 10: 6-4

The Bourne Braves have been hanging around, winning six of their last ten, including their last two. Spencer Brickhouse has proved that he belongs with the best college players in the country as he has driven in a whopping twenty RBI in twenty two games with a .321 average. In eighty one at bats, Brickhouse has hit four home runs with three doubles and a triple. Chase Murray has been an offensive force as well with eleven RBI, two bombs, two doubles, and a triple. Jared DiCesare has helped the Braves win ball games as he has a 2-0 record in four appearances, including three starts. In twenty one and two thirds innings, he holds a eighteen-to-one strikeout ratio with a 1.66 ERA. Reliever Nick Morreale has thrown nine and a third innings and has fourteen strikeouts to go with it. He has given up just two earned runs giving him a 1.92 ERA.

Cotuit Kettleers

Record: 11-10-1
Points: 23
Games Back: 1.5
Last 10: 4-5-1

Cotuit has won their last two ball games transitioning into the fifth week of the season. Jonathan Robertson is a key contributor to run production, driving home twelve and scoring thirteen of them himself. He has six extra base hits including two long balls. Starter John Baker has put up some incredible numbers through five starts. Disregarding the 3-2 record, he has a 2.17, and most impressive, through twenty nine innings, he has sat down twenty seven opponents while walking just one batter. Reliever Stephen Schoch has been good out of the pen with a 1.08 ERA. He has thrown eight and a third innings and has struck out eight batters while giving up just one earned run.

Falmouth Commodores

Record: 10-11-1
Points: 21
Games Back: 2.5
Last 10: 6-3-1

The Commodores do sit in last place in the West, but since the division is tightly packed, they are just two and a half games back from the leader Wareham. Outfielder Kyle Stowers has been hitting .348, providing Falmouth with four doubles, a triple, and three home runs with ten RBI. He also has scored fifteen runs. Reliever Ian Koch has been a standout coming out of the bullpen. He has thrown twenty innings while striking out eighteen batters. Holding a 1-0 record with a 0.90 ERA, Koch showcases his ability to do damage from the mound. Starter Spencer Strider has given the Commodores a chance to win each time he takes the bump. In twenty and a third he has a 1-1 record with a 1.77 ERA. The most hits he has given up in his four starts is four, and he has racked up seventeen strikeouts to go with it.