News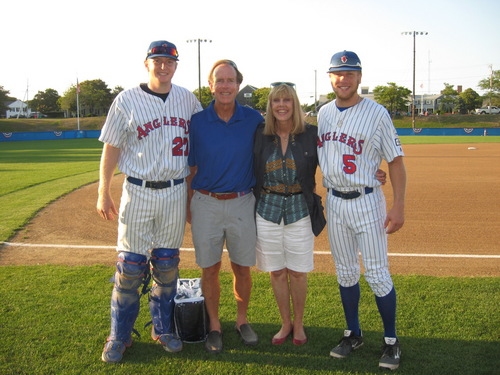 03/19/2021 4:58 AM
Article By: Taylor Viles
Steve West and his family began hosting players for the Chatham Anglers in 2011. He'd been a fan of the league but wanted to gain more access to the Cape League. Over nine seasons, the West's have hosted over 20 players.

West says the players respect how his family opens their home to them. He also offered a piece of advice for future host families. "They'll follow whatever rules you set in place. So my advice is, lay it all out upfront, and just say, 'here are the ground rules,'" he said. "They're very well mannered, intelligent, and respectful."

Host families for Chatham are treated as part of the Anglers family. The organization entertains them on various occasions throughout the summer as a thank you to the families for their contribution and to bring the Anglers community closer together. West says that one of the most rewarding parts of being a host family is this community aspect.

They don't have any young children personally, but the West's were once neighbors of another host family with two young girls. He said many times, his players would go to the neighbor's house to visit with their teammates but also spend time with the children. He said most of the time, they enjoy interacting with the kids more than the adults. "They seem to have more in common watching cartoons. They're just big kids themselves, for the most part," said West. "They don't really care to hang out with us. How many 19-20-year-olds hang out with their old parents?" Although they aren't the athlete's parents, he says treating them like they are your own kids for a summer creates a lasting impact.

Those bonds develop into lifelong friendships as West says he continues to stay in touch with the vast majority of his hostees. "We've been invited to a couple of weddings," he said. "When you go to certain parts of the country, you can visit with them."

West and his family will continue to host during the 2021 summer as giving back has been the key to his continued volunteerism.

He looks back on his time hosting with joy and acknowledges the benefits the experience has had for his family. "It's been a super experience," he said. "We've had a great deal of enjoyment, fun and excitement and met a lot of people."

. . .

The Cape Cod Baseball League (CCBL) has relied on a community of host families to provide housing to young ballplayers from around the country for decades. Host families play a critical role in making the league everything it can be.

After appropriate discussion and consultation regarding Covid-19 safety, the CCBL is pleased to report that we are making plans to resume play in 2021! If you want to learn more about the host family experience email [email protected] to ask questions or sign up for an informational session.