News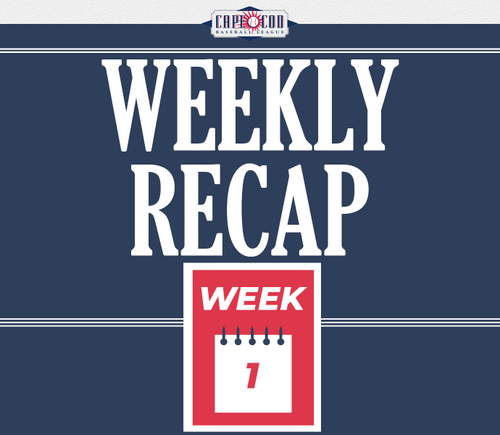 06/27/2021 2:15 PM
Article By: Ethan Kagno
After a year-long hiatus, record breaking crowds gathered at Cape League fields to witness top collegiate players make their 2021 summer debuts. From high scoring offensive athletes to outstanding pitching performances, week one impressed in all facets. Here is one player from each team who performed admirably during the first week of summer baseball on Cape Cod.

Bourne Braves (5-0-0): Braylen Wimmer, IF/OF, University of South Carolina
Wimmer has enjoyed a terrific first week of baseball, accompanied by Reggie Crawford (Connecticut) and Nick Goodwin (Kansas State) -- all of whom have propelled the offense early on this season. Wimmer is currently tied in second place with two home runs and has shown his explosiveness at the plate. Bourne has won five straight, remaining undefeated through the first week. The Braves have outscored their opponents 35-15 and have the best run differential in the league (+20).

Brewster Whitecaps (2-2-1): Nick Biddison, IF/OF, Virginia Tech
Despite getting off to a slow start for Brewster, the Virginia Tech Hokie is currently ranked 241st among the Top 250 prospects going into the 2021 MLB Draft. Look for Biddison to work the count and be a nuisance on the base paths all summer for the Whitecaps. The versatile utility player can play almost anywhere and has started all 94 games he's played in for Virginia Tech since 2019. Biddison has a chance to be a steal in the middle rounds of this year's MLB Draft, which begins July 11.

Chatham Anglers (3-2-1): Caden Grice, P/1B, Clemson University
Grice, a two-way player from Clemson has started off the season hot for the Anglers. The 6'6" southpaw has already crushed two home runs and carries a 1.282 OPS through his first four games. He has plenty of power considering his large frame and it was put on display last season at Clemson after he led the Tigers with 15 HR and 53 RBI. Grice sits in the heart of Chatham's batting order and should continue to see plenty of at-bats for the first place A's.

Cotuit Kettleers (2-3-0): John Rhodes, OF, University of Kentucky
Cotuit is full of offensive talent this year however John Rhodes could be the best. The Kentucky Wildcat had a solid first week after collecting five hits, two of which went for doubles. Rhodes is currently ranked 136th among the Top 250 2021 MLB Draft prospects and has decent power but excels most when driving the ball to all fields. He is just one of the key parts to this offense which also includes Eric Brown (Coastal Carolina), Dylan Beavers (California Berkeley), RJ Schreck (Duke), and Brooks Baldwin (UNC Wilmington).

Falmouth Commodores (2-2-1): Michael Curialle, OF, University of California Los Angeles
It was difficult to choose between Curialle and his teammate, Jace Bohrofen (Oklahoma) but don't be surprised if Bohrofen's name is mentioned in next week's review. Curialle had an outstanding first week where he blasted a grand slam en route to a league best, nine RBI while managing to not strike out. The UCLA product has already made big strides this summer and will be a name to remember throughout the season.

Harwich Mariners (2-3-0): Evan Shawver, P, University of Cincinnati
Cincinnati Bearcat Evan Shawver whirled a gem in the Mariner's second game of the season despite receiving a no-decision against Yarmouth-Dennis. Shawver, who previously played for Harwich in 2019, pitched six scoreless innings and whiffed 10 and gave up just three hits and no runs in his first start of the season. Since his sophomore season at Cincinnati, Shawver has gone 5-1 with 84 strikeouts through 69 innings of work.

Hyannis Harbor Hawks (1-4-0): Zane Harris, 1B, Wright State University
The big lefty crushed a solo shot against Falmouth and added a double to his 2-4 performance on Friday. At 6'5", 260 lbs, Harris has massive power, clearly shown by his no-doubt home run. "Big Z" also has a great approach at the plate, limiting the strikeouts and working solid at-bats. During his freshman season at Wright State, Harris walked 20 times and only struck out 14 times.

Orleans Firebirds (2-3-0): Chase DeLauter, OF/P, James Madison University
DeLauter, a two-way player from JMU had a strong first week after hitting an opposite field home run, five RBI, and was the starting pitcher against Cotuit on Thursday night. Orleans is a balanced team led by Texas Tech sensation Jace Jung and Georgia Bulldog, Jonathan Cannon (98th ranked draft prospect). However, DeLauter is certainly an intriguing player and will definitely be someone to keep your eye on next week.

Wareham Gatemen (2-3-0): Owen Diodati, OF, University of Alabama
The Canadian is off to a blazing start after batting .450 along with three home runs and nine runs batted in last week, he leads the Cape League in both categories so far. This past college season, Diodati was second on 'Bama with 11 home runs and was tied for second in RBI (40). After dropping their first two games, Wareham bounced back nicely and outscored their next two opponents 11-3, both of which resulted in wins before dropping a close contest to Bourne on Saturday night. If Diodati keeps performing at the plate, the Gatemen will be a tough team to beat moving forward.

Yarmouth-Dennis Red Sox (3-2-1): Peyton Graham, SS, University of Oklahoma
Hitting machine. That's what Peyton has been through the first week of games, tallying at least one hit in each of his first six slates. The Sooner is 8-for-21 for the Red Sox which ties him for second in the league in hits. Graham showed some sneaky power after knocking out 11 home runs for Oklahoma in 53 games played this past season. On Saturday night, Graham collected another hit and scored the walk-off run to defeat Orleans 8-7. With no signs of slowing down, Graham will be extremely fun to watch moving forward.