News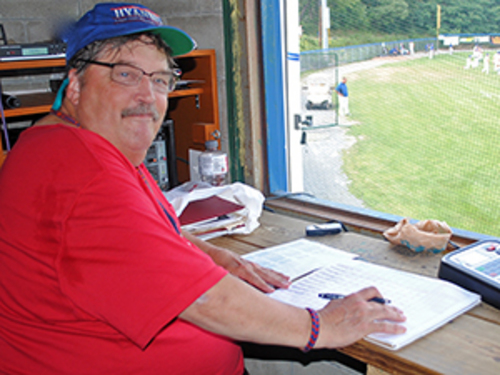 08/23/2021 2:48 AM
Article By: Will Bussiere
Baseball in Hyannis will never sound the same after the unexpected passage of one of the most beloved and longest tenured members of the Harbor Hawks community. Tim Ellstrom, public address voice of the Hyannis Mets and Harbor Hawks for more than 40 CCBL seasons, died Tuesday at 69, leaving behind an unfillable hole in the Harbor Hawks organization and in the hearts of its members and fans.
Tim joined the Hyannis Athletic Association as a volunteer in 1979, just the fourth year of the organization's existence, shortly after he moved from New York to Cape Cod. That first season for Tim was an all-time classic campaign for Hyannis, which won a league-record 33 games and its second straight league championship. Tim was hooked for life and never let go. In the years that followed, Tim became an indispensable part of the Hyannis operation, serving at various times as the organization's president, vice president, general manager, secretary, groundskeeper, and even bullpen catcher. He was also a constant presence on the Cape Cod Baseball League's board of directors as a Hyannis representative.
At a moment's notice, year-round, Tim answered any and all calls to stop by the ballpark to make deliveries, assist with a field improvement project or solve a tricky problem. Though he had a soft spot for memorabilia, he made sure never to collect too much in his home, knowing that he would need ample space to store the team's uniforms in his basement each offseason. In 2005, he served as volunteer coordinator for the Cape League All-Star Game held in Hyannis, overseeing the collection and award of a then-record $2,142 50/50 raffle pot. He was given the CCBL's Fred Ebbett Lifetime Achievement Award for volunteer service at the league's 2006 Hall of Fame induction ceremony, which he followed up by spending 15 more years running up the score on that lifetime achievement. Perhaps his favorite honor was the ceremonial first pitch he threw before a Harbor Hawks' CCBL Finals game in Hyannis in 2015.
Tim picked up the microphone for the first time in the Hyannis press box in 1980 and served as the team's primary public address announcer in an unbroken streak through the beginning of this month, when the 2021 season drew to a close. Over time, Tim became the team's de facto historian and its primary source of institutional wisdom. He meticulously kept scorebooks dating back to the 80s that documented the exploits of nearly every notable Hyannis player in the team's history, and his amateur photography from the period became an indelible resource and time capsule for anyone researching the early days in Hyannis. He achieved a career highlight in 1995 as a public address announcer for the IBAF World Junior Baseball Championship held on Cape Cod, announcing games for several under-18 national teams including Canada, Australia and Chinese Taipei.
In his spare time away from baseball, Tim's favorite pastime was ... more baseball. He was a longtime season-ticket holder with the Pawtucket Red Sox who made it to dozens of games each year before and after the Cape League season. And as a man whose sports allegiances were his bond, his primary MLB fandom never shifted from the Yankees despite spending more than half his life in Massachusetts surrounded by well-meaning Red Sox evangelists.
Tim is survived by his father, Ted, who has long been known in Hyannis for his regular trips from New York to the Cape each summer even into his 90s and who holds the title of "eldest statesman" among Harbor Hawks fans. Tim's mother, Dawn, was the doyenne of the team's fan base until her passing in 2015. Tim is also survived by four siblings, by his many cherished nieces and nephews, and by the countless devastated members and supporters, past and present, of the Hyannis Athletic Association and the CCBL.
Though he possessed the gift of personal comfort in front of a microphone, Tim considered conciseness a virtue and never used his platform to showboat or to elevate himself. His goal as a public address announcer was, first, to keep the crowd informed and, second, to get out of the way and let the baseball speak for itself. To the extent he had a catchphrase, it was a single word that he used at the beginning of every announcement he could: "Fans." As in, "Fans, you can keep that foul ball tonight," or "Fans, that's his first home run of the season." If you saw a game in Hyannis in the last five decades, it was Tim who gave you that simple welcome each time, who invited you to become a fan like all the rest of us and exhorted you to join in our shared experience of the game of baseball as a worthy centerpiece and backdrop to a life well lived.