News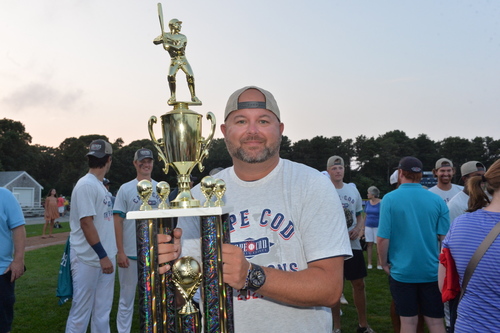 06/10/2022 10:30 PM
Article By: Kayla Gregoire
In 2021 Jamie Shevchik, head coach of the Brewster Whitecaps, led his team to its second championship win in four seasons. Now, in 2022, Shevchik hopes to be able to help his team back to another championship with the help of his new and returning players.

Many players come to the Cape Cod Baseball League in hopes of impressing scouts to eventually get drafted to a Major League Baseball team. Shevchik recognizes that a player's first priority might be to develop as a player instead of winning a championship.

"You'll get a sense of who's who and who wants to really play baseball and win a championship because that's what it's about," Shevchik said. "A lot of kids are here for different reasons. They are here for the scouts; they want to get drafted. I think the fourth thing on their priority list is winning a championship in the Cape."

Once July comes around and the scouts start to leave, Shevchik hopes that he is left with a team that wants to battle for a championship.

The Whitecaps will have numerous returning players, some including Alex Freeland (Central Florida), Kurtis Byrne (TCU), and Ryan Lasko (Rutgers).

Last year, Shevchik had conversations with many of the now returning players about their roles on the Whitecaps. Freeland had a conversation about not being an everyday player in 2021 but being able to have a veteran role during the 2022 season.

"I remember having a conversation around the batting tunnel, saying, I know you're probably not going to play every single day here, but you've got to look at the big picture," Shevchik said of his conversation with Freeland. "The big picture is that there are not a lot of true freshmen that come play on the Cape. You're here for one reason, to play and get experience, and more importantly be that older veteran that's been a part of the championship."
There will also be many new players coming onto the Whitecaps roster that are expected to make a big impact. Parks Harber (Georgia) and Ryan Targac (Texas A&M) are the infielders to watch out for during the season. Targac will bring some hitting power to the lineup, while Harber will bring consistent hitting.

Brewster's three talented outfielder will also be entertaining to watch when heading to a Whitecaps game. Colby Shade (Oregon) ended his college season with a .305 batting average, while also maintaining a .982 fielding percentage. Cameron Leary (Boston College) had a .982 fielding percentage. Mike Sirota (Northeastern) as a freshman took home many honors in his season, including being named to the CAA All-Rookie team.

The last name McGwire may be familiar to baseball fans. Max McGwire (Oklahoma), son of retired MLB first baseman, Mark McGwire will be on the Brewster lineup. McGwire was not an everyday player during his freshman season at Oklahoma. Shevchik is looking to put McGwire on a two-year plan in Brewster.

"It's not necessarily about this year, it's about next year for (McGwire) as well," Shevchik said. "Being able to keep him here for two years, he's going to be the Freeland next year of what Alex Freeland will be this year."

Shevchik, also a head coach for Keystone College, talked about the comparison of coaching a college baseball team, compared to coaching a CCBL team. In college, the players are typically told exactly what to do when they step onto the field. In the CCBL, players have more freedom to make their own decisions during the game.

"I want them to learn how to play the game as pure as it can be without coaches having to dictate every single move they make," Shevchik said.

For Shevchik, he has been counting down the days until the first game of the season while the season was still 150 days out. He enjoys being able to come out to the Cape with his family and coach the Whitecaps every summer.

"In my opinion, it's one of the 10 best jobs being a Cape League manager," Shevchik said.

Brewster will travel to Bourne for opening day on June 12th at 6:00 p.m. The Whitecaps first home game will be on June 13th to take on the Yarmouth-Dennis Red Sox at 6:00 p.m.