News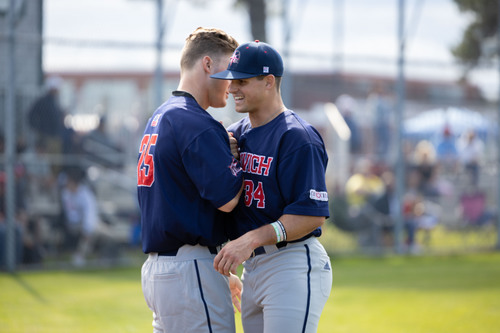 06/23/2022 6:00 AM
Article By: Daniel Fox
There's been a lot to feel good about for the Harwich Mariners so far in this young CCBL season. The club currently sits in a playoff position in the East Division and features the returning MVP in Brock Wilken.

While it's uncertain how long these good times will last, what is certain is that the Mariners will be a family affair in 2022. That's because the club features not one but two sets of siblings on their team. Alabama outfielder Tommy Seidl will get to play with his younger brother Billy, a pitcher from Duke, while Georgia pitcher Liam Sullivan will be coached by his older brother, assistant coach Patrick.

The Seidl brothers grew up in Wellesley, Massachusetts playing both football and basketball together, and to this day still cherish the memories of their little league days.

"That was just so fun, those were the days where all you wanted to do was have fun," Tommy said. "And playing together was great. We were the Pirates, and we'd paint the eye black on each other before games. He'd pitch, I would catch and we ended up winning our town's little league championship."

While both brothers started out playing nearly positions, the brothers eventually found their footing in different parts of the baseball diamond, with Tommy becoming an outfielder and Billy turning towards the mound.

"I think that was kind of our natural path," Billy said. "He didn't really pitch that much, I always sort of did everything and pitching ended up working itself out for me, and it's the path I chose."

After all those years playing sports together growing up, however, the brothers went their separate ways in college. First older brother Tommy attended Harvard University (though he eventually ended up at the University of Alabama) while younger brother Billy went to Duke University. After five years of being on separate teams, the brothers are excited to finally get to take the field together again.

"It means everything," Tommy said. "We haven't played together since high school, so it's like we're back in the old days. It's so fun."

For Billy, just seeing his brother get an opportunity in the Cape Cod Baseball League is a plus all in itself.

"It's been awesome to see him out there getting a chance," he said. "He was let go by some other teams, nobody wanted to give him a chance, Coach E kind of stuck his neck out, and he's making the most of it."

Like the Seidl brothers, the Sullivan brothers were invested in each other's baseball journey from the start. The sport dominated the Sullivan household, with Liam, Patrick and their other brother Ryan all going on to play college baseball.

"Baseball was always a big part of my family," said Liam. "(I was) just trying to be a lot like my older brothers, and it grew up being a big part of who I am."

Though Liam never played with his oldest brother Patrick, who is six years his senior, he followed in his footsteps by attending the University of Georgia. Having his brother on the same team as him is a connection over a decade in the making.

"It's super cool," Liam said. "I grew up watching him play at Georgia, and I got to play right after him and even wear the same number as him, so it's cool just being on the same team."

While the official title of coach may be relatively new to Patrick, mentoring his younger brothers is something he's been doing for years.

"Being the older brother, you're always trying to help your brothers out and share your experience with them," Patrick said.

So what kind of dynamic can we expect between the brothers this season?

"Definitely some tough love," Liam said. "Might butt heads a little bit, but nothing crazy. He's pretty laid back, so it'll be fun."

Another intriguing aspect for the brothers this season is the ability to go up against each other in practice.The Seidl brothers went up against each other in live at-bats last week, with the younger Billy taking the upper hand, holding his brother hitless in two at-bats with a strikeout.

Patrick, meanwhile, is optimistic about his chances against younger brother.

"He'll tell you he'll probably strike me out. There's no way. I would definitely get a hit off him. We need to make that happen."

Whatever happens in the 1 v. 1 battles, it is sure to be a memorable season for the brothers.

"I just love being in the dugout with him, staying with him, and being around him a lot more than I usually am during the season," Billy said. "This is a time I'm going to cherish for sure."