News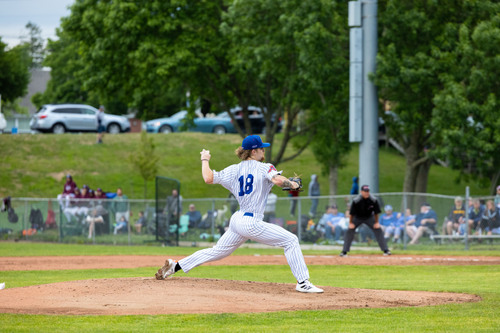 06/29/2022 12:43 PM
Article By: Ethan Kagno
The 36th ranked prospect in the 2022 MLB Draft, according to MLB Pipeline is none other than Eastern Carolina's Carson Whisenhunt. The 6'3" lefty boasts one of the best changeups among eligible draftees, which sits 82-85, that features late tumble and generates plenty of swings and misses (59% whiff rate in 2021). One of the top college arms could hear his name called inside the first round in a few weeks. He would join former ECU standout, Gavin Williams (Bourne '18) who was selected 23rd overall in 2021, as consecutive years the Pirates have pumped out first round talent.
Currently donning pinstripes up in Chatham, Whisenhunt has shown the ability to produce whiffs at the highest level. Through his first three starts, he has fanned 19, with back to back 7 punchout outings. A bunch of his strikeouts have come by way of the changeup, which opponents have struggled to put in play and have chased 38% of the time.
Carson Whisenhunt (@ECUBaseball) showing why he owns the best changeup in the 2022 MLB Draft. Has great arm speed, and features late downward movement at the plate. @C_Whisenhunt18 | @ChathamAnglers | @OfficialCCBL pic.twitter.com/UAajoczGw9

— Ethan Kagno (@Ekagno32) June 28, 2022


In his most recent start on Sunday, Whisenhunt struck out a third of the batters he faced, whiffing seven through four innings. Despite moving to 1-2 on the season, Whisenhunt flashed his potential in the way of making hitters look foolish. Through his first three starts, Whisenhunt owns an impressive 15.5 K/9 rate. During the first game of Sunday's doubleheader, Whisenhunt showcased his curveball to get ahead early in counts, and ultimately caused some ugly swings via immense vertical movement.




Carson Whisenhunt struck out 7 on Sunday against Hyannis. He relied more on his CB which generated some ugly swings and froze a few. His 19 K's rank third on the Cape in 11 IP so far this season.@C_Whisenhunt18 | @ChathamAnglers | @OfficialCCBL pic.twitter.com/2Vb6uJ1YgS

— Ethan Kagno (@Ekagno32) June 29, 2022


With the MLB Draft quickly approaching, Whisenhunt will soon turn his focus on his future in The Show. In Jim Callis' most recent mock draft, he has Whisenhunt going 20th overall to the Atlanta Braves. Callis adds, "[Whisenhunt] has reclaimed his stuff and his first-round stock in the Cape Cod League." Further adding the Braves are likely to take a look at various college arms at this spot, but Whisenhunt seems to be a good fit here.
At 21 years old, Whisenhunt offers the prototypical body with an athletic build and durability scouts yearn for. In addition to his low-to-mid-90s fastball and nasty changeup, Whisenhunt is tapping into his curveball a little more, and is projected to be an average tertiary offering which will play at the Major League level.

While it remains to be seen where exactly Whisenhunt will be selected in this year's draft, one thing is for sure: Scouts love his potential and physical makeup. Any team that takes a chance on him is getting a really good athlete and a tremendous pitch mix.