News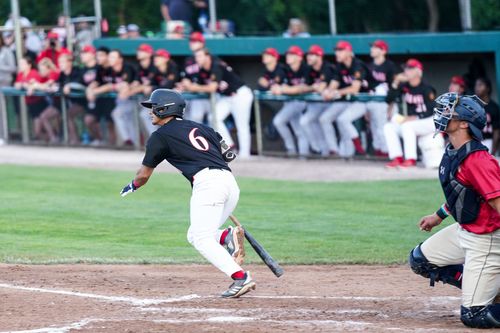 06/28/2023 10:32 AM
Article By: Daniel Curren
400 miles off the southern coast of Japan's mainland rests a tropical island known for its year-round warm temperatures and unique culture to its country. Dubbed the Hawaii of Japan, the island of Okinawa is home to over one million people. It is the former home of Orleans Firebirds infielder Joichiro "Jo" Oyama.

Oyama came from a baseball family, his dad played baseball and he spent his childhood cheering for the Yokohama DeNA Baystars of the Japan Central League and cheering on Japanese baseball legend Ichiro Suzuki. He began playing at age seven and never looked back.

Oyama attended Konan High School in Naha, Japan. While there, his team played in the Koshien baseball tournament, Japan's biggest high school baseball tournament. Playing in Koshien in Japan is described by Oyama as like playing in Omaha in America. Although he was unable to play due to injury, Oyama was given a memorable experience in his homeland.

"High school baseball is bigger than college baseball in Japan," Oyama said. "So I had a really good experience."

After high school, Oyama knew he wanted to continue with baseball, but he wanted something different. So he jumped a plane and sought a new opportunity in the United States at just 18-years-old.

"I just want to play baseball. I just want to experience America," Oyama said. "That's why I came here."

As Oyama was arriving in America for the first time, he was leaving behind his parents and younger sister, something he had never done before. He also did not speak English, which made the transition much harder.

"Learning English was the hardest part," Oyama said. "I just study a lot. Then basically like, just talk to people. Hang out with my friends, hang out with my host family and just have some experience with them. That's how I got it."
Oyama began his time in America by attending Merced College in California playing collegiate baseball. In 2022, he won MVP of his conference.
That summer, he played for the Wenatchee AppleSox of the West Coast League. Oyama hit .339 and got on base at a .449 clip with the AppleSox, earning him co-MVP of the league. He broke the league regular season records with 64 runs scored and 42 stolen bases. From there, he transferred to UC Irvine.
Statistically, Oyama has adjusted nicely to American Baseball. But during that time, he underwent changes to his playstyle to better fit the game.
"When I got here for the first time, I was 140 pounds and I was just a slap hitter, I couldn't hit the ball hard," Oyama said. "I started lifting and gained like 20 pounds. Now I can crush a ball. I can drag, push, whatever I want. I still got the skills."
Oyama's newfound diverse skill set has allowed him to play the game the way he wants, a major reason he wanted to come to America in the first place.
"I think baseball here is more powerful. I think people express themselves with the way they play." Oyama said. "Japanese baseball is more of a team sport."
Orleans has already become a special place for Oyama. Not only has he gotten to play in a premiere summer league, but he also reunited with a former teammate.
Matt Halbach of UC San Diego played with Oyama in Wenatchee last summer. The two became friends, and they are now reunited with the Firebirds.
"Jo is one of the best teammates I've ever had." Halbach said. "Just someone who's always there to bring you up, always there to lift you up, always has a good attitude. And he's a really good ballplayer."
Although the two have only played summer ball together, Halbach and Oyama stay in touch throughout the other three seasons. Whenever one is in a slump, they go to each other to analyze each other's swings and find out how to fix it. They keep each other updated on how their seasons are going and what is going well for them.
Halbach enjoys the bond he's created with Oyama and is impressed by the changes he made in his life to play baseball.
"I can't even imagine how hard it was for him to be able to learn English all on his own," Halbach said of his teammate and friend. "It just says a lot about the person he is. The fact that he is willing to take the risks is really something that I appreciate."
Oyama has enjoyed success early in this season with Orleans. Through eight games, he is slashing .370/.485/.630 for a 1.115 OPS with three triples, six walks, and just three strikeouts. But no matter what the stats say, he is here fulfilling his American dream.
"I just want to keep playing baseball as long as I can." Oyama said. "Being professional, that'd be awesome. I just want to keep playing hard and see what's gonna happen."