News
07/08/2001 12:21 PM
Article By:
This week in Baseball
8 July 2001
Division First Place Teams Square Off - Leonard Fires Shutout Gem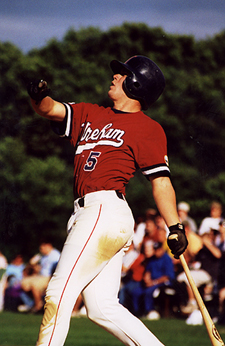 Wareham third baseman Aaron Hill (LSU) watches the arc of his deep fly ball at Red Wilson Field on Friday, July 6. Hill continued to tear apart Cape League pitching this week, ending atop the league leaders with a .366 average, 30 hits and 13 RBI.
Sean Walsh/CCBL 2001

BOURNE - Y-D Red Sox right-handed relief man Brandon Luna (Auburn) came into the bottom of the ninth inning Saturday night at Coady Field and closed the door on the host Bourne Braves with two men on and the winning run at bat.

Picking up his fourth save of the season, the second-year Cape League closer succeeded in helping the Red Sox remain atop the East Division standings by seven points at 14-9. In spite of the 4-2 loss, the Bourne Braves (16-6-1) remained atop the West Division standings, five points ahead of the surging Wareham Gatemen. Wareham defeated the Red Sox 2-1 Friday night in a pitcher's duel between lefty Russ Bayer (Miami of Ohio) who upped his record to 2-0 and Y-D righty Jim Brauer (Michigan) who saw his record fall to 1-2.

While the top two Cape League teams battled it out just over the bridge in Bourne, the true game to watch unraveled nearby in downtown Wareham as Miami of Ohio southpaw Chris Leonard of the Wareham Gatemen proved to be the individual bane of the Falmouth Commodores, spinning a masterful, complete-game shutout over the visiting West Division rival.

In what may be arguably deemed the pitching performance of the summer thus far, Leonard took the mound versus Falmouth on Saturday night at Spillane Field and truly dazzled. Leonard walked none, struck out 15 and scattered five hits. His efforts over the span of five days earned him the Coca Cola Pitcher of the Week honors. Leonard's shutout performance lowered his ERA to a league-leading 0.38.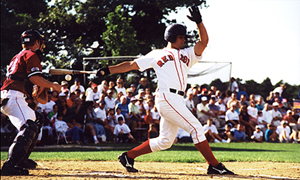 Y-D Red Sox slugger Jason Cooper (Stanford) fouls one off as Wareham catcher Rusty Meyer (Texas A&M) follows the ball off Cooper's bat. Sean Walsh/CCBL 2001

Earlier in the week, on July 2 at Guv Fuller Field, Leonard went seven innings, scattering six hits and allowed one unearned run before Wareham ultimately fell to the host team, 6-5. In that no decision appearance, Leonard struck out seven and walked just one batter.

And as if Leonard's pitching heroics were not enough, the remainder of the Gatemen ball club Wareham seemed bent on making a collective name for itself this week. Through July 7, Wareham third baseman Aaron Hill (LSU) was atop the league leaders in batting at .345 with a league-leading 30 hits, while teammate Matt Murton (Georgia Tech) stood at fourth among top batsmen at .323. First baseman Mike Huggins stood eighth among the leaders at .291 by week's end, giving the Gatemen three of the top 10 batters in the league.

But the Commodores were not far behind. In fact, Falmouth third baseman Hunter Brown (Rice) stood one point shy of Hill in second place among the league leaders in batting at .344 while hard-hitting first baseman Jarrod Schmidt (Clemson) came off a banner week at the plate at .333 with 27 hits and 11 RBI.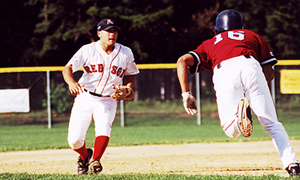 Y-D Red Sox third baseman Hyung Cho (Houston) awaits the throw from the catcher on a pick-off attempt as Wareahm's Omar Pena (Northeastern) scrambles to get back safely.
Sean Walsh/CCBL 2001

In the long run, though, pitching may spell the difference for those who find themselves in the playoff hunt come August. Bourne Braves manager Spencer Graham (VMI) continued to mastermind a careful but winning route for his 12-man staff. At 7-3 in their last 10 games, Bourne hurlers have routinely closed the door on opponents, as the team led the league by week's end with a 1.68 ERA and had allowed the least amount of home runs with three, led all comers with a total of seven shutouts and a league-best 16-6 record.

Jacksonville righty Casey Shumaker upped his record last week to 4-1 and found himself among the league leaders in ERA at 1.16 with an excellent 6-31 walk to strikeout ratio over 31 innings pitched. Shumaker, Chatham's Corey Hamman (Montclair State) and Wareham's Pat Neshek (Butler) remained in a three-way tie through Sunday night (July 8) for most wins at four apiece.

But Bourne's ace in the hole, so to speak has been Radford's Ryan Speier, who Monday night (July 2) broke the all-time Braves' saves record with his 11th, breaking the record of 10 set by Brian Husted (Nevada-Reno) in 1996.Husted appeared in 19 games for the Braves that year, going 3-0 with a 1.46 ERA 10 saves. Thus far, Speier has appeared in 15 games, has a 0.00 ERA and has struck out 27 in 15 innings of relief work.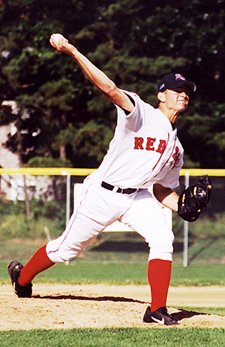 In spite of a solid pitching performance Friday night (July 6) versus Wareham at Red Wilson Field, striking out six and walking just one, Y-D righty Jim Brauer (Michigan) took the loss. Nevertheless, Brauer's ERA by week's end remained one of the lowest in the league at 1.05.
Sean Walsh/CCBL 2001

Speier wrapped up the week nicely with two more appearances and two more saves to finish with 13, far and ahead of Chatham's Zane Carlson (Baylor) who was in second at six saves.

Boston Red Sox prospect Ben Crockett (Harvard) remained atop the CCBL strikeout lead with 46 in 32 innings pitched and a 0.56 ERA, in spite of holding a deceptive 1-2 record. Harwich Mariner southpaw Matt Lynch (Florida State) was in a close second with 37 Ks all totaled. Bourne's Robby Read, also of Florida State, spun a pretty 2-0 shutout Saturday night at Whitehouse Field versus the host Mariners to up his record to 3-1. Read went seven innings, allowing no runs, scattering just four hits, struck out four, walked four (14) and lowered his ERA to 1.78, with Mark McLemore (Oregon State) and Speier wrapping things up nicely. Read picked up his second win on June 30 - a week earlier - versus Falmouth in yet another 2-0 shutout. In that effort, Read struck out four and walked four but allowed no runs. He was followed by Ben Rowe (Oregon State), McLemore and Speier for the save.

Hyannis Mets' leftfielder Kyle Frank (Clemson) wielded some mean lumber this week as the left-handed-hitting slugger snapped into a 10-24 hot-streak, complete with eight runs scored, two doubles, a triple, one home run and eight RBI. Frank tossed in a pair of stolen bases for good measure. But Frank wasn't the only Met ripping into the horsehide this week.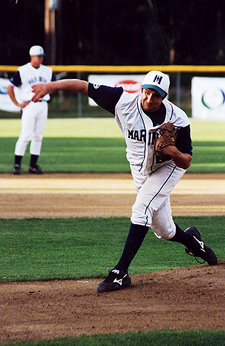 Harwich Mariners' starter Whitt Farr (William & Mary) warms up versus Bourne.
Sean Walsh/CCBL 2001

Second-year Cape Leaguer and 2000 All-Star Ryan Barthelemy continued his torrid pace versus opposing pitching. In just 12 games played, Barthelemy has amassed a .373 average, going 19-51 with a league-leading four home runs, 16 RBI, seven doubles and 12 extra base hits. While Hyannis pitching ranked last in the league at 11-12 with a 4.04 ERA, the Mets' sluggers continued to make opposing pitchers' jobs very difficult. The Mets had three of the top four home run hitters in the league with Jason Perry (Georgia Tech), Barthelemy and Notre Dame's Brian Stavisky. While Barthelemy leads the CCBL in doubles (7), Perry and Stavisky led in triples (2), tied with Y-D's Eric Verbryke (Cal-State Northridge). Perry, Stavisky and Mets catcher Ryan Garko (Stanford) were listed atop the CCBL in slugging percentage at .514, .469 and .462 respectively. Barthelemy and Stavisky also lead the league in extra-base hits at 12 and 8, respectively.

Bourne to Pitch - Right-hander Mike Dennison (Wichita State) went 1-0 and did not allow a run in eight outings from June 18-29 (10 IP, 8 H, 2 BB, 13 SO). Fellow Brave righty Joe Blanton (Kentucky) allowed just three runs over his first four starts (26 IP, 14 H, 7 BB, 24 Ks). A six-time letter-winner in high school, Blanton won twice in those first four CCBL outings. Braves righty Matt Brown (UC-Berkeley) went 1-0 and did not allow an earned run in his first 10 games through June 29 (10 IP, 4H, 2 R, 3 BB, 15 Ks). An American Legion Baseball World Series MVP while pitching for Danville (CA) High School, Brown went 3-3 with a 5.04 ERA in his freshman season for the Bears.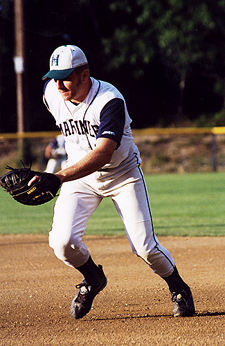 Harwich first baseman Jared Musolf (Old Dominion) races to cover the bag at Whitehouse Field Friday night (July 6).
Sean Walsh/CCBL 2001

Back in the Saddle - Back this summer after helping the Whitecaps to the CCBL Title in 2000, Stanford southpaw Ryan Gloger went 1-0 and did not allow a run in his first three starts (17 2/3 IP, 6 H, 1 BB, 19 Ks). Whitecaps righty Courtney Hall (UNLV) won three straight starts from June 13-24 and allowed just six runs-four earned -- in that span (21 2/3 IP, 16 H, 6 BB, 17 Ks). Lefty Brad David went 1-0 and did not allow an earned run in five consecutive games June 20-30 (10 IP, 6 H, 1 R, 0 BB, 15 Ks).

No Fog in Chatham - Chatham lefty Corey Hamman, who led NCAA Division III National Champion Montclair State in wins (11) as a junior, went 4-0 with a 2.49 ERA in his first five Cape League games this summer, allowing just six runs in that span (21 2/3 IP, 19 H, 4 BB, 17 Ks) and was tied for the league lead in wins through July 8. A's relief ace Zane Carlson, who set the Baylor University record with 15 saves in 2000, recorded a save in five straight outings from June 19-29 (6 IP, 2 R, 1 ER, 2 BB, 6Ks). Rich McGuire (Delaware) went 2-1 and allowed just three runs-two earned-in his first three starts (23 IP, 12 H, 2 BB, 12 SO). A's second baseman Mike McCoy (San Diego) was seventh in the league in hitting by week's end, at a steady .291 clip. The Chatham leadoff man proved an invaluable resource on the base paths for the 11-11 A's, scoring 15 runs (2nd) and holding a .424 on-base percentage (2nd). The speedy infielder was (7-for-16) with five stolen bases in five games June 25-30. He ranked second in the league in steals (11) behind Harwich Mariners' outfielder Matt Davis (Virginia Commonwealth).

Some Tough Breaks - Speaking of Chatham, the Kettleers hosted the A's Friday night, taking with them a 6-13-1 record. The Kettleers needed something to snap them out of a funk (307 in last 10 games) and finally found the answer with 16 hits and a 6-3 win. 2000 Cape League all-star righty Ryan Combs (NC State) allowed eight runs - just four earned - in his first four starts (25.1 IP, 22 H, 5 BB, 11 Ks) but had a record of 0-2.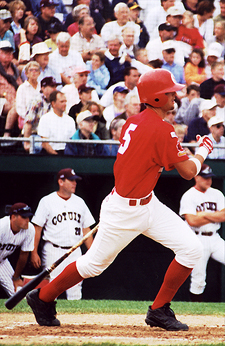 Orleans Cardinals' third baseman Steve Guthrie (Palomar CC) takes a hack versus Cotuit at Lowell Park (July 3).
Sean Walsh/CCBL 2001

Big Man on Campus - Falmouth righty Steve White, who led Baylor University with 10 wins as a freshman, won his first three starts and allowed just two runs-one earned-over that span (21 IP, 8 H, 6 BB, 26 SO). White received a no-decision after 6.1 innings of work versus Wareham on July 2. Commodore second-sacker Erik Schindewolf (Texas A7M), who went 0-for-15 in four games June 20-23, turned things around by hitting .615 (8-for-13) in three games June 24-26.

Something to Ponder - Y-D Red Sox hurler Steve Ponder (Texas A&M) more than made up for a rough start against Chatham on June 30 by going a strong 5.2 innings versus Bourne Saturday (July 7) night at Coady Field. While he picked up a no-decision, Ponder struck out seven and scattered five hits while allowing just one run - earned - before giving way to Clark Saylor (William & Mary) who upped his record to 3-0. Brandon Luna (Auburn) took the save (4). Y-D righty Jim Brauer may have been the tough-luck loser versus Wareham Friday night (July 6) at Red Wilson Field in a 2-1 duel with Gatemen lefty Russ Bayer, but prior to that Brauer hurled eight scoreless innings and allowed just two hits and a walk in a 6-0 win against Falmouth. One of the biggest pluses for the Sox this week was righty Drew Endicott's (Missouri) outstanding 10-0 shutout over Brewster on July 1. Endicott has allowed just one earned run and one run total in 22 innings of work this summer and is 2-0 with a 0.49 ERA.

Going Casual-The Falmouth Commodores' five-year run of no ties was halted on June 22, 2001 when Brewster and Falmouth battled to a 1-1 tie in 12 innings. Falmouth's streak is a Cape League record 241 games and started on July 24, 1995. The Commodores are the first team to play five consecutive seasons without a tie. Harwich and Orleans played from 1977-79 without a tie, becoming the first teams to go three straight seasons with no ties. Orleans had the record at 152 games. Falmouth had a streak of 125 games from July 1977 to July 1980.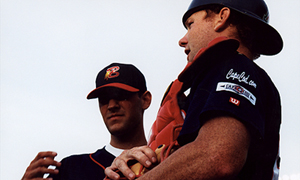 Bourne Braves pitcher Robby Read (Florida State) discusses strategy with battery mate Ken Riley (Arizona State) before the first inning versus Harwich on Friday night (July 6). Even though umpires would make Read remove his white undershirt before action got underway, it proved to be good luck as Read had his second brilliant performance in a week.
Sean Walsh/CCBL 2001

No Free Passes -- Hyannis Mets' pitchers made the opposition earn their way on base as they went 28 2/3 innings without allowing a walk, a new Cape League record. The streak started in the fifth inning against Falmouth on June 21 and ended in the fifth inning against Wareham on June 25. Hyannis pitching coach Keith Stohr must have something up his sleeve.

Chin Music - Mets' Pitcher Travis Teeter (RPI) recently hit his way into the Cape League record book. The junior right-hander plunked four Cotuit Kettleers in the game of June 14. Teeter tied the mark held by another Hyannis hurler, J. J. Pearsall. Pearsall hit four Bourne batters on June 19, 1994. Cotuit's four hit batters ties the mark shared by four other teams.

No Runs, No Runs -- Bourne Braves' pitchers went 23 consecutive innings without allowing a run from June 27 to July 1. The Braves pitched consecutive, 2-0 shutouts, one versus Harwich 6/29 and one versus Falmouth 6/30. The Wareham pitching staff tossed 20 straight innings without allowing a run from June 26 to June 30. The Gatemen pitched consecutive shutouts on June 28, 3-0 over Y-D, and June on 29, 6-0 over Brewster. Both teams are well short of the Cape League record of 41 1/3 innings without allowing a run by Falmouth in 1996.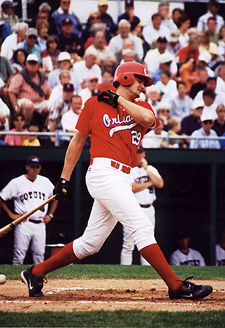 Orleans Cardinals' first baseman Larry Broadway (Duke) fouls one off versus Cotuit (July 3). Sean Walsh/CCBL 2001

This and That --The Braves record of 13-3-1 ties Orleans (13-3, 1994) for most wins in June ... Bourne finished June with the best record against the West (7-0-1), best mark in day games (10-3-1) and best road record (7-1) ... Wareham had the best record at night (8-4) and at home (8-1) ... Chatham had the best mark against the East at 7-2 ... The A's might want to play only on Tuesdays and Thursdays the rest of the season as they are 6-0 on days beginning with "T" and 4-7 the rest of the week ... Speaking of days, Bourne was 9-0 on Monday - Thursday and 4-3-1 on the weekend ... The Western Division was 23-17 against the East with Wareham leading the way with a 7-2 record ... At the end of June the league was hitting .217 with a 2.47 earned run average, both of which would be league records if this were end of the season numbers ... Through the first 84 games the league had 50 saves, more than the league-ending total from 1970-1983.

It's Hard to See Them Go -- Cotuit first baseman Scott Edwardsen (Manlius, NY/Le Moyne) departed this week due to a thumb injury, followed by two-year Cape Leaguer Joey Monahan (Marietta, GA/Liberty) who left the Wareham Gatemen due to a re-injured hamstring. Chatham's Dan Krines (Huntington, NY/Fairfield), who was named the Co-Outstanding Pitcher of the Year last summer, returned home this week after being struck in the face with a line drive at Veterans Field on July 3 versus Hyannis. Krines suffered a bone fracture but no damage to the eye, according to A's President Paul Galop.

All-Star Selection Slated for July 14 -- Early this coming Saturday morning, the 10 field managers will meet to select the players for the 2001 Sprint PCS All-Star game and the names will be released later that afternoon. The game will be played on July 21 at Falmouth's Guv Fuller Field beginning at 6:00 p.m. The following is the itinerary for the day's events:
2:30 PB East/Autographs West
3:15 PB West/Autographs East
4:00 Home Run Hitting Contest
4:35 IF East
4:50 IF West
5:05 2nd Autograph Session
5:40 Introduction of Teams
5:50 National Anthem
5:55 First Pitch Ceremony
6:00 Play Ball!

The 2001 Sprint PCS Cape League All-Stars will be recognized on July 25th at Fenway Park prior to the game.

She threw a strike -- Joy Rushworth of Chatham took just three pitches to throw a strike at Chatham's Veterans Field on July 7 at the Chatham Bars Inn Appreciation Night. As a part of her 50/50 raffle win, the youngster upped her win from a two- to a five-night stay at the exquisite inn on the water by hitting the target. As a part of the night, 2 cases of popcorn and 75 pounds of peanuts were given away.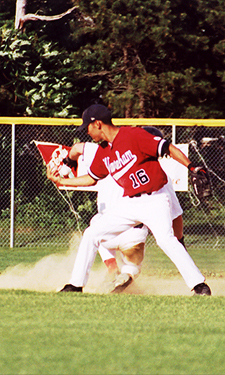 Gatemen second baseman Omar Pena (Northeastern) strains to grab the ball as Y-D's Steve Sollman (Notre Dame) slides in with the stolen base.
Sean Walsh/CCBL 2001

Bet he'll throw a strike too -- John M. Jackson, father of the Bourne Braves' third baseman, Conor, will throw out the first pitch on Friday. Jackson the elder, who can be seen on the television show JAG, is "a huge fan of baseball," according to his official website.

Other sponsor appreciation nights on tap this week -- Chatham Bars Inn: July 10 at Y-D; July 13th at Hyannis; July 15th at Wareham; July 17 at Cotuit. Sprint PCS: July 9th at Harwich; July 14th at Cotuit. Hood Ice cream: July 15th at Wareham; July 20th at Orleans

Just a reminder -- With all the great baseball going on in the league this summer, this is just a reminder about Summer Catch and all the plans for its release. For ticket information to the festivities, please contact Jim McGonigle at the league office at (508) 385-6260.

On The Cover -- Stanford slugger Jason Cooper, back for his second season with the Y-D Red Sox, is featured on the cover of the 2001 Cape Cod Baseball League Official Yearbook. During the 2000 Sprint PCS Cape League All-Star Game, Cooper won the Home Run Hitting Contest by beating defending champion Doc Brooks (Falmouth/Georgia). The yearbook is published each season by the Cape Cod Baseball League administration, designed edited by CCBL Web Site Editor and official photographer Sean Walsh. The yearbooks are free of charge at all 10 Cape League ballparks.

-- Special Thanks to CCBL Publicist Missy Alaimo, CCBL Historian Bruce Hack and Josh Goldfine of Sportsticker.com for adding to this week's report

-- Sean Walsh