News
07/29/2001 4:06 PM
Article By:
This week in Baseball
CCBL - NECBL
All Star Game
28 July 2001
The Cape League Handles NECBL Challenge with 5-2 Win

KEENE, NH - Weighted with slight trepidation over the task at hand, a hand-picked contingent of Cape Cod Baseball League All-Stars journeyed to the Granite State Saturday afternoon and treated the New England Collegiate Baseball League All-Stars to a taste of the best amateur baseball in the nation.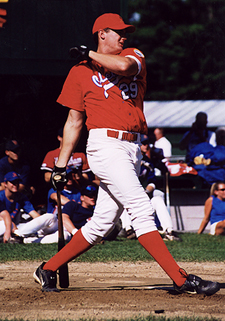 Orleans Cardinals' first baseman Larry Broadway (Duke) belts another one of his 13 home runs in the home run hitting contest at Alumni Field in Keene, NH prior to Saturday's CCBL All-Star Game versus the New England Collegiate Baseball League All-Stars. Broadway was later named MVP of the game.
Sean Walsh/CCBL 2001
Buoyed with a first inning display of raw power -- a solo home run by Orleans second baseman Russ Adams (UNC) and a two-run blast by fellow Cardinal Larry Broadway (Duke) -- and nine innings of phenomenal pitching, the Cape League all-stars defeated their challengers and hosts, 5-2 before a crowd of about 2,000 spectators.
For many months, Cape League officials debated whether to accept the invitation by the NECBL to pit each other's stars against each other in a showcase of collegiate talent. The brainchild of NECBL President Fay Vincent, the Cape League finally agreed to accept the invite after the NECBL offered a guaranteed take of the gate receipts of $7,000. Tickets were $8 apiece to enter the ballgame, held at Alumni Field in Keene, NH, home of the NECBL Swamp Bats.
The all-star squad selected by Chatham A's Field Manager John Schiffner offered nothing less than its best throughout the game. Inning after inning, Schiffner waltzed out the Cape League's finest hurlers, a cadre of heat throwing aces from each division. Wareham's Ben Crockett (Harvard), who pitched the first inning, striking out one batter and staked with a healthy, 3-0 lead, appeared to throw brilliantly in spite of mentioning after the game that he felt he wasn't out there with his "best stuff."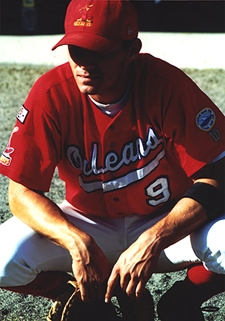 Orleans second baseman Russ Adams (UNC) gets his game face on.
Sean Walsh/CCBL 2001
The CCBL strikeout leader was backed by an equally impressive performance by Harwich righty ace Luke Robertson (Kansas State), Brewster southpaw Brad David (LSU) who struck out two batters in the bottom of the fourth, Y-D's Brandon Luna (Auburn0 who whiffed two in the bottom of the seventh inning and Wareham's Pat Neshek (Butler) fanned two in the eighth. Perhaps the most stunning and appropriate pitching performance given by a Cape Leaguer on the day, was that of Wake Forest's David Bush. The two-time Chatham A's all-star closer struck out the side in the bottom of the ninth to prove once and for all he may be the hardest-throwing hurler in a CCBL uniform.
Broadway's and Adams' home run show in the top of the first inning left some fans to wonder how bad the CCBL run toll would be by game's end. Chatham A's shortstop Drew Meyer (South Carolina), who was not selected as a regular-season all-star, played spectacularly, going 2-4 on the day. Wareham outfielder Matt Murton (Georgia tech) added to the damage going 1-4 with an RBI and Chatham's Bobby Malek (Michigan State) belted a clutch pinch-hit gapper to the fence in the late going's to help add an insurance run. Other Cape pitchers who helped keep the NECBL bats at bay included: Cotuit's Brantley Jordan (Texas), Hyannis Mets' Kevin Ool (Marist), Bourne's Matt Brown (UC-Berkeley) and Chatham's Zane Carlson (Baylor).
CCBL Vs. NECBL All-Star Notebook
-- Former Cape Cod Baseball League Commissioner Fred Ebbett traveled to Keene, NH to throw out the ceremonial first pitch.
-- 2000 Cape Cod Baseball League Manager of the Year Tom O'Connell dropped in to say hello and said he's enjoying his retirement.
-- Chatham A's longtime manager John Schiffner brought along his entire coaching staff from the A's, including Matt Fincher (University of South Carolina-Spartanburg), Scott Hild (Texas) and Matt Markovich (Sonoma State). Schiffner added Brewster Whitecaps assistant coach Bob Macaluso (Muhlenburg), Harwich Mariners Manager Buddy Custer (Baseball Factory) and Wareham Gatemen Manager Cooper Farris (Mississippi Gulf Coast Community College) to the staff.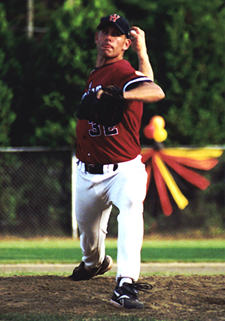 Wareham's Ben Crockett (Harvard) pitched brilliantly in his starting role for the CCBL All-Stars. Crockett notched the win for the Cape League and retired the side in the bottom of the first inning.
Sean Walsh/CCBL 2001
-- The gracious hosts of the New England Collegiate Baseball League offered a fabulous fireworks display following the game, much to the joy of many from the CCBL. Some of the Cape Leaguers on hand had failed to have time to see fireworks on the Fourth of July due to games played that day.
-- Cape League publicist extraordinaire Missy Alaimo could not have proved more clutch when the chartered bus the Cape League contingent traveled on broke down just over the New Hampshire border. Alaimo, a Granite State native, got on her cell phone and had a new charter bus arrive by the side of the highway in a matter of minutes, getting the team to Keene, NH on time for the festivities.
-- In that short span of time the Cape League all-stars, coaches and officials had to wait for the new bus to arrive, players walked over to a farm stand and purchased several bags of apples and peaches from a much-surprised local farmer.
-- Alumni Field proved to be a most unique venue, sporting a hulking, old-fashioned red New England barn looming just outside the right field fence. The Cape League home run sluggers - Larry Broadway, Drew Meyer, Matt Murton and Jason Perry - responded by peppering the barn and its roof with blast after blast.
-- The NECBL provided some unique attractions during the ballgame, including "The World-Famous Monkey Boy" and sound effects over the public address system after home runs and foul balls.
-- NECBL fans were rather bold in asking Cape League players for an array of souvenirs, including bats and balls. One young fan asked Coach Scott Hild if the boy could have a glove and when Hild smiled and said that he could not give such an item away, he boys responded "Well, how about a glove?"

Former CCBl Commissioner Fred Ebbett tosses out the ceremonial first pitch prior to the CCBL versus NECBL All-Star Game at Alumni Field in Keene, NH.
Sean Walsh/CCBL 2001

Chatham A's shortstop Drew Meyer (South Carolina) launches a deep one in the home run hitting contest. Meyer played an amazing game for the CCBL squad, going 2-4 at the plate.
Sean Walsh/CCBL 2001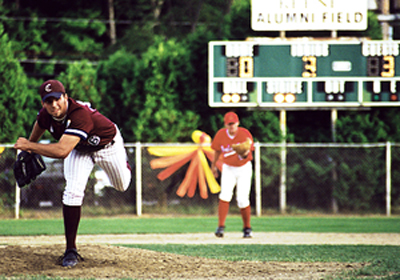 Cotuit southpaw Brantley Jordan (Texas) strikes out an NECBL all-star.
Sean Walsh/CCBL 2001

Wareham's Matt Murton (Georgia Tech) sends one into orbit during the home-run hitting contest.
Sean Walsh/CCBL 2001

Harwich Mariner righty ace Luke Robertson (Kansas State) threw pure gas versus the NECBL.
Sean Walsh/CCBL 2001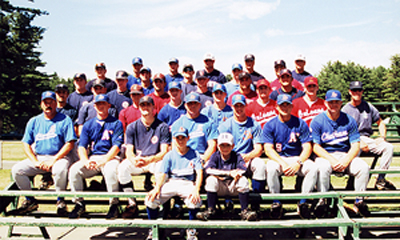 Hand-picked by Chatham A's Manager John Schiffner, a contingent of Cape League All-Stars proved once and for all Saturday that the Cape League is tops.
Sean Walsh/CCBL 2001