News
09/03/2001 11:35 AM
Article By:
for immediate release: 3 September, 2001
Robertson Signs Deal with Oakland A's

HARWICH -- East Division All-Star righty Luke Robertson, one of the top pitchers in the Cape League this summer, signed a free-agent contract with the Oakland A's as the month of August came to a close for an amount undisclosed. Robertson had been entertaining offers from as many as five Major League Baseball clubs this summer as he was first named to the 2001 East Division All-Star Team and then a week later represented the Cape brilliantly versus the New England Collegiate Baseball League all-stars.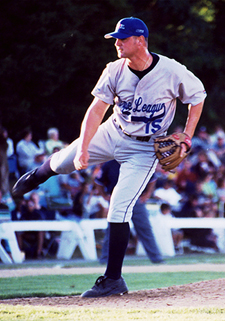 Harwich Mariners righty ace Luke Robertson signed with the Oakland A's and is headed for Single A ball with the Visalia Oaks.
Sean Walsh/CCBL 2001

Pitching for the Harwich Mariners this summer, Robertson was clearly the right-handed ace for Buddy Custer's 19-25 club, going 3-3 with a 1.46 ERA and 59 strikeouts in 55.1 innings pitched. Robertson allowed only nine earned runs and walked just 14 batters. He was ranked sixth in the league in ERA.

Affable but clearly focused on his ultimate goal of making the Big Leagues, Robertson signed with just one year remaining of college as he headed for his senior year at Kansas State this fall. He is slated to report next spring to the Visalia Oaks (A) in Visalia, CA. The Oaks were 28-42 this season and finished in last place in the North Division of the California League.

Following Robertson's outstanding summer in the Cape League, the 6-foot-4, 225-pound native of Valley Center, KS had a brief stint in late August with the Wichita Twins who played in the National Baseball Congress (NBC) World Series held the past two weeks in Wichita, KS.

"Things here are pretty good," Robertson said Tuesday (Sept. 4) night. "I'm glad to be home and the family and friends but I miss the Cape and the moments I had there. It was a very surreal experience for me, one that will never be forgotten."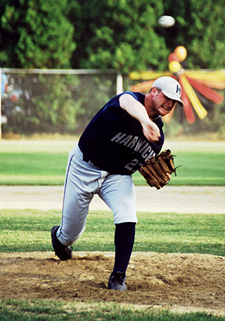 Luke Robertson throws smoke versus the NECBL All-Stars in Keene, NH on July 28.
Sean Walsh/CCBL 2001

Robertson was named the 23rd-best prospect in the Cape League in 2001 by Baseball America. As a member of the Wichita Twins, Robertson continued to post impressive numbers in the NBC World Series. In two games, he allowed just four hits in 16.0 innings pitched with a 0.00 ERA. He held opposing batters to a .082 average, ranked fourth in the tournament. He struck out 12 batters in a 5-1 complete game victory over Cotton State (MS) Stars, while he allowed just one hit in a 6-1 win over Prairie Gravel (IL). He was named to the All-American team for the tournament and tied for Best Pitcher accolades. Robertson was also named the tournament's Favorite Local Player.

The top starter for Kansas State for most of the 2001 season, Robertson consistently performed well despite being thrown against every opposing team's top pitcher. He led the Kansas State team in wins (7), games started (13), complete games (3), innings pitched (90.1) and strikeouts (87). Robertson ranked among the top 10 in the Big 12 in three categories, including fifth in strikeouts per game (8.69), eighth in wins (7) and eighth in innings pitched (90.1). Five of the team's 10 wins in conference play came in his starts, including victories over Texas Tech, Texas A&M, Oklahoma, Missouri and Kansas. He became the Wildcats' first Big 12 Pitcher of the Week in more than four years. In just two seasons at Kansas State, Robertson tied for eighth place in career strikeouts in school history with 160. He was one of eight Wildcats named to the Coaches All-Big 12 team, as he was an honorable mention selection.

He may have been the right-handed ace of the Harwich 2001 staff, but Robertson had a great sense of humility which should serve him well in his professional career.
Sean Walsh/CCBL 2001

In an impromptu moment, Luke Robertson reveals the clear, cool focus that led him to a contract with the Oakland A's/
Sean Walsh/CCBL 2001


-- Sean Walsh/CCBL 2001
with Special Thanks to the Kansas State Baseball Staff