News
11/28/2001 11:30 AM
Article By:
for immediate release: 28 November, 2001
Baltimore Orioles All-Star to Visit the Cape
and Teach Baseball Basics to Kids

YARMOUTH - Former Y-D Red Sox shortstop Mike Bordick, currently an all-star shortstop with the Baltimore Orioles, will be presented with a plaque commemorating his unique and gracious gift of $5,000 to the Y-D Red Sox organization on Saturday, Dec. 8 at Dennis-Yarmouth Regional High School.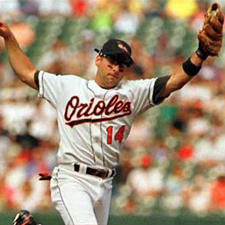 Photo courtesy of the Baltimore Orioles
and Major League Baseball

Former Y-D Red Sox shortstop (1987)
Mike Bordick will be at D-Y High School
Saturday, Dec. 8.



The event is planned to be held in conjunction with an instructional baseball clinic to be facilitated by Bordick and baseball and softball instructors from the Frozen Ropes Training Centers and is open to children from age 7-14. Bordick's gift to the Y-D Red Sox enabled the Cape League franchise to bring to fruition extensive field upgrades including a new backstop and several other new features at Merrill "Red" Wilson Field.

Bordick, a graduate and former player for the University of Maine, played for Y-D during the summer of 1987 before signing with the Oakland A's prior to the end of the 1987 Cape League season. Bordick left the A's in 1996 to play shortstop for the Baltimore Orioles. In late July 28, 2000, Bordick was dealt to the New York Mets. Following his brief stint with former Cape Leaguer and New York Mets manager Bobby Valentine, Bordick returned to the Baltimore Orioles in Dec. 2000. Bordick is married with four children.

Following the plaque presentation and clinic, Bordick will be on hand to sign autographs for all players involved in the clinic. Participants are encouraged to bring baseballs or baseball cards to have Bordick sign. A $75 registration fee is required to participate in the clinic for all age groups. To register, please call the Frozen Ropes Training Center in Pocasset at (508) 563-1860.

The clinic will be held for boys and girls, ages 7-14, from 3-6 p.m. in the gymnasium at Dennis-Yarmouth High School. The school is located on Station Avenue just off Exit 8 on the Mid-Cape Highway (Route 6).

-- Sean Walsh/CCBL 2001