News
08/18/2004 9:18 AM
Article By:
18 August 2004
THIS WEEK IN THE CAPE LEAGUE
2004
COMMISSIONER'S CUP
TEAM OF THE YEAR AWARD
Falmouth Commodores and Wareham Gatemen
Share First Commissioner's Cup
CAPE COD – The Cape Cod Baseball League introduces a new award in the 2004 season.
The Commissioner's Cup is presented to the team that demonstrates the highest level of integrity and professionalism on and off the field, ensuring and enhancing the championship caliber of the Cape Cod Baseball League.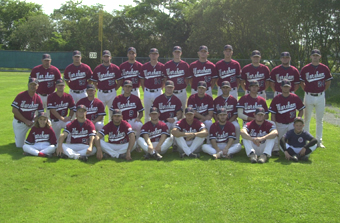 Wareham Gatemen
SportsPix 2004
West Division rivals Falmouth Commodores and Wareham Gatemen share the league's initial Commissioner's Cup, based on their performances on and off the field.
"We were in unanimous agreement to share the cup between Wareham and Falmouth," said CCBL Commissioner Paul Galop. "These two teams did a great job in compliance with the league, behaved themselves on the field and were aggressive adopting our league policies."
The award was selected by Commissioner Galop and the league's deputy commissioners, Dick Sullivan and Sol Yas.
Wareham, which wasn't eliminated from playoff contention until the next to last day of the season, was the least penalized team in the league with no ejections during the season by any of its players or coaches.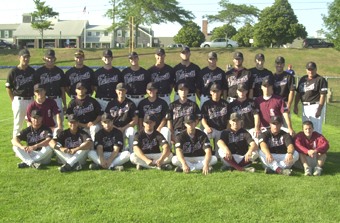 Falmouth Commodores
SportsPix 2004
Falmouth, which captured the West Division Title and defeated Hyannis in the divisional playoffs before losing to the Yarmouth-Dennis Red Sox in the championship series, was the most pro-active team in the league enforcing the non-tobacco rule.
The Gatemen were managed by Cooper Farris (Mississippi Gulf Coast College) and led on the field by infielder Warner Jones (Vanderbilt) and relief ace Kevin Whelan (Texas A&M). John Wylde is the team's president and general manager.
The Commodores' field manager was Jeff Trundy (The Gunnery), who was named Cape League Manager of the Year. On the diamond the Commodores were paced by league MVP Dan Carte (Winthrop), shortstop Cliff Pennington (Texas A&M) and pitchers Dallas Buck (Oregon State) and Chris Leroux (Winthrop).
By John Garner, Jr., Director of Public Relations & Broadcasting, [email protected]

Written by John Garner, Director of Public Relations & Broadcasting
Cape League Interns Britt Berry, TJ Lasita and Brian MacPherson
Contributing writer, Bruce Hack, CCBL Historian