News
08/29/2004 9:23 AM
Article By:
29 August 2004
THIS WEEK IN THE CAPE LEAGUE
2004
B.F.C. WHITEHOUSE
OUTSTANDING PITCHER AWARD
Matt Goyen made his mark on the Cape Cod Baseball League this year. For anyone who has followed the league in the summer of 2004, his name has been omnipresent.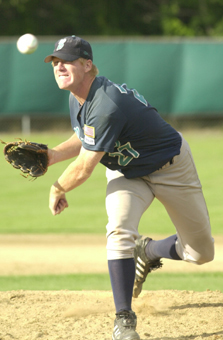 Matt Goyen, Brewster Whitecaps
SportsPix 2004
Although the Cape league was stocked with great pitching this year, it's easy to see why Goyen was honored with the 2004 B.F.C. Whitehouse Outstanding Pitcher Award.
On June 30, He pitched a two-hit complete game shutout with a league-high 18 strikeouts at Eldredge Park against the Orleans Cardinals. This set the Brewster record for most strikeouts in a game, and was only three shy of the league record.
Goyen also was named to the All-Star team as a reserve for the East Division.
The lefty from Georgia College & State University finished the 2004 CCBL season with a 5-2 record and a 1.25 ERA, fifth in the league. He paced the circuit with 80 strikeouts, becoming the first Whitecap to lead the league. Goyen also set the Brewster record for strikeouts in a season, breaking the mark of 79 set by current Philadelphia Phillie Billy Wagner in 1992.
Goyen is also the first Brewster Whitecap to win the B.F.C. Whitehouse Award.
For the Georgia College Bobcats in 2004, he had a 4-1 record with a 2.41 ERA in 67.1 innings pitched, third among his teammates. Goyen also had a save and a team-leading 76 strikeouts.
Goyen was a 27th round draft pick by the Tampa Bay Devil Rays in 2004.
Goyen is the second straight Division II pitcher to win the award as Eric Beattie (Tampa) of the Bourne Braves won the award in 2003 with a 4-0 record and an ERA of 0.39.
By Britt Berry, 2004 CCBL Intern, [email protected]

Written by John Garner, Director of Public Relations & Broadcasting
Cape League Interns Britt Berry, TJ Lasita and Brian MacPherson
Contributing writer, Bruce Hack, CCBL Historian