News
03/20/2005 10:08 AM
Article By:
for immediate release: 20 March, 2005
CCBL Game of the Week on PIXY 103
10 Game Radio Package includes All Star Game and League Championship
CAPE COD, Mass. – After debuting on Cool 102 during its initial season in 2003, the Cape Cod Baseball League RadioGame of the Week on Monday nights will again be broadcast live on its sister station, PIXY 103 (WPXC, 102.9 FM), for the second straight year.


2005 Radio
Game of the Week Schedule

June 20- Brewster at Harwich – 6:45 pm
June 27- Bourne at Cotuit – 4:45 pm
July 4-Chatham at Orleans – 6:45 pm
July 11-YD at Chatham – 6:45 pm
July 18-Harwich at Orleans – 6:45 pm
July 25-Hyannis at Wareham – 6:45 pm
July 30 – CCBL All-Star Game – 2:45 pm
Aug. 1 - Hyannis at Falmouth – 6:45 pm
Aug. 9 – CCBL Divisional Playoffs – TBA
TBA – CCBL League Championship - TBA

PIXY 103, part of Qantum's Cape stations, is the most listened to radio station on Cape Cod among the target audience of males age 25-54, with a 14.1 average share of the listening audience. It is also the home of the NFL's Monday Night Football, the AFC and NFC Championship games and the Super Bowl.

In addition to a seven-game regular season schedule, the Cape League package will also include the CCBL All-Star Game in Hyannis, Saturday, July 30 and league playoff and championship game (s) during the second week of August.

The Cape League game of the week begins Monday, June 20 with Brewster playing at defending CCBL champion Orleans Cardinals. Every franchise will appear on the package.

Larry Egan, morning on-air personality on Cool 102, will again serve as play-by-play announcer, while John Garner, Jr., CCBL Director of Public Relations & Broadcasting, will be color analyst.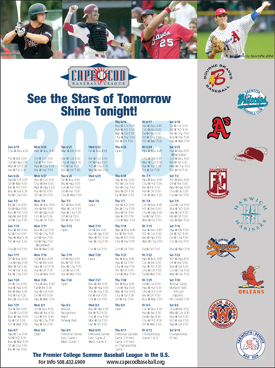 Lou Barnicle / © CCBL 2005

CCBL Featured In
Boston Metro South Yellow Book
The Cape League will be featured on the front cover of the Cape Cod edition of the Yellow Book. Over 160,000 books will be distributed to homes and businesses all over the Cape. CCBL Director of Publications Lou Barnicle created a stunning full-page (8x10) color ad incorporating team logos, action photos and the 2005 schedule that will be included in the book.

2004 Hall Of Game Videos Available
The 2004 Hall of Fame ceremony DVDs are available for sale, completed with the HOF feature. The cost is $25 for the general public and VHS. Anyone interested should send the checks and make them out to: Touching The Game, LLC, 711 Chestnut St., Newton, MA 02648 and indicate that it is for the HOF ceremony DVD.

Scott Sanford Named Web-Site Editor
Former sports writer Scott Sanford has been named web-site editor for the Cape Cod Baseball League. In addition to writing and editing stories, Sanford will also cover the Bourne Braves. A long-time resident of Sagamore who worked at both the Brockton Enterprise and the ECAC Publicity Bureau, Sanford is the son of former CCBL pitching standout Jack Sanford. He is also the grandson of Cape League legend and former commissioner Pat Sorenti, whom the league MVP is named after and who was inducted into the CCBL Hall of Fame in 2003.

Cape League Pr Interns Announced For 2005
Cape League President Judy Walden Scarafile has announced the public relations interns for 2005. They include:
Stephanie Falco, University of Connecticut – Covering All-Star Game, Writing Features and covering Yarmouth-Dennis Red Sox
Michael Kydd, Mount St. Vincent University – Writing weekly articles and features on Cotuit Kettleers, Falmouth Commodores and Wareham Gatemen
Colin Reed, University of North Carolina – Writing weekly articles and features on
Brewster Whitecaps, Chatham A's, Harwich Mariners and Orleans Cardinals
Amanda Chagnon, Endicott College – Media/Major League Baseball contact for Cape League Alumni. John Garner Jr, CCBL Director of Public Relations & Broadcasting


Bourne Braves Invitee Gib Hobson Hurls No-Hitter For Nc State
North Carolina State right-hander Gib Hobson, who'll be hurling for the Bourne Braves this summer, tossed a no-hitter against Maryland in Atlantic Coast Conference action on March 12 earning him National and Atlantic Coast Conference Pitcher of the Week honors. The sophomore from Pfafftown, NC, was overpowering against the Terrapins, fanning a career-high 11 while walking four in tossing the first no-hitter in 12 years for NC State. He allowed an unearned run on a walk, error and groundout, spoiling a potential shutout in the 11-1 Wolfpack win. So far this season, Hobson is 4-1 with a sparkling 3.77 ERA for the Wolfpack. Scott Sanford, CCBL Web-Site Editor

Cotuit Kettleers Join Crusade Against Cancer
The Cotuit Kettleers will help sponsor photographer Rick Heath's plan to run 24 hours straight to raise money for the American Cancer Society. Heath has planned his 24-hour, 85-mile run, beginning at Lowell Park prior to the Cotuit Kettleers' home game versus Wareham.
After taking a warm-up lap around the perimeter of Lowell hopefully joined by as many fans who are willing – Heath will pace some 85 miles along local roads to Foxboro and by on June 25, to West Bridgewater. Heath, a veteran long-distance runner, hopes that his run will help raise donations to the American Cancer Society. Anyone interested in making a donation to the American Cancer Society on behalf of Heath and his 24-hour Crusade Against Cancer, should send checks made payable to the American Cancer Society, c/o Ivan Partridge, Cotuit Kettleers, P.O. Box 411, Cotuit. All donations are tax-deductible. Sean Walsh, Cotuit Kettleers
John Garner, Jr.
CCBL Director of Public Relations & Broadcasting
(508) 790-0394 [email protected]