News
06/12/2005 10:47 AM
Article By:
12 June 2005
THIS WEEK IN THE CAPE LEAGUE
Cape League Intern Jason S. Itzkowitz

Hyannis Mets Host First Military All-Star Game
HYANNIS, Mass - History was made on June 11, 2005, when the first All-Star Military Game took place at McKeon Park. Selected players from the Cape Cod Baseball League competed against the most talented American military players from bases in San Diego to Japan. It was a sunny day in Hyannis, where patriotism echoed throughout Cape Cod.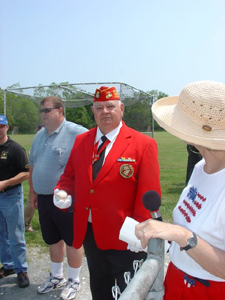 Veterans of Foreign Wars, Max Sarazin, was recognized as part of the opening ceremonies.
There was no better way to promote awareness in support of our military than playing a baseball game. Baseball is a symbol of our country, which connects Americans with the common love for the game. It is a reminder of what our great nation stands for.
It was a privilege for those who participated in this memorable event and players on both teams appreciated the opportunity.
When asked how it felt to be selected in the first military all-star game, Navy pitcher Gustavo Luna replied, "It is just an honor to be here. I was in Japan for eight years where, I played baseball. This is my third season with the Navy, but I didn't think I would make this all-star team. It is a privilege to be apart of today."
Right fielder Willie Gury was also thrilled to be playing that afternoon. When asked what it meant to be part of a team representing the American military he responded, "It's great to be doing two things at the same time that I love. Defending our country and playing the game of baseball (This game) gives me the opportunity to assert my country and show that I am doing my part to fight against terrorism."
World War II veteran and long-time Cotuit Kettleers staff member, Ivan Partridge, was also excited about being part of the pre-game festivities. After being asked what baseball was like for soldiers during the war, Partridge responded, "I played in the local league on the Philippines during World War II. Baseball was a fun, recreational activity to World War II soldiers. Baseball was simply an escape from the gruesome, harsh circumstances that any soldier inevitably goes through during a state of war. It reminds them of America's pastime. It reminds them of home."
The opening ceremony before play began revealed the link between the All-Star Game and past baseball military experiences. Ms. Wheelchair of Massachusetts, Laurel Labdon, was honored at the beginning and presented with an autographed bat by Lt. Commander Terrance Allvord, Coach / GM of the Military All-Stars.
Also introduced before the game were game-day sponsors were Debra Nelson of Friendly's and Dr. Pamela Stiefvater of Bayside Chiropractic.
The main part of the ceremony was the Salute of Veterans of Foreign Wars when United States veterans who served in World War II, the Korean War and the Vietnam War were introduced and applauded. These Veterans of Foreign Wars included star military baseball players Partridge, Arnold Mycock and John Garner, Sr., who served in WWII, Korean War veterans Max Sarazin and Jake O'Rourke and Vietnam War veterans Ken Kommenda and James Hempel.
The Star Spangled Banner was sung by Sergeant Casey Wade of the U.S Army Recruiting Station in Hyannis. Captain Joseph T. Teehan, Company Commander of U.S Army Recruiting in Boston, threw the first of two opening pitches before the start of the memorable game. Sarazin who served with the U.S. Marines in the Korean Conflict, had the honor of throwing out the second opening pitch.
And oh yes, then there was the game. Both teams each played competitively. Steve Singleton (Orleans) of the Cape League All-Stars immediately got his team on the board with a solo shot to deep left in the first inning. Yarmouth-Dennis outfielder, Sean Riley, also added to the offense as he went three-for-four, including a solo bomb to right.
Nevertheless, starting Military All-Star pitcher Lucas Ledbetter, a top hurler for the U.S Naval Academy, pitched four solid innings. He recorded seven strikeouts and allowed just two earned runs on five hits. However, defense did not help the big right-hander, as the Military All-Stars made four errors in the field.
As U.S Naval Academy catcher Jon Boger said before the game, "The key to winning this game is to make no errors in the field."
The entire Cape League pitching staff got into the game and as a combined unit, they shut down the Military All-Stars, 5-0. Also, not to mention, the Cape squad was flawless in the field, recording no errors. However, the scoreboard was irrelevant that day. Both teams won in the sense that history was being made, soldiers who have sacrificed their lives were being honored, and a patriotic ambiance reigned on the baseball diamond.
With organized military baseball dying down after the Vietnam era, games like this can only revive competitive military baseball and promote the comeback of such leagues. Especially with the recent War on Terror, games like this can only foster patriotism, help support our troops, and aid with the recruitment process within the military arena.
However, it is not that easy to have a predominant organized military baseball league or in Military All-Star Coach Lieutenant Allvord's words, "We are trying to play competitive baseball here, but you also have to understand we have to fight a war too. It is hard to be doing both things at the same time. We really would like to have other guys be here today but just can't, because they have to be stationed in certain areas of the world."
With tensions in the Middle East, this game helps remind us of the honorable sacrifice our troops have made to defend our nation. Nevertheless, every soldier who has ever fought for America was honored on McKeon Field that day within our hearts.
Similar to the battlefield, everyone on the baseball diamond makes the sacrifice, puts forth the most effort, and hopes to perform well on an individual basis in order to benefit their squad. In both arenas, there is the same goal in mind - to get home safe.
Jason Itzkowitz, Cape League Intern
[email protected]

John Garner, Jr.
CCBL Director of Public Relations & Broadcasting
(508) 790-0394 [email protected]
Contributing Editor, Scott Sanford