News
07/05/2006 4:08 PM
Article By:
5 July 2006
Kulbacki A Home Run King
COTUIT, Mass. – In the baseball world, there are many great examples of a sweet batting swing. Three players that possess such a quality include Boston Red Sox sluggers Manny Ramirez and David Ortiz, and of course the legendary Ken Griffey, Jr., after whom so many young kids attempt to model their game.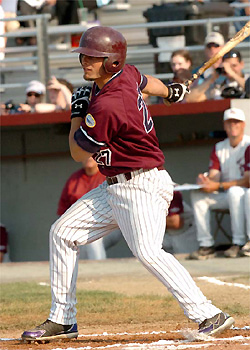 Kellen Kulbacki
SportsPix / 2006
While this may be true at the major league level, there may be no greater example than the Cape Cod Baseball League's Kellen Kulbacki of the Cotuit Kettleers.

Get used to the name Kulbacki. Although Kellen may be just one of the many rising stars in the CCBL, he deserves special praise. After enjoying a monster sophomore season with James Madison, he was named Collegiate Baseball's Player of the Year and also was named to the First Team All-American squad.

All Kellen did was lead the nation in slugging percentage (.934) and home runs (24) while placing second in the country in batting average (.464), to go along with 75 RBIs.

All this was done as a college sophomore after a great freshman season earned him All-Conference honors in 2005. He hit over .300 with seven home runs and over 20 RBIs that year.

After his freshman season, Kellen worked hard in the weight room and didn't go a day without swinging a bat.

"I wanted to get stronger in the off season, but keep my speed and I also wanted to work on spraying the ball around the field," said the slugger.

Obviously his hard work paid off, but did he really expect to have an All-American season?
"You want to say you did, "said Kulbacki, "but I never dreamed of having the season I did. I just kept playing hard day in and day out and things kept going well. Everyday I made adjustments and it paid off."

Led by Kulbacki, James Madison was a much improved team that could have advanced deeper in to the NCAA Tournament if a few breaks had gone its way. While his team was experiencing great success, the slugger was in the midst of a great home run race. Kulbacki claims he wasn't focused on that and strictly wanted to help the team win.

"If it happened, it happened. I was more concerned about our team's success. As long we were winning, nothing else mattered," said Kulbacki.

A few weeks after the best season anyone at James Madison has seen, Kelvin is in the midst of a summer he will not soon forget. The Cotuit Kettleers are more than happy to call him one of their own. Despite the early season struggles, hitting .235 and driving in four runs, Kellen feels that he will soon break out of his slump.

"I've struggled adjusting thus far and I know this is a pitcher's league, but I have enough confidence in myself that I will break out of it and have a good summer," he said.

One might think that a player of his caliber has reached his peak, but like any great athlete, he is a competitor and is always looking to improve.

"I'd like to improve my base stealing and my arm strength," Kulbacki claimed, "but I'd also like to have some fun. Everything about this league has been great and it's an atmosphere like something we may not ever experience again."

Enjoy it, Kellen – you deserve it. Hats off to a home run king who deserves all the accolades.
By Nicholas Mucci, CCBL Intern [email protected]