News
05/09/2007 1:30 PM
Article By:
for immediate release: 9 May, 2007
Cape League Hall of Fame Changing Venues
From Heritage Museums & Gardens to JFK Museum in Hyannis
CAPE COD, Mass. – Heritage Museums & Gardens and The Cape Cod Baseball League jointly announced today that the Cape League's Hall of Fame and Exhibit will move to a new venue in 2008.

Working in conjunction with the Hyannis Area Chamber of Commerce, the Cape League has applied to the Town of Barnstable to have its Hall of Fame re-located in the lower level of the JFK Museum in Hyannis.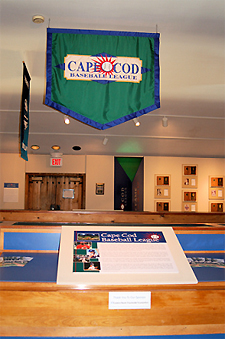 CCBL Hall of Fame
at Heritage Museums and Gardens
The CCBL Hall of Fame exhibit was first created at Heritage in 2003 under a five-year contract, and the display has been a feature of Heritage's History Museum since that time. Both organizations agree that after five successful years, the show needs to be redesigned and revitalized, and that a new venue will be a positive step for all concerned.

"Heritage is grateful to the Cape Cod Baseball League, and the many private lenders to our exhibit, for the opportunity to display and interpret the story of one of Cape Cod's most beloved organizations," said Scott Swank, Executive Director of Heritage Museums & Gardens. "We've also been pleased to salute and celebrate many outstanding athletes who make the league's summer competition so exciting. Hyannis is a wonderful central location for the Hall of Fame, and we wish the League well in this new endeavor. On our part, we are looking forward to new exhibits in the renovated History Museum on other aspects of Cape Cod and American history which will feature Heritage collections, and objects borrowed from other museums and private collectors."

At the close of its regular season October 31, Heritage Museums & Gardens will close its History Museum for extensive interior renovation. The History Museum will open again in the summer of 2008 with all new exhibits.

In cooperation with the Hyannis Chamber, additional space in the Kennedy Museum will be renovated and opened to the public for the first time.

"We appreciate everything that Heritage Museum and Gardens has done for the Cape League," said CCBL President Judy Walden Scarafile. "It was wonderful to have our Hall of Fame and Cape League exhibit in such a gorgeous setting. We've had exposure to fans that might not have seen the exhibit elsewhere. There is no better time to visit Heritage and see the Hall of Fame exhibit than now...the flowers are out,..the famous Heritage Rhododendrons are about to bloom...the grounds are spectacular."

Heritage Museums & Gardens is located on 100-acres of beautiful gardens and nature trails in Sandwich. Located on the site in addition to the American History Museum is an Art Museum and J. K. Lilly III Automobile Museum, Old East Mill, labyrinth, café and Gift and Garden Shop. New this season is the exhibit A Short Life and Merry: Pirates of New England funded in part by a generous grant from Rockland Trust.

Beginning its 123rd season in 2007, the 10-team Cape League originated in 1885 with individual town teams, was reorganized into the Cape Cod Baseball League in 1923 with teams in Chatham, Falmouth, Hyannis and Osterville and is now the premier collegiate baseball summer league in the country.

A total of 198 former Cape Leaguers currently perform in the major leagues, including former Cy Young Award winner Barry Zito (Wareham '97-'98), former MVP Frank Thomas (Orleans '88), former AL batting champions Nomar Garciaparra (Orleans '93) and Bill Mueller (Bourne '92), World Series MVP Darin Erstad (Falmouth '96) and current Boston Red Sox captain Jason Varitek (Hyannis '91 & '93).

Former Cape League alumni of yesteryear include Major League Baseball Hall of Famer Harold "Pie" Traynor, former New York Yankee greats Red Rolfe and Thurman Munson, Cy Young Award winner Mike Flanagan, Rolaids Fireman-of-the-Year Jeff Reardon, long-time major league scout Lennie Merullo and major league manager Nat "Buck" Showalter.
| | | |
| --- | --- | --- |
| 2000 | 2001 | 2002 |
| Dick Bresciani | Cal Burlingame | Curly Clement |
| Bill Enos | Fred Ebbett | Ron Darling |
| Mike Flanagan | Darin Erstad | Russ Ford |
| Jeff Reardon | Tony Plansky | Nomar Garciaparra |
| Eddie Lyons | Chuck Knoblauch | George Greer |
| Len Merullo | Terry Steinbach | George Karras |
| Thurman Munson | Robin Ventura | Bernie Kilroy |
| Arnold Mycock | | Bill Livesey |
| Dan Silva | | Paul Mitchell |
| Frank Thomas | | Nat "Buck" Showalter |
| Maurice "Mo" Vaughn | | Dick Sullivan |
| Merrill "Red" Wilson | | Jason Varitek |
| | | |
| 2003 | 2004 | 2005 |
| Ed Baird | Roy Bruninghaus | Mike Curran |
| Sean Casey | Bob Butkus | Bobby Kielty |
| Joe Jabar | John Caneira | Mickey Morandini |
| Ron Perry, Jr. | Will Clark | Sam Nattile |
| Noel Kinski | Pat Hope | Pat Pacillo |
| Jack McCarthy | Don Reed | Manny Pena |
| Carlos Pena | Eric Milton | Jack Sanford |
| Jim Perkins | Jim Norris | Tim Teufel |
| Judy Walden Scarafile | Dave Staton | John Thoden |
| Cory Snyder | Tello Tontini | Ken Voges |
| Pat Sorenti | | |
| | | |
| 2006 | 2007 | |
| Steve Balboni | Del Bender | |
| Rik Currier | Scott Hemond | |
| Steve Duda | Dick Licini | |
| Jim Hubbard | John Morris | |
| Ross Jones | Steve Saradnik | |
| Greg Lotzar | Bob Schaefer | |
| Lance Niekro | Walt Terrell | |
| Josh Paul | Jack Walsh | |
| Buzzy Wilcox | John Wylde | |
John Garner, Jr.
Director of Public Relations & Broadcasting
(508) 790-0394
[email protected]