News
05/27/2007 1:42 PM
Article By:
for immediate release: 27 May, 2007
Cape League names CBUAO as New Umpiring Group
CAPE COD, Mass. – After spending five years with the Eastern College Athletic Conference (ECAC), the Cape Cod Baseball League has signed a contract with a new umpiring group.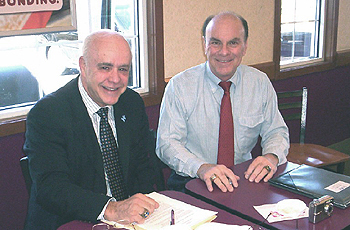 CCBL Deputy Commissioner Sol Yas
and CBUAO President Nick Zibelli sign new 5 year agreement
photo by CBUAO / 2007
Commissioner Paul Galop and Deputy Commissioner Sol Yas announced today that the CCBL will partner with the College Baseball Umpires Assigning Organization (CBUAO) for the 2007 season.

"The Cape Cod Baseball League has a long tradition of attracting the finest players in the nation and our goal is the same for our officials," said Galop. "We believe we have accomplished that goal by entering into this agreement with the CBUAO. We are very much looking forward to this long-term relationship. We enjoyed our tenure and growth with the ECAC and wish them nothing but the best."

The CBUAO will assign umpires to all 220 regular season games, along with the CCBL All-Star Game at Spillane Field in Wareham July 28, the Cape League Playoffs in early August, the two exhibition games vs. the touring U.S. Military All-Stars June 9-10 at Chatham and Orleans and other pre-season exhibition games in early June.

In fact, the umpires will again be donating their services at both military games at Chatham and Orleans.

"I'm pleased the Cape Cod Baseball League has entered into a long-term agreement with the CBUAO," said Yas, CCBL Director of Officiating. "(CBUAO President) Nick Zibelli has assembled a group of the finest umpires in the Northeast to officiate the 2007 season and beyond. The Cape League deserves the highest level of officiating available, and I'm confident the CBUAO will meet our expectations."

For the past several years, Zibelli assigned umpires for the CCBL under the auspices of the ECAC, but recently moved on to form his own umpiring group and the Cape League decided to form a partnership with the new group.

"It's been a pleasure working with Sol Yas and Paul Galop over the past five seasons, "said Zibelli "Our umpires are excited about this new long term partnership and can't wait for the season to start. There is nothing like summer baseball on Cape Cod."

Beginning its 123rd season in 2007, the 10-team Cape League originated in 1885 with individual town teams, was reorganized into the Cape Cod Baseball League in 1923 with teams in Chatham, Falmouth, Hyannis and Osterville and is now the premier collegiate baseball summer league in the country.

A total of 198 former Cape Leaguers are currently performing in the major leagues, including former Cy Young Award winner Barry Zito (Wareham '97-'98), former MVP Frank Thomas (Orleans '88), former AL batting champion Nomar Garciaparra (Orleans '93), World Series MVP Darin Erstad (Falmouth '96) and current Boston Red Sox captain Jason Varitek (Hyannis '91 & '93).
Cape League alumni of yesteryear include Baseball Hall of Famer Harold "Pie" Traynor, former New York Yankee greats Red Rolfe and Thurman Munson, Cy Young Award winner Mike Flanagan, Rolaids Fireman-of-the-Year Jeff Reardon, long-time major league scout Lennie Merullo and major league manager of the year Nat "Buck" Showalter.

John Garner, Jr.
Director of Public Relations & Broadcasting
(508) 790-0394
[email protected]