News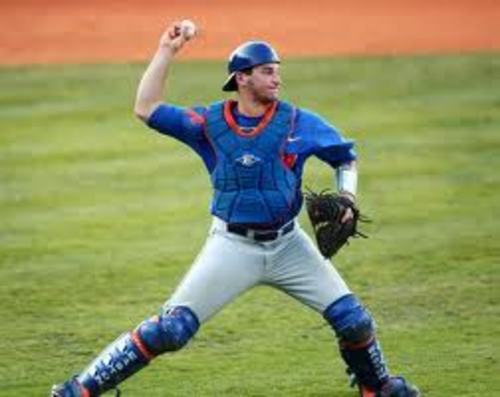 06/17/2012 12:05 AM
Article By: CCBL Public Relations Office
Another Cape Cod Baseball League catcher has been honored as the player of the year in college baseball.
University of Florida junior Mike Zunino, who caught for the Yarmouth-Dennis Red Sox last summer, is the 2012 recipient of the Dick Howser Trophy, considered the Heisman Trophy of college baseball. The announcement was made on Friday, June 15, at TD Ameritrade Park in Omaha, Neb., where Zunino and his University of Florida teammates are competing in the College World Series.
Zunino, a native of Cape Coral, Fla., is the third former Cape League catcher and ninth CCBL player overall to win the prestigious Howser Trophy in its 26-year history. He was the first Cape Leaguer to be chosen in last week's MLB draft, taken by the Seattle Mariners with the third pick in the first round.
He joins fellow Y-D alum, Florida State's Buster Posey, the 2008 winner, and now retired Red Sox captain and Cape League Hall of Famer Jason Varitek, who took home the Howser in 1994. Both were two-year performers in the Cape League, Posey in 2006 and '07 for the Red Sox and Varitek in 1991 and '93 for the then Hyannis Mets.
Zunino batted .303 (10-for-33) at Yarmouth-Dennis with three RBIs, five runs scored, three walks and a pair of doubles in 11 games. He became the highest-drafted player in UF history last week when the Mariners took him with the third overall pick.
Going into Saturday night's CWS game against defending national champion South Carolina, Zunino was a career .327 hitter for the Gators and was second on the team (.322) this season. His 2012 production dropped off slightly from 2011, when he led Florida with a .371 average and drove in 67 runs, but he still topped the '12 Gators in RBIs (64), slugging percentage (.668) and doubles (28), while matching his school-record home run total of 19 set last year.
Zunino beat out two fellow first-team All-America selections in the Howser balloting -- Utah Valley first baseman Goose Kallunki and LSU outfielder Raph Rhymes, the 2012 NCAA batting champion, who is on the Cotuit Kettleers' 2012 roster.
Voting for the Dick Howser Trophy is conducted by the National Collegiate Baseball Writers Association. From its inception in 1987 until 1998, the American Baseball Coaches Association had selected the recipient, who must embody the principles of character, leadership, desire and competitive spirit exhibited by Dick Howser, the All-America shortstop and later head coach at Florida State before managing the Kansas City Royals to a World Series championship in 1985. FSU named its baseball stadium for Howser, who died in 1987.
Miami outfielder Mike Fiore was the first Howser winner in 1987, followed in 1988 by Oklahoma State third baseman Robin Ventura (Hyannis, 1987). Other Cape League winners are Georgia Tech's Varitek (Hyannis, 1991 & '93) in 1994, Tennessee first baseman Todd Helton (Orleans, 1994) in 1995, Clemson pitcher Kris Benson (Hyannis, 1994) in 1996, Georgia Tech first baseman Mark Teixeira (Orleans, 1999) in 2000, Clemson shortstop Khalil Greene (Falmouth, 1999 & '00) in 2002, Houston pitcher Brad Lincoln (Bourne, 2005) in 2006 and Florida State catcher Posey (Y-D, 2006 & '07) in 2008.
Zunino is also a finalist for two other major honors – the Golden Spikes Award, selected by USA Baseball and presented to the nation's top amateur baseball player, and the Johnny Bench Award, which goes to the collegiate catcher of the year. The other Golden Spikes finalists are Zunino's 2011 Y-D teammate Mark Appel, a junior right-handed pitcher from Stanford, and Carlos Rodon, a freshman left-hander from North Carolina State. Appel was selected by Pittsburgh with the eighth pick in the first round of last week's MLB draft while Rodon was on Harwich's pre-season roster, but was recently recruited by Team USA.
The Bench Award winner will be determined by a final vote of the national committee during the College World Series and will be presented by Bench himself during the 15th annual Greater Wichita Sports Banquet on June 28. The other finalists are New Mexico's Mitchell Garver and Purdue's Kevin Plawecki (Hyannis, 2011), the 35th player selected in this year's draft. Plawecki was chosen by the New York Mets with their only pick in the draft's compensation round.
For the second year in a row, the Golden Spikes Award will be presented live on the MLB Network. The presentation on Friday, July 6, also will be simulcast online on MLB.com and GoldenSpikesAward.com.
-ccbl-