News
06/24/2007 2:21 PM
Article By:
Military All-Stars Make Special Visit to
Chatham Elementary School
CHATHAM, Mass. -- The Red, White and Blue Tour of America made an extra and very special stop before it left Cape Cod on Monday, June 11. The U.S. Military All-Stars, who had been on the Cape for three days of baseball and relaxation while living with host families, pulled into the parking lot of the Chatham Elementary School for a surprise visit with students during the final week of classes.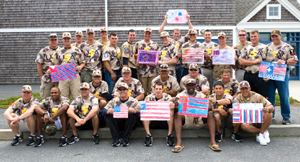 The US Military All Stars visited
Chatham Elementary School to surprise the students.
The team represents all branches of the military. Its players pay their own travel expenses and compete while off-duty. This year, they will make more than 350 community appearances and will participate in 70 baseball games in 23 states, facing amateur teams, professional teams and top-notch collegiate players such as those they met on Cape Cod. Members of the team also participate in free clinics and public appearances in the communities they visit.
Ninety percent of the players on the current roster served one or more tours in Iraq or Afghanistan.
The U.S. Military All-Stars annual appearance on Cape Cod has become a highly anticipated event, sort of an unofficial opening of the Cape Cod Baseball League season. This year, the soldiers, sailors and airmen lost twice to a select squad of early arriving Cape Leaguers in games at Chatham and Orleans.
On June 9, prior to the military players' arrival, the Chatham Elementary School's cafeteria took on the appearance of a Fourth of July celebration. It was decorated in a patriotic theme, with red, white and blue everywhere. There were flags, banners and bunting ... the students made patriotic paintings of American flags and everything red, white and blue ... and the military players' 2006 baseball cards were framed on red paper and individually hung on the walls. It was the perfect setting for the dinner that was put on for the servicemen by the very generous Red Nun Bar and Grille of Chatham after the first game Saturday at Chatham's Veterans Field.
The largest flag made by the students -- one which hung from ceiling to floor -- is being sent to the military team. They asked to have it, to be taken on tour with them.
Poignant images captured by photographer Jennifer Eldredge Stello have preserved memories of a very special visit, and the Cape Cod Baseball League and its fans already are looking forward to the return in 2008 of the Red White and Blue Tour of America.